BWW Review: METROPOLITAN at Sarasota Ballet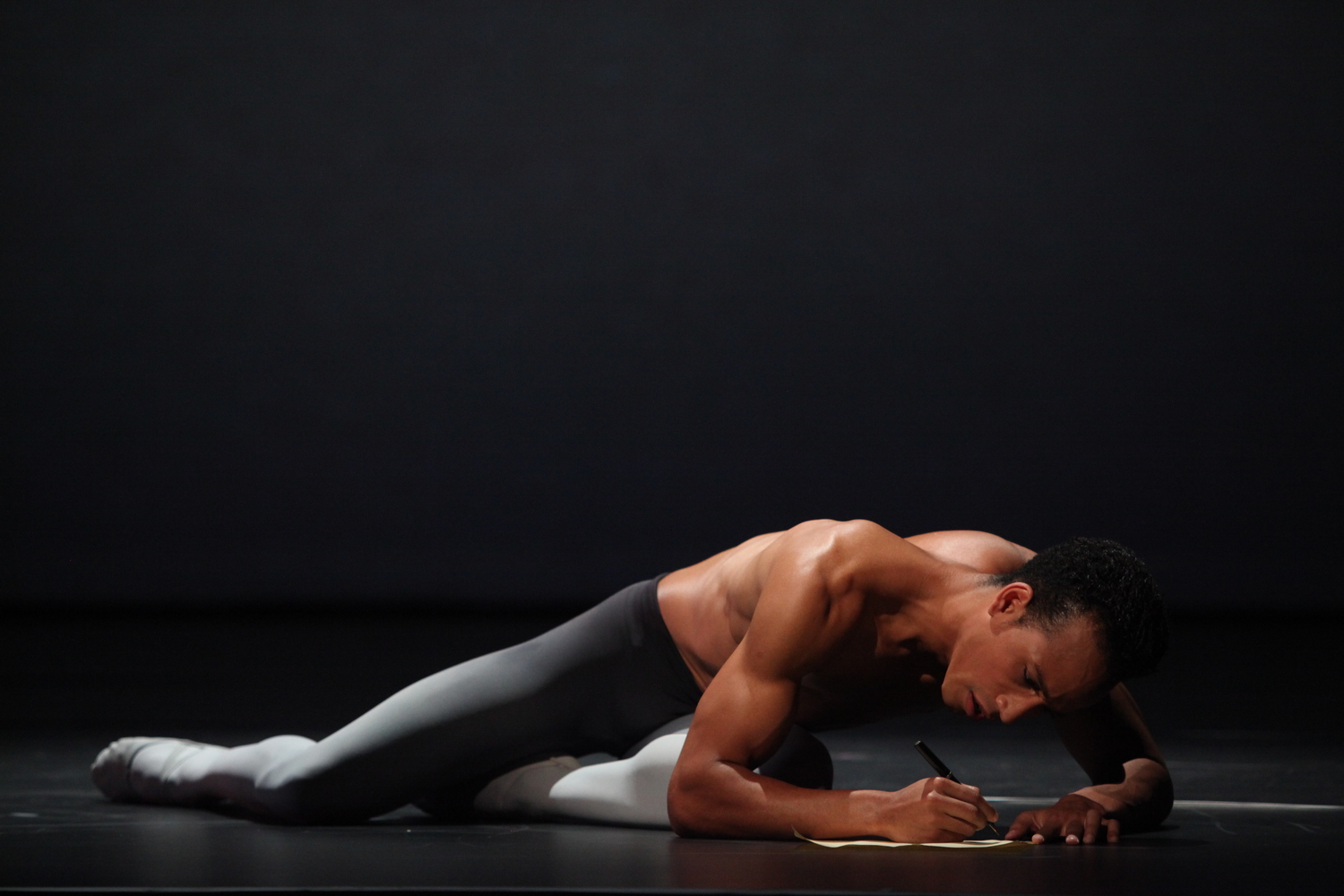 The program titled Metropolitan was presented in three distinct pieces, Dear Life, choreographed by Marcel Gomes, Illuminations, choreographed by Sir Frederick Ashton and Theme and Variations, choreographed by George Balanchine. Each offered a unique theme and tone from, somber yet playful, to dark and mysterious, and ending with traditional ballet set to Tschaikovsky.
The much anticipated commissioned piece of Marcelo Gomes, Dear Life, danced its way into the hearts of sold out audiences at Sarasota Ballet staged at the magnificent Sarasota Opera House. Gomes, a veteran ballet principle with American Ballet Theatre wowed Sarasota last year with two triumphant performances.
I particularly enjoyed the performance of Dear Life. Besides the glorious dance movements, it was presented as a narrative, spoken and scrolled on a background screen as if the principle was writing a letter. And he was. A letter to his life. The piece opens with a weak and dying man (Ricardo Rhodes) reflecting on his past and the love of his life (Victoria Hulland). Stretched out in repose, he writes a letter to his life, thanking it for his fond memories. He has an epiphany about the blessings he was granted which envelopes him in the phenomenon known as the Golden Glow. Rally, as it is also referred, is a burst of energy some experience just before their death. As he collects his strength for one last time we watch him join other dancers (Samantha Benoit, Logan Learned and Ivan Duarte) as he relives his life and all of the emotions tied to his soul. It's a glorious expression of his gratitude. Paired with four movements from Beethoven's Seventh Symphony, Mr. Rhodes embodies the weak man that rebounds with power and dignity. Through his calculated movements you can feel his faculties ebb and flow as he tries one last time to breathe in life. Ms. Hulland gracefully portrays his love interest. She is always a favorite to take in and up to the task of any role asked of her.
It is worthy to note that Gomes also designed the costumes with Jerry Wolf, distinctively bland and gray, befitting of the mood. He asks his dancers to make poignant and playful moves often injecting charming, humorous overtones. Gomes states, "I hope the ballet will remind people to be grateful for what the have in their lives in the present and not wait until it's too late". As Brazilian born Gomes transitions from principle dancer to choreographer, I'm sure we can look forward to some interesting pieces of work incorporating a style that is all his own. Obrigada Mr. Gomes!
Illuminations is a portrayal of the tortured life of French Poet Arthur Rimbaud, enfant terrible, torn between his Profane and Scared loves. The ballet like his turbulent life exudes dark overtones, Ricardo Graziano as Poet, Sacred Love (Amy Wood), Profane Love (Ellen Overstreet) sublimely reprise the roles they have presented in the past. Tenor Jason Ferrante masterfully provided the operatic poem. The chaotic and odd life of Rimbaud was well staged with quirky costuming, underworld imaginings and dark music.
George Balanchine's Theme and Variations amidst Peter Farmer's stunning set draped in shades of blues, grays and white, and five spectacular chandeliers received applause before this piece started. This piece was more lighthearted in nature for the audience however not easier to dance for the artists. The ballet presented classic technique for the audience who are more traditionalists, featuring Kate Honea and Lucas Erni, with four couples, Katelyn May and Ricki Bertoni, Dagny Hanrahan and Wilson Livingston, Elizabeth Sykes and Nicholas Moreno and Ryoko Sadoshima and Thomas Giugovaz. The show notes stated that Theme and Variations was written to "evoke that great period in classical dancing when Russian ballet flourished with the aid of Tchaikovsky's music."
Conductor Ormsby Wilkins as always, masterfully managed the baton with flare. Ballet Director Iain Webb has a demanding year ahead of exquisite ballet. For more information on Sarasota Ballet visit www.sarasotaballet.org.