Asolo Rep Presents Lauren Yee's THE GREAT LEAP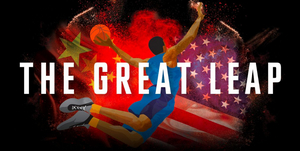 Asolo Rep, in conjunction with Miami New Drama, presents THE GREAT LEAP, a sharp-witted new drama by award-winning playwright Lauren Yee. Directed by Vanessa Stalling, THE GREAT LEAP previews March 18 and 19, opens March 20 and runs through April 11 in the Cook Theatre, located in the FSU Center for the Performing Arts.
San Francisco, spring 1989. Manford Lum is a sparky kid, renowned on the sidewalk basketball courts of Chinatown - vertically challenged but with undeniable ball skills. He talks his way onto an American college team traveling to Beijing for a "friendship" game where finds himself in the middle of China's post-Cultural Revolution. As the story bounces between 1989 and 1971, past relationships collide with present day revelations and Manford discovers that the trip is about much more than basketball. Inspired by events from the life of playwright Lauren Yee's own father, THE GREAT LEAP is a fast-paced and hilarious play that explores the cultural collision of identity and politics through the game of basketball.
The play's title refers to both the athleticism of basketball and the Communist Party of China's Great Leap Forward campaign in the late 1950s and early 1960s. Yee sees basketball as an apt metaphor for politics and diplomacy. According to her stage directions in the script, "This is a play about basketball, but it is also a basketball play. The game is reflected not just in the subject matter but the rhythm, structure, language and how the characters move through space."
Yee's plays often have a familial tie to her personal experience. "Growing up, my father dominated the basketball courts of San Francisco's Chinatown," said Yee, "and in the 1980s, his legendary game won him a spot on a friendship team headed to a newly open China to play a series of exhibition games against the best teams in the People's Republic. That nugget of his history formed the inspiration for my play THE GREAT LEAP nearly 40 years later. The play is about my father, but I wrote it for my younger brothers," shares Yee. "In THE GREAT LEAP, Manford is a Chinese-American kid who keeps bumping up against people who don't believe in him or see limitations when they look at him. That's not what I want for my brothers. My wish is that they move through the world unencumbered and be whatever they want to be."
"Thanks to Lauren Yee's driving and bitingly funny dialogue, THE GREAT LEAP is a thrilling theatrical experience whether you are a fan of basketball or don't follow the sport at all," said Asolo Rep Producing Artistic Director Michael Donald Edwards. "The ideas competing in her work: how where we come from shapes what we become, how it is possible to overcome seemingly impossible obstacles, and how family is one of our most powerful and complicated resources, are ideas that speak to us all. She is one of the most exciting playwrights writing today and her skill is on full display in THE GREAT LEAP. Director Vanessa Stalling brings a brilliant physical life to the play, infusing it with energy that will have audiences leaning in from start to finish."
The cast features Fenton Li (Wen Chang), whose Off-Broadway credits include Death in Boulder (La Mama), and A Dream of Red Pavilion (Pan Asian Repertory Theatre). TV & film credits include Tommy, Blacklist, The Carrie Diaries, and In a New York Minute. Glenn Obrero (Manford) also performed the role of Manford at Steppenwolf Theatre's production of THE GREAT LEAP. Other credits include the national tour of In to America (Griffin Theatre); and 20,000 Leagues Under the Sea (Lookingglass Theatre). TV credits include Chicago Fire and NeXT.
Helen Joo Lee made her Asolo Rep debut this season as Mary Debenham in Murder on the Orient Express. Based in Chicago, she has been seen in Kentucky, In the Canyon, You For Me For You and American Hwangap and was the permanent replacement in The Second City's 41st revue Fantastic Super Great Nation Numero Uno. TV and film credits include Chicago Med, Empire, Teacher and Canal Street. Gregg Weiner (Saul) was seen previously this season as Michel the Conductor in Murder on the Orient Express. He appeared in Speed-the-Plow (Gablestage) and the one-man show Every Brilliant Thing (Zoetic Stage) in Miami. Greg is a multiple Carbonell Silver Palm, Best of New Times, and Theatre Tampa Bay acting honors recipient. TV and film credits include War Dogs, It's Always Sunny in Philadelphia and Transporter 2.
With two plays recently named on American Theatre's list of the ten most-produced plays in 2019-2020, Lauren Yee (Playwright) is only the second playwright to have two different plays appear on the same list: Cambodian Rock Band and The Great Leap, with eight productions each. Honors include the Doris Duke Artists Award, Steinberg Playwright Award, Whiting Award, Steinberg/ATCA Award, American Academy of Arts and Letters literature award, Horton Foote Prize, Kesselring Prize, Primus Prize, a Hodder Fellowship at Princeton, and the #1 and #2 plays on the 2017 Kilroy's List.
Vanessa Stalling (Director) is the director and adaptor of the 2016 Jeff Award winning play United Flight 232. She was the Associate Artistic Director of Redmoon Theater in Chicago, the 2016 Michael Maggio Fellow at The Goodman Theatre, named as one of "The Fifty People Who Really Perform for Chicago" in 2018 and 2019 by Newcity Stage.
"THE GREAT LEAP is about being bigger than you're told you can be," said director Vanessa Stalling. "There are two protagonists, Manford and Wen Chang, and both have been told they must limit themselves; but their arcs are discovering that they have the capacity to be bigger than expected. America loves a story like that, we love stories about underdogs. Lauren Yee is also a part of this amazing golden age of new playwrights when, finally, we are beginning to get access to new and underrepresented voices as institutions listen to the cultural desire for equity, diversity, and inclusion."
Tickets for THE GREAT LEAP and the entire 2019-20 Asolo Repertory Theatre season are on sale now. Tickets for THE GREAT LEAP start at $28. To purchase tickets, call 941.351.8000 or 800.361.8388, visit www.asolorep.org, or visit the Asolo Repertory Theatre Box Office, located in the lobby of the theatre. Asolo Repertory Theatre is located at 5555 North Tamiami Trail in the Florida State University Center for the Performing Arts.
The Box Office is open Monday 10am - 5pm, Tuesday - Thursday 10am - 7:30pm, Friday - Saturday 10am - 8pm, and Sunday 10am - 2pm. The box office closes at 5pm when there are no evening performances and phone lines close one hour prior to the start of any performance. Season subscription packages are also available online and by visiting or calling the box office.
Related Articles View More Sarasota

Stories

Shows
More Hot Stories For You