Photo Flash: The Theatre Group at SBCC presents A FLEA IN HER EAR
The Theatre Group at SBCC will continue the 16/17 season with the hilarious farce, A FLEA IN HER EAR, a new version of Georges Feydeau's farce by David Ives, Directed by R. Michael Gros, March 1-18, 2017 in the Garvin Theatre.
In a new adaptation by contemporary playwright David Ives, Georges Feydeau's giddy farce concerns an insurance executive named Victor Chandebise , whose wife, Raymonde, suspects him of having an affair. When she lays a trap for him at the disreputable Frisky Puss Hotel, with help from her friend Lucienne, who's married to a jealous Spaniard, bourgeois respectability explodes into a brouhaha involving a set of garters, a revolving bed, a missing medical prosthesis, two women in French-maid outfits and other screwball ingredients.
Winner of a 2006 Jefferson Award for best adaptation.
"Ives' adaptation maintains the original's dazzling plot while communicating Feydeau's playful use of language to an American audience." -BackStage.
THE PLAYWRIGHT
David Ives was born in Chicago in 1950 and educated at Northwestern University and Yale School of Drama. A 1995 Guggenheim Fellow in playwriting, he is probably best known for his evening of one-act comedies called All in the Timing, which ran for over 600 performances off-Broadway and was subsequently presented in many cities here and abroad. The show won the Outer Critics Circle Playwriting Award, was included in "The Best Plays of 1993-94," and in the 1995-96 season was the most-performed play in the country after Shakespeare productions. It has been translated into German, French, Italian, Brazilian and other languages. In 2006 he was commissioned by Chicago Shakespeare Theater to write a new translation of Georges Feydeau's farce, A Flea in Her Ear. The world premiere production at Chicago Shakespeare won the Joseph Jefferson Award for "new adaptation".
THE CAST
Directed by R. Michael Gros, A Flea in Her Ear will feature Addison Clarke, Matt Cooper, Paisley ForsterSaunders, J. Dean Garcia, Sean Jakcson, Richard Lonsbury, Michele Minor, Stuart Orenstein, Van riker, Courtney Schwass, Allan Stewart-Oaten, Pacomio Sun, Stefan Wayne, and Laksmini Wiyantini.
Addison ClarkE (Raymonde) was last seen on the stage in David Auburn's Proof (Claire), and last seen at the Garvin Theatre in Sarah Ruhl's In the Next Room, or the Vibrator Play (Mrs. Daldry). She graduated from the University of California, Berkeley with a degree wholly unrelated to theatre, and is delighted to be back at the Garvin indulging her passion for plays and laughter.
MATT COOPER (Ferraillon) is delighted to be back with the The Theatre Group at SBCC. He was last seen in Light Up the Sky. Matt has been performing on stage in Santa Barbara for 17 years. A few of his favorite productions were Habeus Corpus, Bullshot Crummond, Frost/Nixon, A Ghost of a Chance, Relative Values, Don't Mention My Name and The Odd Couple. Matt is the owner and founder of Coastal Concierge in Santa Barbara.
J. DEAN GARCIA (Etienne) is currently enrolled in SBCC where he is majoring in Theatre Arts. He has been in ten shows, including his last performance for the Theatre Department Student Showcase of All InThe Timing (Chuck III). This will be his fourth show for The Theatre Group at SBCC and The Theatre Department.
PAISLEY FORSTERSAUNDERS (Antoinette) is extremely excited to be cast in yet another wonderful Theatre Group at SBCC show. Previous productions include The Music Man for The Theatre Group at SBCC and All In the Timing, a Theatre Department Student Showcase.
Sean Jackson (Victor Chandebise/Poche) has been performing with SBCC since 2001. His most recent The Theatre Group at SBCC credits include The Hound Of The Baskervilles (Jack Stapleton), Noises Off! (Gary/Roger), Present Laughter (Roland Maule), Avenue Q (Trekkie Monster), and Solid Gold Cadillac (Clifford Snell.) Other Recent credits include PVT. Wars (Silvio), Reefer Madness (The Lecturer), Hair (Margaret Mead) and Evil Dead: The Musical (Jake) at Center Stage Theater, The Dining Room (Various), The Drunkard (William Dowton) at Circle Bar B and Sexual Perversity In Chicago (Bernie) at The Lyric Hyperion Theater. Past The Theatre Group at SBCC credits include Baby With The Bathwater, Fortinbras, Gunfighter, Boy Gets Girl, and Lives of the Saints.
RICHARD LONSBURY (Romain Tournel) is performing in his fifth production with Director and friend, Michael Gros. He's very honored to be performing at the Garvin Theater for the first time. After finishing at the American Music and Dramatic Academy, Richard returned home to California to pursue a career in the arts and is grateful for every opportunity granted by his experiences here at Santa Barbara City College. When not acting, you can see him perform live with his band, Ragz to Richard around the Santa Barbara area at an open mic near you.
MICHELE MINOR (Olympia) is a graduate of Cal. Poly SLO. Prior credits include (Vera Claythorne) And Then There Were None, (Gwendolyn Pigeon)The Odd Couple, (Nurse Hatchet) Dogsbreath Devereaux, (Pick-A-Little/Dance Captain)The Music Man, (Marci) Almost Maine, (Billie Jean) Good Morning Miss Dove, (Babe) Crimes of the Heart, (Marian) Busybody, (Claire) The Maids, and (Mrs. Paddy)Savage Dilemma. She adores classic film, singing, and has been active in choirs throughout California, including SBCC's Concert Choir, Jazz Ensemble and Jazz Choir (soloist). Dance is also a passion of hers, especially ballet, ballroom and swing. She was a featured dancer in the musical Swing!
STUART ORENSTEIN (Rugby) has been a Theatre Arts major since 2008, and has appeared in Light Up the Sky (Max), Trojan Barbie (Officer in Blue), Tartuffe (M. Loyale), Machinal (Judge, Doctor), In Their Eyes (The Atheist), Closet Madness (Sam), and Moonchildren (Officer Bream) here at SBCC. Among multiple local stage productions he had three roles in Ensemble Theatre Company's Amadeus at the New Vic. He penned two short plays Zt'L and I Donut Think That's A-muse-ing.
COURTNEY SCHWASS (Lucienne Homenides De Histangua) was last seen in Westmont College's production of Almost, Maine. Before moving to Santa Barbara, she studied acting at Diablo Valley College in the Bay Area with Beth McBrien. A Flea in Her Ear marks Courtney's first performance with The Theatre Group at SBCC.
LAKSMINI WIYANTINI (Eugenie) was a theatre student and graduated from SBCC in May. Previously she worked backstage on five other The Theatre Group at SBCC productions including Vanya and Sonia and Masha and Spike and Proof. This marks her debut performance on the Garvin stage.

VAN RIKER (Finache) was born into the Theatre in Aspen Colorado where his parents had established the Aspen Playhouse. Van is a third generation performer on both sides of his family tree. Van has appeared in The Tempest in New York, The Importance of Being Earnest, Rumors and August: Osage County at San Luis Little Theatre. Just to name a few. Most recent shows were at the Plaza Playhouse in Carpinteria: The Odd Couple and closed just a few months ago, Agatha Christie's And Then There Were None, during which he shared the stage with a few of this show's cast members. Van has taken an Improv class here at SBCC with William Steinkellner, and can be seen on the mini-series Pine Valley Medical on The Evening Show with Ben Furgeson on TVSB, and on YOUTUBE.
Pacomio Sun (Don Carlos Homenides De Histangua) is a true Santa Barbara native and is happy returning to the Garvin Theatre. He was previously seen as Bo in The Theatre Group at SBCC production of Bus Stop.

ALLAN STEWART-OATEN (Baptiste) began acting by reading to children and trying to convince UCSB biology students that statistics is useful, interesting and common sense. He then took SBCC classes with Michael Gros, Katie Laris, Ed Romine, Matt Talbott, Bill Steinkeller and Carol Metcalf. He has appeared in The Theatre Group at SBCC's productions of Arsenic and Old Lace, The Hound of the Baskervilles, A Midsummer Night's Dream, The Proposal, and Murphy's Law. At Circle Bar B, The Importance of Being Earnest, Plaza Theater in Carpinteria, And Then There Were None and Center Stage's Wabi Sabi Underground, and Mysteries of Light.
STEFAN WAYNE (Camille Chandebise) is currently a Theatre Arts Major at SBCC and this marks his debut performance for The Theatre Group at SBCC.
PRODUCTION STAFF
R. MICHAEL GROS (Director) is a member of the professional theatre directors union (SDC) and currently serves as an associate professor and Co-Chair at Santa Barbara City College. He was a member of the graduate theatre faculty at Kansas State University. Michael served as Artistic Director for six seasons with PCPA Theaterfest. Michael is Co-Artistic Director of PlayFest Santa Barbara. Michael received a residency fellowship in non-profit arts leadership at Stanford University. He earned his MFA in directing from the University of California at Irvine, studying with Robert Cohen, Keith Fowler, Ian Bernard, William Needles (Stratford Shakespeare Festival) and Brewster Mason (Royal Shakespeare Company) among others. He earned his BA in theatre, Magna Cum Laude, at UCLA. Michael served on the Board of the United States Institute for Theatre Technology and is a past directing focus group representative for the Association of Theatre in Higher Education. Michael received an Indy Award for his direction of The Theatre Group production of Present Laughter. For Theatre Group at SBCC he also directed Other Desert Cities, Proof, The Hound of the Baskervilles, The Music Man, Light Up the Sky, Ground, Bus Stop, The 25th Annual Putnam County Spelling Bee, and for SBCC Theatre Arts Department he directed A Midsummer Night's Dream, Almost, Maine, Tartuffe, Trojan Barbie, and Ten Red Kings, a world premiere.
Pamela Shaw (Costume Designer) is resident costume designer for The Theatre Group at SBCC, recently she designed Vanya and Sonia and Masha and Spike, and the 1880's costumes for In The Next Room or the vibrator play. Ms. Shaw was Costume Designer for the 2015 off Broadway show Lonesome Traveler, Assistant Costume Designer for TV sensation Vampire Diaries and The Artist, the 2011 Academy Award winner: Best Picture & Best Costume Design, designer Mark Bridges. Ms. Shaw served two terms as Vice President of the Costume Designers Guild, Local 892 and is currently a Trustee for the Western Region Board of United Scenic Artists, Local 829.
PATRICIA L. FRANK (Scenic/Lighting Designer) is the Director of Design and Technology for the Theatre Department and serves as the resident scenic and lighting designer for The Theatre Group at SBCC. She returns as the Scenic/Lighting Designer for A Flea in Her Ear, after her critical success in the scenic and lighting design for Other Desert Cities, Vanya and Sonia and Masha and Spike, In the Next Room or the vibrator play and Proof. Recently, she was the scenic and lighting designer for Musical (Senior) Moments at the Marjorie Luke Theatre. Pat has an MFA in Visual Arts and an MA in Dramatic Arts.
BEN CROP (Sound Designer) is the company's full-time Technical director and instructor of technical theatre. Ben comes to SBCC after being the ATD for Portland Center Stage and instructor of technical theatre and leadership at Chemeketa Community College in Oregon. Sound design credits include Other Desert Cities, Proof, Hound of the Baskerville's, Ten Red Kings, Light Up The Sky, Bus Stop and Arsenic and Old Lace with The Theatre Group at SBCC, additional sound credits include Bill W. and Dr. Bob, The Ash Girl, and Confession in Wood. In addition to theatre, Ben has worked in the concert industry having been a light director and sound operator for such artists as Alice Cooper, Poison, Leanne Rimes, Wynona Judd, and Air Supply. Ben earned a BA in Theatre and Performance and his M.B.A in non-profit management from Willamette University in 2009.
MANDY SABEDRA (Production Stage Manager) graduated from SBCC's Theatre Arts Department. She previously stage-managed Dead Man's Cell Phone, In the Next Room or the vibrator play, Vanya and Sonia and Masha and Spike, and Other Desert Cities with The Theatre Group at SBCC, she also stage managed a Theatre Arts Department student showcase, Festival of One Acts. While attending SBCC, she has had the opportunity to be a designer, technician, a props head for student productions, and even an actress on stage for The Music Man. She also stage- managed shows such as Lend Me a Tenor, Beauty & the Beast Jr., and Dirty Rotten Scoundrels at the Covina Center for the Performing Arts.
Performances will be March 1-18, 2017, Thursday through Saturday @ 7:30pm, Sundays @ 2pm. Previews on March 1 & 2 @ 7:30pm. The Sunday, March 5, 2pm performance will be live-captioned for the hearing-impaired. All performances have the assisted listening system available and the Garvin Theatre is wheelchair accessible. Ticket prices are: Previews $18 general/$15 seniors/$10 students, Thursday evening and Sunday matinees $24 general/$19 seniors/$14 students, Friday and Saturday evening $26 general/$21 seniors/$17 students. The Garvin Theatre is located on the West Campus of Santa Barbara City College in the 900 block of Cliff Dr. Parking is free and near the Theatre. For information or reservations call the Garvin Theatre Box Office at
805-965-5935 or purchase tickets online at www.theatregroupsbcc.com.

Pacomio Sun
and
Sean Jackson
in The Theatre Group at SBCC's production of A FLEA IN HER EAR, a new adaptation of
Georges Feydeau
's farce by
David Ives
, March 1-18, 2017, Garvin Theatre, SBCC West Campus, 900 block of Cliff Dr. 805-965-5935 or www.theatregroupsbcc.com. Photo credit: Ben Crop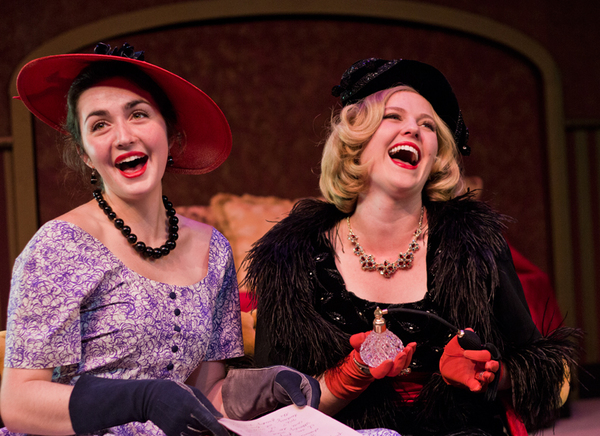 Addison Clark
e and Courtney Schwass in The Theatre Group at SBCC's production of A FLEA IN HER EAR, a new adaptation of
Georges Feydeau
's farce by
David Ives
, March 1-18, 2017, Garvin Theatre, SBCC West Campus, 900 block of Cliff Dr. 805-965-5935 or www.theatregroupsbcc.com. Photo credit: Ben Crop
Courtney Schwass and
Addison Clark
e in The Theatre Group at SBCC's production of A FLEA IN HER EAR, a new adaptation of
Georges Feydeau
's farce by
David Ives
, March 1-18, 2017, Garvin Theatre, SBCC West Campus, 900 block of Cliff Dr. 805-965-5935 or www.theatregroupsbcc.com. Photo credit: Ben Crop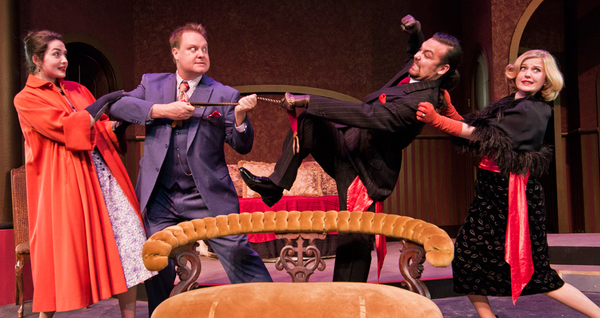 Addison Clark
e,
Sean Jackson
,
Pacomio Sun
and Courtney Schwass in The Theatre Group at SBCC's production of A FLEA IN HER EAR, a new adaptation of
Georges Feydeau
's farce by
David Ives
, March 1-18, 2017, Garvin Theatre, SBCC West Campus, 900 block of Cliff Dr. 805-965-5935 or www.theatregroupsbcc.com. Photo credit: Ben Crop
Sean Jackson
,
Pacomio Sun
and Courtney Schwass in The Theatre Group at SBCC's production of A FLEA IN HER EAR, a new adaptation of
Georges Feydeau
's farce by
David Ives
, March 1-18, 2017, Garvin Theatre, SBCC West Campus, 900 block of Cliff Dr. 805-965-5935 or www.theatregroupsbcc.com. Photo credit: Ben Crop