Review Roundup: FAIRVIEW at Berkeley Rep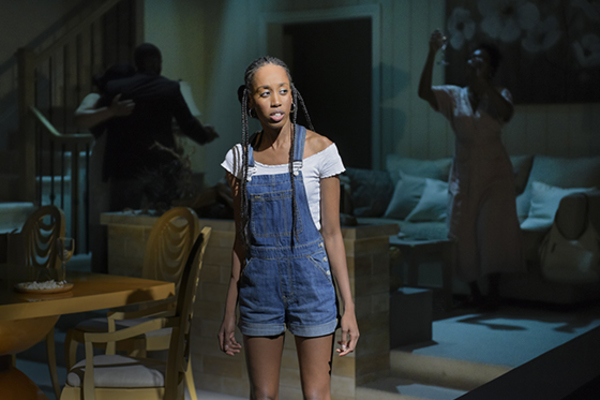 Berkeley Repertory Theatre's production of Fairview is now on stage! Written by Jackie Sibblies Drury, directed by Sarah Benson, with choreography by Raja Feather Kelly, the world premiere production comes straight to Berkeley Rep from a critically acclaimed New York run. Previews began on Thursday, October 4 with regular run of the show opening on Thursday, October 11 and continuing through Sunday, November 4. Individual tickets begin at $30 ($15 if you're under 35) and can be purchased online at berkeleyrep.org or by phone at 510 647-2949.
A co-commission by Berkeley Rep and Soho Rep., the play was developed as part of The Ground Floor: Berkeley Rep's Center for the Creation and Development of New Work.
"I can't wait for our audiences to experience Fairview, a groundbreaking piece that subverts our expectations at every turn," says Artistic Director Tony Taccone. "Jackie Sibblies Drury's mastery of her craft is astonishing. As directed by the expert Sarah Benson, Fairview takes us on a wild, funny, surprising ride that leaves us unsettled in the best way, mulling over the ethics of perception and its impacts on the lives of Black Americans."
Among the recent American plays examining racial division, the New York Times notes how this play stands out: "Fairview is a galvanizing addition to this gallery. It is also a glorious, scary reminder of the unmatched power of live theater to rattle, roil and shake us wide awake."
Fairview begins simply enough: It's Grandma's birthday, and Beverly needs the family's celebration to be perfect. But her husband is no help, her brother hasn't arrived, and her teenage daughter may be in trouble. What's more, they are being watched...and judged. Soon, the attitudes and assumptions of these watchers begin to manifest in the family's celebration, forcing them to fight for their very identities.
Let's see what the critics have to say!
Tyler Jeffreys, The Artrius: Hilarious surrealism oozes through every scene. "Fairview" introduces an unpredictable, new play structure, using voice-overs, slow motion, surprise mime action, and audience immersion. When the Frasiers dance round the dinner table, they whip out a giant lobster, umpteen bowls of fruit, and an enormous turkey. We can't stop laughing at the ridiculous sight of fabulous food flying freely.
Emily S. Mendel, Berkeley Side: A one-act play divided into four distinct scenes, Fairview's first scene is in the beige living room of the wholesome middle-class black Frasier family, where anxious well-coifed wife Beverly (genuine Natalie Venetia Belcon) is preparing a special birthday dinner for her unseen demanding mother, who waits upstairs. Although she is cajoled by her playful husband Dayton (fine Charles Browning), the early arrival of her critical, sassy sister Jasmine (terrific Chantal Jean-Pierre) makes Beverly even more uncomfortable, as does the fact that her brother, lawyer Tyrone, is going to be late. Ebullient daughter Keisha (exceptional Monique Robinson) arrives home from b-ball practice, begging to take a gap year before starting college, much to her mother's displeasure.
Karen D'Souza, The Mercury News: This highly-charged experimental drama, which pushes every button you've got, feels alternately exhilarating and unsettling as a woman of color. I can't imagine how jarring and confrontational this experience must be if you don't relate to being marginalized. You can see why some audiences members get frustrated with the play. It isn't so much trying to entertain us as to shock us awake. The power of the piece comes from its smarts and its fearlessness in taking on society's dominant gaze.
Charles McNulty, LA Times: "Fairview" is more impressive in its conceptual brilliance than in its antic execution. The play has a hurtling energy that is thrilling yet also a little blurry at times. Some of the blurriness is intentional. The play's final movement, which reverses the positions between spectator and spectacle, is fueled by Keisha's desperation to understand her life apart from the projections of a ubiquitous white audience.