Peninsula Youth Theatre Enchants Audiences With Disney's ALADDIN JR.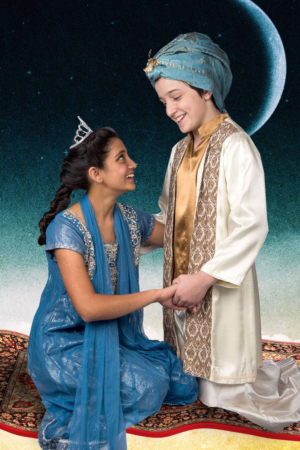 Peninsula Youth Theatre (PYT) is proud to present Disney's Aladdin Jr., which takes on a fresh new life July 25-28th at the Mountain View Center for the Performing Arts. This authorized, shorter adaptation of this beloved story brings expanded characters, new songs, and exciting flying carpet moments that are sure to open up "a whole new world."
Disney's Aladdin Jr. is based on the 1992 Academy Award-winning film and the 2014 hit Broadway show about the "diamond in the rough" street rat who learns that his true worth lies deep within. In this adaptation, Aladdin and his three friends, Babkak, Omar, and Kassim, are down on their luck until Aladdin discovers a magic lamp and a Genie who has the power to grant three wishes. Wanting to earn the respect of the princess, Jasmine, Aladdin embarks on an adventure that will test his will and his moral character-and he learns that sometimes the best way to make a dream come true is to be yourself.
"The animated movie, Aladdin, has always been one of my favorite Disney films. I like the goofiness of the story and all of the anachronistic jokes and gags, most of which were inspired by Robin Williams, which really set the tone. This is completely my sense of humor, so it's fun to bring some of this into the production," said Karen Simpson, the show's director and set designer at PYT. "Working with these young actors has been amazing! I feel like we are having so much fun in rehearsal learning magic and building characters. The actors were assigned the task of filling out character sheets, and reading them has been fantastic. I love how creative and willing this cast is to try new things, and working with this group makes me happy every single day."
In addition to the talented young actors who have been cast in Aladdin Jr., PYT is piloting a new program this year called The Young Performers Ensemble, which is open to actors ages 5 to 7 years old. The Young Performers Ensemble will be featured three times during Aladdin Jr. They rehearse only on Saturday mornings, and are able to participate in the show without having to audition for a role like the older youth actors.
"This is the first time we are performing a show with the Young Performers Ensemble, so this will be their first time on CenterStage! Many of them have older brothers and sisters who they have seen on stage, and they have just been waiting for their chance to join them," added Simpson. "This is a great opportunity for us to expand our program and offer younger performers exposure to a larger production."
Aladdin Jr. opens on Thursday, July 25th at 6:30 p.m. with the Flying Carpet Cast, and Friday, July 26th at 6:30 p.m. with the Magic Lamp Cast. The show runs through Sunday, June 28th. All performances will take place at The Mountain View Center for the Performing Arts at 500 Castro St, Mountain View, CA. Content is appropriate for children of all ages. Ticket prices are $15 for adults, $13 for groups of 10 or more, and $12 for children 5 and under. Please note that the City of Mountain View adds a $2.00 per ticket facility use fee to all orders. The city assesses additional fees depending on method of purchase. Tickets are available online at http://pytnet.org/boxoffice/aladdin-jr/#tickets or through the box office at (650) 903-6000.
ALADDIN JR. Production Credits:
Music by Alan Menken
Lyrics by Howard Ashman, Tim Rice, and Chad Beguelin
Book by Chad Beguelin
Based on the Disney film written by Ron Clements, John Musker, Ted Elliot, and Terry Rossio,
and directed and produced by Ron Clements and John Musker.
Director: Karen Simpson
Choreographer: Jennifer Tipton
Vocal Director: Holly Smolik
Set Design: Karen Simpson
Costume Design: Jenny Garcia, Susie Lew, and Vered Gotlieb
Lighting Design: Leonardo Hidalgo
Sound Designer: Mike Cobb
Stage Manager: Kim Beals
Producers: Mike Cobb and Christiane Koltek
Coming later this season at PYT: Au Cabaret, September 14, 2019
About Peninsula Youth Theatre (PYT)
Founded in 1992, Peninsula Youth Theatre (PYT) is a 501c(3) non-profit organization providing outstanding theatrical learning experiences that develop leadership, emphasize responsibility and foster teamwork in a supportive, respectful environment. PYT's emphasis on professional production values helps children develop a deep appreciation for the theatrical arts. The team's unique family atmosphere and policy of full participation for all skill levels allows children to develop a strong sense of self-esteem and an appreciation for artistic expression. PYT is committed to providing an enriching theatrical experience within the Bay Area community and schools to demonstrate and reinforce the positive role the arts play in academic success. The team offers a range of skill and performance-based classes for actors ages 4 through 18 via school break and afterschool educational programs, as well as summer camps. In addition, PYT's Center Stage, Stories on Stage, and Teen Intensive shows build community as children, teens and adults work together to create successful productions year round. For more information, visit www.pytnet.org
PYT is a Home Company of the Mountain View Center for the Performing Arts.
Related Articles View More San Francisco

Stories

Shows
More Hot Stories For You