Holiday Local Tradition AVENUE Q at NCTC Extended to 1/21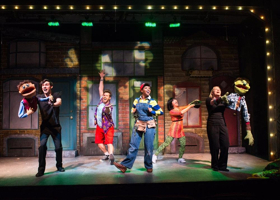 For the first time in NCTC history, we are extending a production before it has even opened. Avenue Q will now run the 5th anniversary of its award winning production through January 21, 2018 (extended by two weeks) at New ConservatoryTheatre Center. Proclaimed "a local tradition" by San Francisco Travel, this "perennial hit ... even when seeing it for the second, third, orwhatever time" (Theatre Eddy's) won over critics and audiences alike in its previous engagements in NCTC's intimate Decker Theatre.Declares the San Francisco Examiner, "only the Grinch could prevent the laughter-filled show from selling out night after night."
Avenue Q extended to January 21, 2018 in NCTC's Decker Theatre. Opening Night will take place on Saturday, December 9 at 8pm. Tickets are $35 - $60 and are available at nctcsf.org or by calling (415) 861-8972.
Due to popularity, NCTC has added Tuesday evening Avenue Q performances. Performances are Tuesdays -Saturdays at 8pm, Sundaysat 2pm.
Ring-in the New Year with Avenue Q, a special New Year's Eve performance, will be presented Sunday, December 31, 2017, completewith complimentary champagne toast and festive early start time of 7:30pm. Tickets are $55-60 are available at nctcsf.org or by calling(415) 861-8972.
Avenue Q is the laugh-out-loud, Tony Award-winning musical that tells the timeless story of a recent college grad named Princeton whomoves into a shabby New York apartment all the way out on Avenue Q. Once there, he meets Kate (the girl next door), Rod (the Republican),Trekkie (the internet sexpert), Lucy The Slut (need we say more?), and other colorful types who help Princeton finally discover his purpose inlife.
NCTC's 5th anniversary production is directed by Stephanie Temple, with musical direction by Ben Prince and orchestrations andarrangements by Stephen Oremus.
Special Engagements:
During the run of the show, theatre lovers can enjoy many special events:
Onstage Insight, Post-Show Discussion after the following performance:
Sunday, December 17 at 2pm- Panel discussion featuring the cast, moderated by the play's director.
Learn how to puppet pre-show on Tuesday, December 19 at 7:15pm - Learn how to work the Avenue Q puppets from the director Stephanie Temple
Opening Night will take place on Saturday, December 9 at 8pm. The performance will be followed by a reception with the cast, designers and director, catered by 17-18 Season Restaurant Sponsor, Mina's Brazilian.
Ring in the New Year with Avenue Q - special New Year's Eve performance Sunday, December 31, at 7:30pm. Tickets are $55-60 and include a complimentary champagne toast.

Composer and Lyricist Robert Lopez's first two Broadway musicals, Avenue Q and The Book of Mormon, have both been critical andcommercial smash hits and Best Musical Tony Award winners. He shared Tony Awards for Best Original Score and Best Book for The Bookof Mormon. He also shared a Tony for Best Original Score and a Grammy nomination for Avenue Q. With wife Kristen Anderson?Lopez, heco-wrote the smash Disney film Frozen, winning an Academy Award for Best Original Song for "Let it Go"; Finding Nemo: TheMusical (playing at Walt Disney World since 2006), the Broadway?bound original musical Up Here and songs for Winnie the Pooh (Disneyfeature animation, 2011). He shared two Emmy Awards for his music for The Wonder Pets and an Emmy nomination for the Scrubs musicalepisode.
Composer and Lyricist Jeff Marx with Robert Lopez made their Broadway debut with Avenue Q. They began writing Avenue Q in the BMIWorkshop in 1999, thinking it was a great idea for a TV series. Three years later it was produced Off?Broadway, Broadway (with three TonyAwards), Las Vegas and London. They also collaborated on new material for a Muppet movie called Kermit, Prince of Denmark (whichreceived the coveted Ed Kleban Award) and Ferdinand the Bull, a children's musical for TheatreWorks/USA.
Librettist Jeff Whitty won the 2004 Tony Award for Best Book of a Musical for Avenue Q, which ran six years on Broadway and then movedto its current home Off-Broadway at New World Stages. He also wrote the book to the musical version of Tales of the City, which premieredat American Conservatory Theatre in 2011. His newest musical was Bring It On, with a score by Tom Kitt, Amanda Green, and Lin?ManuelMiranda, which had an extended limited run on Broadway in 2012, and was nominated for a Best Musical Tony Award. Whitty's plays includeThe Further Adventures of Hedda Gabler, The Hiding Place, The Plank Project, Balls, and Suicide Weather, and have played at OregonShakespeare Festival, the ALLIANCE THEATRE, Atlantic Theater Company, South Coast Repertory, Vineyard Theatre, and The New Group.
The Purple Cast of Avenue Q will play Thursday, Friday, and Saturday performances and features Audrey Baker (Kate Monster/Lucy),Chelsea Carruesco (Bad Idea Bear, Mrs T), Scott DiLorenzo (Brian), Maita Ponce (Christmas Eve), Nick Rodrigues (Princeton/Rod),Daniel Sherman (Nicky/Trekkie), Phaedra Tiller (Gary Coleman).
The Orange Cast of Avenue Q will play Sunday, Tuesday, and Wednesday performances and stars.
Related Articles View More San Francisco

Stories

Shows
More Hot Stories For You