El Mundo Performs With Jennifer Kampani And Nell Snaidas Next Month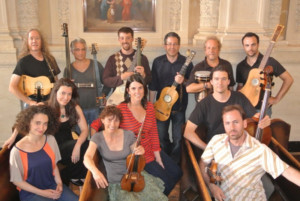 The San Francisco Early Music Society's 2018-19 concert season kicks off the weekend of October 12 with three concerts by El Mundo performing works from their Grammy-nominated album Kingdoms of Castille. Directed by world-renowned guitarist and lutenist Richard Savino, El Mundo will take audiences on a musical journey from Castillian courts and cathedrals, and on to its viceroyalties in Naples, Peru, Mexico and Guatemala, where classical tradition blended with indigenous dances to create a unique Hispanic style that still exists today.
Concerts of Kingdoms of Castille will take place at 8 p.m. Friday, October 12 at First Presbyterian Church in Palo Alto; at 7:30 p.m. Saturday, October 13 at St. Mark's Episcopal Church in Berkeley; and at 4 p.m. Sunday, October 14 at St. Mark's Lutheran Church in San Francisco. Individual tickets, $12 to $45, are available for purchase online at sfems.org.
Joining the ensemble for its concerts next month are Jennifer Kampani and Nell Snaidas, two of today's leading sopranos specializing in Italian and Spanish Baroque music. Each has performed throughout Europe, North America and Latin America, with stints as featured soloist with the Los Angeles Philharmonic, Apollo's Fire and the Boston Early Music Festival Orchestra, among many others. Snaidas has also performed roles in the touring Broadway productions and studio albums of The Phantom of the Opera, The Producers and Hair.
Core members of El Mundo performing next month include Paul Shipper, bass, guitar and percussion; Adam LaMotte and Lisa Grodin, violins; William Skeen, cello; and Corey Jamason, harpsichord.
Kingdoms of Castille opens in Naples with a short work, Symphonia para empezar, attributed to the great harpsichordist Domenico Scarlatti, a figure who "personifies the Italo-Hispanic cultural connection, with much of his life spent in the service of the Portugese and Spanish royal families," writes Savino.
Naples was the most important city under direct Spanish rule during the 17thand 18th centuries, and after Scarlatti, El Mundo will perform works by Neapolitans Francesco Manelli, Luigi Mazzochi and Andrea Falconieri.
El Mundo's program also includes a work by Georg Friedrich Handel who, while on an extended stay in Naples in 1708, fell under the city's spell. No se emenderá jamas is one of his few works in Spanish and the only work that specifies the use of a guitar.
Other works on the program include a repertory of zarzuelas and tonos humanos from the 17th-century Hapsburg court, works by harpist Juan Hidalgo and guitarist José Marín. From there, the program heads west.
Bridging the Atlantic is a work by Santiago de Murcia, who was the guitar tutor to Queen Maria Luisa Gabriela of Savoy. El Mundo will perform one of the earliest known fandangos from a collection of de Murcia's discovered in León in the Mexican state of Guanajuato.
Rafael Antonio Castellanos, a native son of Guatemala, was appointed maestro de capilla of the Guatemala cathedral in 1765. "His Ausente del alma is a reverential piece of serene bliss, while in contrast Oygan una xacarilla is a brilliant example of a secular, petty ruffians' dance having been co-opted for sacred purposes," writes Savino. "To my ears it presents an early and more successful example of what Vactican II attempted to accomplish in the 1960s."
The program closes in Lima with a work by José de Orejón y Aparicio. Aparicio, a gifted organist, spent his entire life in Peru. His A del dia de la fiesta is a three-movement work consisting of an opening da-capoaria, followed by a recitative and concluding with a dance-like duo set in a villancico form.
For more information about Kingdoms of Castille, visit sfems.org.
ABOUT THE SAN FRANCISCO EARLY MUSIC SOCIETY
Founded in 1975, SFEMS is one of the nation's leading organizations for the advancement of historically informed performance of early music. Through its concert series, publications, outreach activities, affiliate support and educational programs SFEMS encourages the development of amateurs, supports professionals, and increases public involvement and participation in early music. SFEMS is the lead presenter of the Berkeley Festival & Exhibition of early music.
Among the hundreds of ensembles and solo artists SFEMS has supported over four-plus decades are many whose national or regional debuts occurred under its auspices: Anonymous 4, Benjamin Bagby, Frans Brüggen, Concerto Palatino, Fretwork, Laurette Goldberg, Hilliard Ensemble, John Holloway, Emma Kirkby & Anthony Rooley, Wieland Kuijken, Gustav Leonhardt, PAN, Joshua Rifkin, Jordi Savall, Max Van Egmond and Vox Luminis, to name a few.
Related Articles View More San Francisco

Stories

Shows
More Hot Stories For You