Casting Announced for A.C.T.'s Return Engagement of A THOUSAND SPLENDID SUNS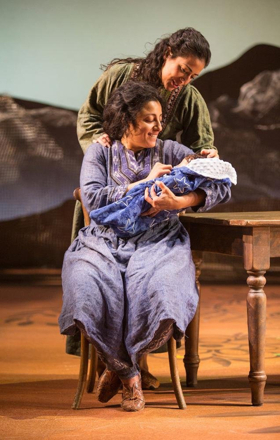 Casting has been announced for the return ofAmerican Conservatory Theater's (A.C.T.) acclaimed theatrical adaptation of Khaled Hosseini's international best-selling novel, A Thousand Splendid Suns-performing at A.C.T.'s Geary Theater for a limited two-week engagement July 17-29, 2018 as part of a West Coast tour that includes runs at San Diego's Old Globe Theatre and Seattle Repertory Theatre. Set amid the war-torn streets of modern-day Kabul, A Thousand Splendid Suns is the epic story of three generations of Afghan women bound together by marriage, family, and a secret past. Strong-willed Laila, unmarried and pregnant, is forced to marry her older neighbor when her family and home are torn apart. In her new home, she forges an extraordinary and unlikely friendship with Mariam, her husband's first wife, and together the two women find the hope and strength to raise a new generation. Adapted for the stage by acclaimed Irish Indian playwright Ursula Rani Sarma, this stunning production reunites many of the original cast members and will, once again, feature live music from renowned composer and saw player David Coulter. Single tickets (ranging from $22-$110) are available at the A.C.T. Box Office at 415.749.2228 or online at www.act-sf.org. Ticket prices are subject to change without notice.
Under the direction of
Carey Perloff
, the cast of A Thousand Splendid Suns features (in alphabetical order):
Rinabeth Apostol
,
Denmo Ibrahim
,
Lanna Joffrey
,
Haysam Kadri
,
Joseph Kamal
,
Jason Kapoor
,
Nadine Malouf
, Sunil Mukherjee Maurillo,
Kunal Prasad
,
Nikita Tewani
,
Antoine Yared
, and Andres Zamora. The creative team for A Thousand Splendid Suns includes
Ken MacDonald
(Set Designer),
Linda Cho
(Costume Designer),
Robert Wierzel
(Lighting Designer),
Jake Rodriguez
(Sound Designer), Stephen Buescher (Choreographer), andDavid Coulter (Composer/Musician).
Photo: Nadine Malouf as Laila and Denmo Ibrahim as Mariam in the theatrical adaptation of Khaled Hosseini's international best-selling novel, A Thousand Splendid Suns, returning to American Conservatory Theater's Geary Theater July 17-29, 2018. Photo: Jim Cox
More Hot Stories For You