Brilliant Scientists Come To Life In World Premiere of TWO MINDS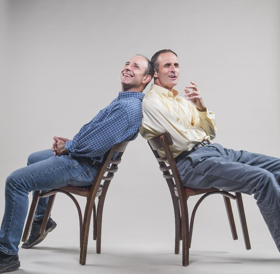 The Marsh, acclaimed as a premier venue for solo shows and new works, welcomes a collaboration between lauded playwright Lynne Kaufman and award-winning director Robert Kelley with Two Minds. Returning to The Marsh after her hit run of Acid Test: The Many Incarnations of Ram Dass, Kaufman's new drama re-envisions the relationship between two men who changed the way people think. Daniel Kahneman and Amos Tversky's groundbreaking research on how people make decisions won the brilliant Israeli psychologists a Nobel Prize and a McArthur Genius Award. The pair was intellectually so aligned they could finish each other's sentences, but emotionally their differences tore them apart. Two Minds weaves together the story of their unique partnership as well as their troubled friendship.
Starring Brian Herndon and Jackson Davis and directed by TheatreWorks Silicon Valley Founding Artistic Director Robert Kelley, the world premiere of Two Minds will be presented 8:00pm Fridays, 8:30pm Saturdays, 5:30pm Sundays (press opening: May 6) May 4 - June 9 at The Marsh San Francisco, 1062 Valencia St., San Francisco. For tickets ($20-$35 sliding scale, $55-$100 reserved), the public may visit www.themarsh.org or call The Marsh box office at 415-282-3055 (open 1:00pm-4:00pm, Monday through Friday).
Psychologists Daniel Kahneman and Amos Tversky are best known for their study of how people manage risk and uncertainty with the "Prospect Theory," which was developed within a 30-year period and has helped shaped the understanding of economics today. Kahneman published the best seller Thinking, Fast and Slow, which summarizes many of the works that both he and Tversky did together. The New Yorker noted the duo's influence to a variety of fields as "immense-not only in psychology and economics, where it has become part of the normal conversation, but in every other field of social science, as well as medicine, law, and, increasingly, business and public policy."
Six years after Tversky's death, Kahneman was a recipient of the Nobel Prize in Economic Sciences for his contribution in the revolutionary work on behavioral economics. Though the Nobel Prize is not awarded posthumously, Kahneman told The New York Times shortly after receiving the award that he feels "it is a joint prize. We were twinned for more than a decade." Kahneman was listed as one of the top 10 influential economists by The Economist, while the Review of General Psychology ranked the MacArthur Fellow Tversky as one of the most cited psychologists of the 20th century.
Lynne Kaufman (Playwright) is the author of 20 full-length plays that have been produced in San Francisco, Los Angeles, Washington D.C., and Louisville at such theatres as Magic Theatre, Actors Theatre of Louisville, TheatreWorks Silicon Valley, and many more. Her plays have won many awards including the Glickman Award for Best New Play (The Couch), the Kennedy Center's Fund for New American Plays Award (Speaking in Tongues), and the Neil Simon Festival New Play Award (William Blake in Hollywood). Kaufman's short stories have appeared in Cosmopolitan, Redbook, and McCalls. Her last production at The Marsh, Acid Test: The Many Incarnations of Ram Dass, made its world premiere at The Marsh Berkeley and enjoyed a successful run and extensions in both San Francisco and Berkeley for nearly a year.
Jackson Davis and Brian Herndon make their Marsh debuts. Davis will play the Nobel Prize winner Daniel Kahneman. He has worked throughout the Bay Area and performed in the world premieres of the musicals Max Understood, The Fourth Messenger, Hans Christian Andersen, and Josephine. An Actors' Equity Association member, Davis has also played at American Conservatory Theater, TheatreWorks Silicon Valley, Pacific Repertory Theatre, San Jose Stage Company, Livermore Shakespeare Festival, Aurora Theatre Company, Magic Theatre, Marin Theatre Company, San Francisco Playhouse, San Jose Repertory Theatre, Word for Word, Z Space, among others.
Herndon will play the MacArthur Genius Award winner Amos Tversky. He has worked throughout the Bay Area at TheatreWorks Silicon Valley, Marin Theatre Company, Aurora Theatre Company, San Jose Stage Company, Berkeley Playhouse, Shotgun Players, San Francisco Shakespeare Festival, 42nd Street Moon, and many others. He holds his MFA from the Alabama Shakespeare Festival and the University of Alabama, and studied at the Dell'Arte School. Herndon is a member of PlayGround, and the Actors' Equity Association.
Robert Kelley (Director) is TheatreWorks Silicon Valley's Founder and Artistic Director and has served as artistic head of the company since its inception in 1970. He has directed more than 170 TheatreWorks productions, including many world and regional premieres. In 2003 he was honored with the San Francisco Bay Area Theatre Critics Circle (SFBATCC) Paine Knickerbocker Award for Lifetime Achievement, and in 2016 was awarded the Jerry Friedman Lifetime Achievement Award from the SFBATCC. He received SFBATCC Awards for Outstanding Direction for his productions of Into the Woods, Pacific Overtures, Rags, Sweeney Todd, Another Midsummer Night, Sunday in the Park with George, Jane Eyre, and Caroline, or Change.
The Marsh is known as "a breeding ground for new performance." It was launched in 1989 by Founder and Artistic Director Stephanie Weisman, and now annually hosts more than 600 performances of 175 shows across the company's two venues in San Francisco and Berkeley. A leading outlet for solo performers, The Marsh's specialty has been hailed by the San Francisco Chronicle as "solo performances that celebrate the power of storytelling at its simplest and purest." The East Bay Times named The Marsh one of Bay Area's best intimate theaters, calling it "one of the most thriving solo theaters in the nation. The live theatrical energy is simply irresistible."
Photo Credit: David Allen