Alonzo King LINES Ballet Celebrates Its 40th Anniversary
The celebrations kick off with the world premiere of a new ballet featuring King's frequent collaborator, Grammy Award-winning vocalist Lisa Fischer.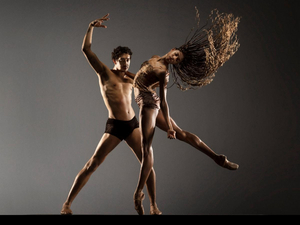 Alonzo King LINES Ballet, the internationally celebrated contemporary ballet company, is pleased to announce the performance schedule for its 40th Anniversary year. The celebrations kick off with the world premiere of a new ballet featuring King's frequent collaborator, Grammy Award-winning vocalist Lisa Fischer, who performs alongside the LINES Ballet dancers to a commissioned score by another of King's frequent collaborators, jazz pianist Jason Moran, May 13-22, 2022.
The company will host its 40th Anniversary Gala, an elegant evening benefiting LINES Ballet's new works and education programs, on May 14. The festivities continue throughout the year and culminate with a world premiere inspired by the environment of the Arctic, along with the reprise of Rasa, an exhilarating work with King's longtime collaborator, tabla master Zakir Hussain, October 7-16, 2022.
The 40th Anniversary year will see the premiere of a new documentary about LINES Ballet entitled Origins, created by award-winning filmmaker Drea Cooper. Also premiering this year is a new film collaboration between King, ballet superstar Misty Copeland and LINES dancer Babatunji Johnson, which tells the story of a young dancer raised by a single mother in Oakland.
Throughout the year Alonzo King LINES Ballet will tour around the world, performing in La Jolla, Portland, Austria, Serbia, Italy, France, Spain, and Santa Rosa. The company will also perform at the 90th Anniversary of the Jacob's Pillow Dance Festival, America's longest-running international dance festival, in July 2022.
Several companies outside of LINES Ballet will also bring Alonzo King's works to life in 2022. American Ballet Theatre commissioned a new work from King, which the company will premiere at Segerstrom Center for the Arts (March 14), and perform at the Kennedy Center (March 29-30), and the New York Metropolitan Opera House (July 7-9). Works by LINES Ballet will also be performed by Ballet Rambert at multiple venues throughout the UK (May and June); and by the National Ballet of Canada at the Four Seasons Centre for the Performing Arts in Toronto (November 9-13).
"As we look back on 40 years of work in the community, in ourselves, the programs, classes, and performances around the world, we recognize that the same vision and beliefs that have carried us to this moment will continue to carry this organization into the future," said King. "We have strived to make obvious that art is the inheritance of every individual, that art activates evolutionary growth, is an intellectual virtue, and the fostering principle for all making and doing. All human beings have access to unlimited possibility."
Since its founding in 1982, Alonzo King LINES Ballet has been guided by the unique artistic vision of Alonzo King. Collaborating with noted composers, musicians, and visual artists from around the world, King creates works that draw on a diverse set of deeply rooted cultural traditions, channeling the powerful understanding that ballet is part art, part science, and part primal intuition. His choreography, brought to life by the extraordinary LINES Ballet dancers, is branded with artistic excellence and bold imagination and shows us the extraordinary way that art connects us to each other and the world around us. For four decades the conceptual design, production, aesthetic and artistic direction of each project has been shaped in collaboration with Creative Director and LINES Ballet Co-Founder Robert Rosenwasser.
Alonzo King LINES Ballet's two home seasons are as follows:
World Premiere Collaboration with Lisa Fischer
May 13-22, 2022, Blue Shield Theater at Yerba Buena Center for the Arts, San Francisco
Friday, May 13, 7:30pm
Saturday, May 14 - Gala Performance
Sunday, May 15, 5pm
Wednesday, May 18-Saturday, May 21, 7:30pm
Sunday, May 22, 2022, 5pm
Alonzo King LINES Ballet kicks off its 40th Anniversary season with the world premiere of a new work featuring Grammy Award-winning vocalist Lisa Fischer performing live alongside the LINES Ballet dancers. The work is set to a score by jazz pianist, composer, and MacArthur Fellow Jason Moran. This is King's second collaboration with Fischer and his ninth collaboration with Moran. Fischer, a brilliant vocalist who has shared the stage with musical luminaries of nearly every genre, including Mick Jagger, Aretha Franklin, Tina Turner, Beyoncé and Sting, is also an accomplished solo artist. Her 1991 album So Intense garnered her a Grammy Award for the single "How Can I Ease the Pain." She was also featured in the Academy Award-winning documentary, Twenty Feet from Stardom. LINES Ballet's 40th Anniversary Gala, an elegant evening benefiting new works and educational programs, takes place May 14.
World Premiere inspired by the Arctic
October 7-16, 2022, Blue Shield Theater at Yerba Buena Center for the Arts, San Francisco
The company closes out its 40th Anniversary with a world premiere inspired by the environment of the Arctic. The idea for this ballet came out of a trip to the Arctic that Creative Director Robert Rosenwasser took along with members of the LINES community. The trip was hosted by Climate One and a group of climate scientists. Also on the program is Rasa, a deeply evocative and shimmering piece set to an original score by tabla virtuoso Zakir Hussain. A longtime collaborator of King, Hussain is widely considered a chief architect of the contemporary world music movement. His complex rhythmic systems naturally partner with King's choreography and illustrate the continuity between transcendental Eastern thinking and Western ballet's classical forms and techniques.
More information about Alonzo King LINES Ballet and its 40th Anniversary is at www.linesballet.org.
Although we strive to provide the most up-to-date information, the dates listed below may change due to circumstances caused by COVID-19.
ABOUT ALONZO KING
Alonzo King, Founder and Artistic Director of Alonzo King LINES Ballet, has been called a visionary choreographer, who is altering the way we look and think about movement. King calls his works 'thought structures', created by the manipulation of energies that exist in matter through laws, which govern the shapes and movement directions of everything that exists. Named as a choreographer with "astonishing originality" by the New York Times, Alonzo King LINES Ballet has been guided by his unique artistic vision since 1982. King has works in the repertories of the world's leading ballet and modern companies and has collaborated with distinguished visual artists, musicians and composers across the globe.
His work has been recognized for its impact on the cultural fabric of the company's home in San Francisco, as well as internationally by the dance world's most prestigious institutions. Named a Master of Choreography by the Kennedy Center in 2005, King is the recipient of the NEA Choreographer's Fellowship, the Jacob's Pillow Creativity Award, the US Artist Award in Dance, NY Bessie Award, and the National Dance Project's Residency and Touring Awards. In 2015 he received the Doris Duke Artist Award in recognition of his ongoing contributions to the advancement of contemporary dance. Joining historic icons in the field, King was named one of America's "Irreplaceable Dance Treasures" by the Dance Heritage Coalition. He is a former San Francisco commissioner, and a writer and lecturer on humanity and art. He holds an honorary Doctorate from Dominican University, California Institute of the Arts, and The Juilliard School.