ACT Ushers in the Holidays with A CHRISTMAS CAROL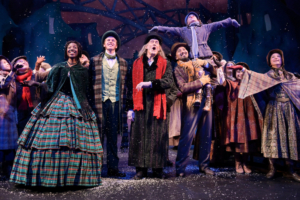 Featuring a lively cast of dozens, delightful music, gorgeous costumes, and those deliciously spooky ghosts, the Bay Area's favorite holiday tradition returns as American Conservatory Theater (A.C.T.) presents its celebrated production of the Charles Dickens classic A Christmas Carol. Under the direction of A.C.T. Associate Conservatory Director Peter J. Kuo, this version of A Christmas Carol-adapted by Paul Walsh and Carey Perloff-stays true to the heart of Dickens's timeless story of redemption and brings a playful sensibility to his rich language. A Christmas Carol runs November 29-December 24, 2019, at A.C.T.'s Geary Theater (415 Geary Street, San Francisco). Tickets (ranging in price from $10-$150) are available by calling the A.C.T. Box Office at 415.749.2228 or online at act-sf.org. Groups of 10 or more save up to 35% and enjoy free tickets for group leaders. For group sales, call 415.439.2424. Ticket prices are subject to change without notice.
Now in the theater's 43rd year of presenting the holiday classic, A Christmas Carol is a cornerstone of the A.C.T. repertory and has become a holiday tradition for families all around the San Francisco Bay Area. Since it began performances at A.C.T., A Christmas Carol has been performed more than 1,250 times to a collective audience of over 1,180,000 and has employed more than 1,900 actors and 750 backstage staff members. A.C.T.'s A Christmas Carol features a multigenerational cast of performers led by
James Carpenter
and
Anthony Fusco
, alternating performances as the miserly Ebenezer Scrooge. Joining Carpenter and Fusco is legendary Bay Area actor
Ken Ruta
(who originated this role in the 2005 production) as the Ghost of
Jacob Marley
, Scrooge's nightmarish late-night visitor;
Jomar Tagatac
and Amy Lizardo as Bob and Anne Cratchit;
Dan Hiatt
and
Sharon Lockwood
as the festive Mr. and Mrs. Fezziwig; along with
Catherine Castellanos
as the Ghost of Christmas Present. The adult cast also includes
Cindy Goldfield
and
Howard Swain
. Twelve students from the A.C.T. Master of Fine Arts (MFA) Program-many of whom traditionally receive their
Actors' Equity
cards as a result of their participation in A Christmas Carol-are also featured in this year's production. They are (in alphabetical order):
Dinah Berkeley
, Summer Brown, Edward Ewell, LeRoy S. Graham III, Lily D. Harris, Monica Ho, Kimberly Hollkamp-Dinon, Jared Corbin, Matt Monaco, Sarah Traisman, Emma Van Lare, and
Jeff Wittekiend
. Rounding out the cast are 24 talented young actors from the A.C.T. Young Conservatory (YC). They are (in alphabetical order): Vivian Amirault, Jenna Berg, Jasper Bermudez,
Lilia Bernstein
, Eloise Biddle-Gottesman, Johanna Gormley, Benji Levitt, Rachel Levitt, McKinley Lewellen, Sunil Mukherjee Maurillo, Melina Meniktas, Christophe Mitchell, Louise Morrissey, Shaina Pollak, Logen Powell, T. Wells Rees,
Andrew Rodgers
, Pilar Rivas, Xochitl Santillan, Shloak Shan, Madelyn Simon, Blake Steremberg, Aksh Varma, and Alex Zlatev. The creative team for A Christmas Carol includes A.C.T. Associate Conservatory Director Peter J. Kuo (Director),
John Arnone
(Scenic Designer),
Beaver Bauer
(Costume Designer),
Nancy Schertler
(Lighting Designer),
Jake Rodriguez
(Sound Design), Karl Lundeberg (Composer), Val Caniparoli (Choreography), Nancy Dickson (Repetiteur), and Danielle O'Dea (Fight Director). A.C.T. would also like to acknowledge its 2019-20 Season Presenters Jerome L. and Thao N. Dodson; Priscilla and Keith Geeslin; James C. Hormel and Michael P. Nguyen-Hormel; Kenneth and Gisele Miller; Toni Rembe and Arthur Rock; Robina Riccitiello; Mary and Steven Swig; Jeff and Laurie Ubben; and Kay Yun and Andre Neumann-Loreck; and Company Sponsors Mrs. Barbara Bakar; Lesley Ann Clement and Karl Lukaszewicz; Ray and Dagmar Dolby Family Fund; Frannie Fleishhacker; Kevin and Celeste Ford; Mr. and Mrs. Gordon P. Getty; Kirke and Nancy Sawyer Hasson; Jeri Lynn and Jeffrey W. Johnson; Fred M. Levin and Nancy Livingston, The Shenson Foundation; Mr. and Mrs. Robert McGrath; Burt and Deedee McMurtry; David and
Carla Riemer
; Patti and Rusty Rueff; Aaron Vermut and Adriana López Vermut; Jack and Susy Wadsworth; and
Barry Williams
and Lalita Tademy. Additional support provided by Hilton Union Square and Parc 55 San Francisco, A.C.T.'s Official Hotel Partner. A.C.T.'s 2019-20 season continues with Obie Award-winning playwright
Will Eno
's latest work, Wakey, Wakey, (January 23-February 16, 2020) starring two-time Emmy Award winner
Tony Hale
(HBO's Veep and Fox's/Netflix's Arrested Development);
Branden Jacobs-Jenkins
's shocking and scalpel-sharp dark comedy, Gloria (February 13-April 12, 2020); Lydia R. Diamond's extraordinary, real-life story of a trail-blazing Bay Area athlete, Toni Stone (March 5-29, 2020); the cult classic,
Richard O'Brien
's The Rocky Horror Show (April 23-May 17, 2020); and
Qui Nguyen
's raucously funny and deeply moving Poor Yella Rednecks: Vietgone Part 2 (June 4-28, 2020).
Photo Credit: Kevin Berne