A NIGHT WITH JANIS JOPLIN Plays Final Week at A.C.T.'s Geary Theater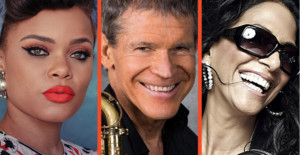 American Conservatory Theater's (A.C.T.) critically acclaimed production of A Night with Janis Joplin ends its six-week run this Sunday, July 16 following two extensions and resounding critical and audience response. The performance schedule for the final week is as follows: Wednesday, July 12 at 8 p.m.; Thursday, July 13 at 8 p.m.; Friday, July 14 at 8 p.m.; Saturday, July 15 at 2 p.m. & 8 p.m.; Sunday, July 16 at 2 p.m. & 7 p.m. Good seats for all remaining performances are available by calling the A.C.T. Box Office at 415.749.2228 or visiting www.act-sf.org.
Receiving the highest rating by the San Francisco Chronicle, A Night with
Janis Joplin
is a "transcendent" (San Francisco Chronicle) and "intoxicating" (SFist.com) musical journey celebrating Janis and her biggest musical influences-icons like
Aretha Franklin
,
Etta James
, Odetta,
Nina Simon
e, and
Bessie Smith
-who inspired one of rock and roll's greatest legends. Hailed as "a psychedelic flashback to the glory days of Haight-Ashbury" (Bay Area News Group), A Night with
Janis Joplin
features such unforgettable songs as "Me and Bobby McGee," "Piece of My Heart," "Mercedes Benz," "Cry Baby," "Summertime," and more! Starring
Kacee Clanton
-in a role she played to great acclaim on Broadway-as the iconic
Janis Joplin
, A Night with
Janis Joplin
also features (in alphabetical order):
Sharon Catherine Brown
, Ashley Támar Davis,
Tawny Dolley
, and
Sylvia MacCalla
. Kelly McIntyre performs the role of
Janis Joplin
at certain performances. Created, written, and directed by
R
Andy Johnson
, A Night with
Janis Joplin
features a creative team that includes Todd Olson (Music Director),
Len Rhodes
(Orchestrations),
Mike Baldassari
and
Gertjan Houben
(Lighting Designers),
Amy Clark
(Costume Designer),
Rob Bissinger
(Scenic Designer), Ben Selke (Sound Designer),
Darrel Maloney
(Projection Designer),
Leah Loukas
(Wig Designer),
Patricia Wilcox
(Choreographer),
Tyler Rhodes
(Associate Director), and
Jonathan Warre
n (Dance Supervisor). A.C.T.'s production of A Night with
Janis Joplin
is made possible by executive producer Nola Yee; producer Merrill Randol Sherwin; and associate producers Barb and Gary Erickson, Milton Mosk and Thomas Foutch, Christine and Stan Mattison, Helen M. Marcus and David J. Williamson, Tim Mott and Pegan Brooke, Robina Riccitiello, Rick and
Cindy Simon
s, and Lee and Carolyn Snowberg. A Night with
Janis Joplin
is sponsored by Pillsbury Winthrop Shaw Pittman LLP. A.C.T. would also like to acknowledge its 2016-17 season presenters Frannie Fleishhacker; Priscilla and Keith Geeslin; Fred M. Levin and Nancy Livingston, The Shenson Foundation; Burt and Deedee McMurtry; Arthur Rock and Toni Rembe; Mary and Steven Swig; and Jeff and Laurie Ubben; company sponsors Ray and Dagmar Dolby Family Fund; Jeri Lynn and Jeffrey W. Johnson; Barbara Ravizza and John S. Osterweis; Patti and Rusty Rueff; Jack and Susy Wadsworth; and Kay Yun and Andre Neumann-Loreck; season partner PG&E, lead education partner Wells Fargo, 50th Anniversary Season Airline Sponsor United Airlines, and Official Hotel Sponsor Hotel G.