2017 Jan Shrem and Maria Manetti Shrem Emerging Stars Competition Winner Announced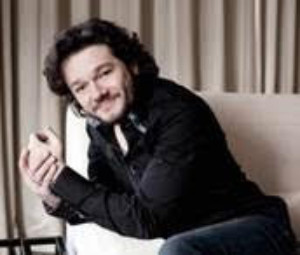 San Francisco Opera announces the winner of the 2017 Jan Shrem and Maria Manetti Shrem Emerging Stars Competition. Tenor Arturo Chacón-Cruz, who appeared as Rodolfo in Puccini's La Bohème this summer, was named "2017 Emerging Star of the Year" based on a popular vote conducted online at sfopera.com from July 5-August 15, 2017. Now in its second year, the competition featured rising stars appearing in San Francisco Opera's 2016-17 Season at the War Memorial Opera House.
The Emerging Stars Award is made possible by the Emerging Stars Fund, established through a multi-year, multi-million dollar gift from Company benefactors Jan Shrem and Maria Manetti Shrem. Their gift provides crucial support for San Francisco Opera to celebrate rising artists who are helping to make opera exciting and relevant to a new generation of audiences. The Emerging Stars Fund also seeks to engage the community in the thrill of experiencing these performers, and to build awareness of San Francisco Opera's leadership in showcasing new talent. In addition to the title of "Emerging Star of the Year," the winner of the competition will receive a $10,000 cash prize.
Arturo Chacón-Cruz was one of fourteen artists appearing in San Francisco Opera's 2016­-17 Season with support from the Jan Shrem and Maria Manetti Shrem Emerging Stars Fund. The other artists supported by the fund and featured in this competition were mezzo-soprano J'Nai Bridges and baritone David Pershall (Andrea Chénier); mezzo-soprano Irene Roberts (Dream of the Red Chamber); soprano Heidi Stober and tenor Lawrence Brownlee (Don Pasquale); soprano Leah Crocetto and tenor Brian Jagde (Aida); tenor Vincenzo Costanzo and baritone Anthony Clark Evans (Madama Butterfly); soprano Sarah Shafer and bass-baritone Michael Sumuel (Don Giovanni); and sopranos Ellie Dehn and Erika Grimaldi (La Bohème).
Maria Manetti Shrem said: "Jan and I were so excited when we learned that Arturo won this year's Emerging Star of the Year competition. We are committed to celebrating artists on-the-rise at San Francisco Opera because they are essential to keeping the art form fresh and exciting. We were thrilled to inaugurate and to continue supporting this competition, and we are delighted to give a special award to Arturo for his amazing work this summer in La Bohème."
Jan Shrem continued, "Maria and I are so inspired by this new generation of stars at San Francisco Opera. They work so hard and they inspire us with their dedication and talent. I am happy to raise awareness for them through the Emerging Stars competition. Arturo Chacón-Cruz sets a wonderful example for other rising stars in the opera world. Bravo Arturo!"
"I am very grateful to the San Francisco Opera family for this nomination," said Arturo Chacón-Cruz. "It was an amazingly rewarding experience to come back to San Francisco to sing Rodolfo in La Bohème, with incredible colleagues and an involved and supportive audience. I want to especially thank Maria Manetti Shrem and Jan Shrem for their generosity in sponsoring this great initiative to spread our work and craft around the world. I am overwhelmed by the love and support I received from my friends on my social media platforms, where I received thousands of messages from all around the globe. Thank you, dear friends, for making it possible to receive this honor!"
A native of Sonora, Mexico, tenor Arturo Chacón-Cruz made his San Francisco Opera debut in 2012 as the Duke of Mantua in Rigoletto. A 2005 winner of Plácido Domingo's Operalia Singing Competition, his career has seen a successful and steady development, having sung over 50 roles in more than 20 countries and with repertoire spanning from Bellini and Donizetti to Puccini and Verdi. His career highlights include Rodolfo in Stockholm, Berlin and Munich; the title role of Les Contes d'Hoffmann with Milan's Teatro alla Scala and Vienna's Theater an der Wien; Pinkerton in Madama Butterfly with Washington National Opera; the title role of Faust in Montpellier, France; Christian in Cyrano de Bergerac in Valencia; and Ruggero in La Rondine with Venice's Teatro La Fenice. Chacón-Cruz's recent and upcoming performances include the title role of Werther in Barcelona, Des Grieux in Manon in Monte Carlo, Alfredo Germont in La Traviata in Munich and Rome, Don José in Carmen in Zurich, Macduff in Macbeth in Vienna, Rodolfo in Hamburg, and the Duke in Los Angeles and Verona.