Photo Flash: The Old Globe's THE TEMPEST
The Old Globe's presents its 2011 Shakespeare Festival, performed in repertory in the outdoor Lowell Davies Festival Theatre. Adrian Noble returns as the Artistic Director of the 2011 Festival and will direct Shakespeare's The Tempest and Peter Shaffer's Amadeus. Ron Daniels also returns and will direct Much Ado About Nothing. The Shakespeare Festival runs May 29 - Sept. 25. Tickets are available by subscription and prices range from $72 to $243. Single tickets are also available starting at $29. Subscription packages and single tickets may be purchased online at www.TheOldGlobe.org, by phone at (619) 23-GLOBE or by visiting the Box Office.
Much Ado About Nothing runs May 29 - Sept. 24. Previews run May 29 and June 25, 26 and 28. Opening night is June 29. The Tempest runs June 5 - Sept. 25. Previews run June 5, 16, 17 and 18. Opening night is June 19. Amadeus runs June 12 - Sept. 22. Previews run June 12, 21, 22 and 23. Opening night is June 24.
As previously announced, Miles Anderson will play Prospero in The Tempest and Antonio Salieri in Amadeus, Jay Whittaker will play Wolfgang Amadeus Mozart in Amadeus and Don John in Much Ado About Nothing, Jonno Roberts will play Benedick in Much Ado About Nothing and Caliban in The Tempest and Georgia Hatzis will play Beatrice in Much Ado About Nothing and a Venticella in Amadeus. Miles Anderson and Jay Whittaker received San Diego Critics Circle Awards for Best Actor and Best Supporting Actor, respectively, in recognition of their performances in last season's Festival.
The Tempest cast features Michael Stewart Allen (Sebastian), Miles Anderson (Prospero), Shirine Babb (Iris), John Cariani (Trinculo), Donald Carrier (Alonso), Anthony Cochrane (Antonio), Winslow Corbett (Miranda), Kevin Alan Daniels (Ferdinand), Adam Daveline (Shipmaster), Grayson DeJesus (Francisco), Ben Diskant (Ariel), Christian Durso (Adrian), Andrew Hutcheson (Boatswain), Charles Janasz (Gonzalo), Allison Spratt Pearce (Ceres), Deborah Radloff (Juno), Jonno Roberts (Caliban) and Adrian Sparks (Stephano) with Rachael Jenison, Jesse Jensen, Jason Maddy, Ryman Sneed and Jonathan Spivey (Spirits).
LOCATION: The Old Globe is located in San Diego's Balboa Park at 1363 Old Globe Way. There are several free parking lots available throughout the park. Valet parking is also available ($10). For additional parking information visit www.BalboaPark.org.
The Tony Award-winning Old Globe is one of the country's leading professional regional theaters and has stood as San Diego's flagship arts institution for 75 years. Under the direction of Executive Producer Louis G. Spisto, The Old Globe produces a year-round season of 15 productions of classic, contemporary and new works on its three Balboa Park stages: the 600-seat Old Globe Theatre and the 250-seat Sheryl and Harvey White Theatre, which are both part of The Old Globe's Conrad Prebys Theatre Center, and the 605-seat outdoor Lowell Davies Festival Theatre, home of its internationally renowned Shakespeare Festival. More than 250,000 people attend Globe productions annually and participate in the theater's education and community programs. Numerous world premieres such as The Full Monty, Dirty Rotten Scoundrels, A Catered Affair, and the annual holiday musical, Dr. Seuss' How the Grinch Stole Christmas!, have been developed at The Old Globe and have gone on to enjoy highly successful runs on Broadway and at regional theaters across the country.
Photo Credit: Henry DiRocco/Jeffrey Weiser


Miles Anderson as Prospero and Ben Diskant as Ariel .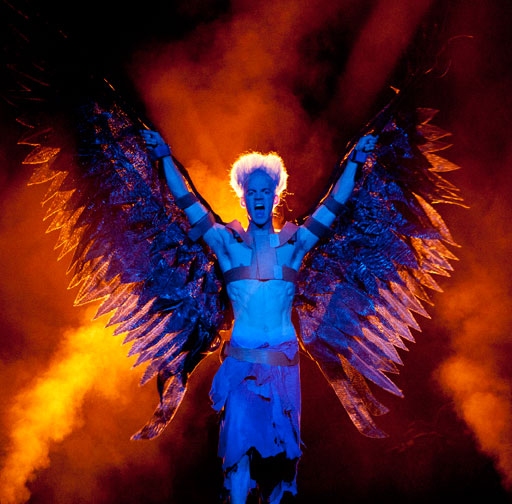 Ben Diskant as Ariel 

Adrian Sparks as Stephano, Ben Diskant as Ariel, Jonno Roberts as Caliban and John Cariani as Trinculo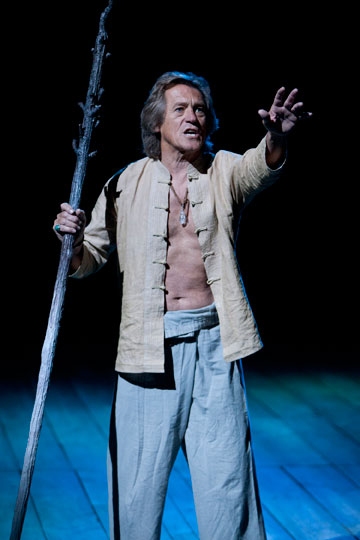 Miles Anderson as Prospero 

Miles Anderson as Prospero and Jonno Roberts as Caliban 

Adrian Sparks as Stephano, Ben Diskant as Ariel and Jonno Roberts as Caliban

Winslow Corbett as Miranda and Miles Anderson as Prospero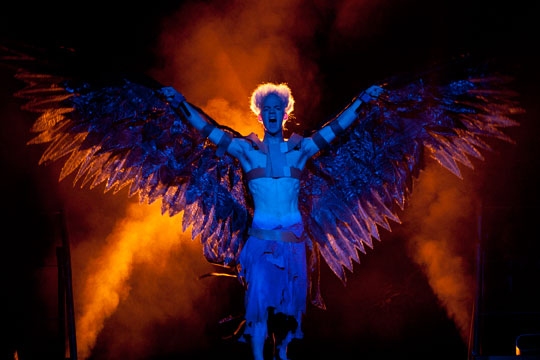 Ben Diskant as Ariel 

The cast of The Tempest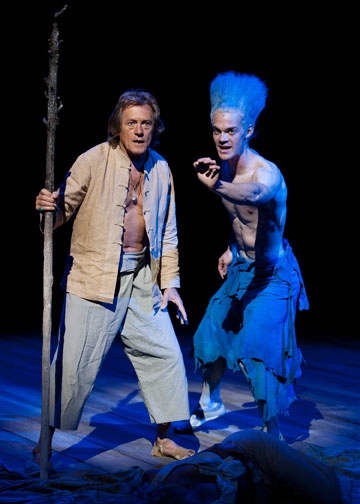 Miles Anderson as Prospero and Ben Diskant as Ariel

onno Roberts as Caliban, Adrian Sparks as Stephano and Ben Diskant as Ariel

Miles Anderson as Prospero