La Jolla Playhouse Slates 2017 Without Walls Festival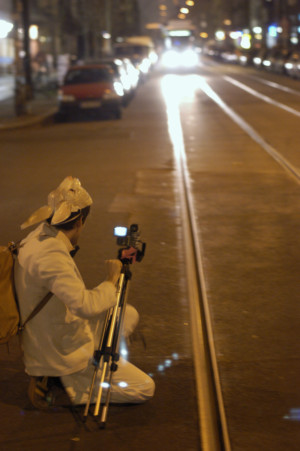 La Jolla Playhouse
, nationally-renowned for its commitment to the development of new work and new theatrical forms, is pleased to announce the dates and selected projects and collaborators for its third Without Walls (WoW) Festival of immersive and site-based work.
The 2017 WoW Festival will take place October 19 - 22 in downtown San Diego and surrounding areas, in collaboration with several major partners, including Horton Plaza Park, Westfield Corporation; The New Children's Museum; the San Diego Public Library; Bread & Salt and Border X Brewing; as well as ArtPower. Also new to this year's event is the appointment of Meiyin Wang as Festival Director.
"Building on the success of our previous Without Walls Festivals, our 2017 outing will showcase works that redefine our conception of theatre, as well as the customary relationship between audience and art. In a new twist, we're bringing this year's Festival to downtown San Diego and environs, giving the Playhouse an opportunity to expand our reach, develop new community partnerships and offer audiences even more innovative sites and experiences," said La Jolla Playhouse Artistic Director and 2017 Tony Award winner Christopher Ashley. "We are also extremely pleased to bring on board Meiyin Wang to oversee this year's Festival. Her extensive curatorial and producing background will help us take the WoW Festival to new heights."
Like previous WoW Festivals, the 2017 event will showcase multiple performances by acclaimed local, national and International Artists, along with a selection of family-friendly offerings, occurring simultaneously throughout the weekend.
Confirmed projects include Super Night Shot by the Berlin-based Gob Squad, to take place at the San Diego Public Library, and a Playhouse-commissioned, performative installation entitled Model Home, by 2017 Tony Award-winning scenic designer and MacArthur "Genius" Fellow Mimi Lien (Playhouse's Milk Like Sugar), to take place at Horton Plaza Park.
The WoW Festival will also feature projects by such local companies as Sledgehammer Theatre (2015 WoW Festival's Heaven on Earth) with a production of Charles Mee's Under Construction: An American Masque, produced in association with UC San Diego Department of Theatre & Dance, to take place at Logan Heights' Bread & Salt; the storytelling group So Say We All, with the piece Incoming: Sex, Drugs, and Copenhagen, to take place in Barrio Logan's Border X Brewing; a new version of the 2015 WoW Festival's popular interactive family adventure, The Quest 3.0, developed in collaboration with The New Children's Museum, where the piece will take place; and Trisha Brown Dance Company's In Plain Site, presented by ArtPower at their UC San Diego space, in association with the WoW Festival.
Additional projects will be announced at a later date. Tickets for WoW Festival productions, ranging from free to $29, will go on sale later this summer. For more information, visit LaJollaPlayhouse.org.
Meiyin Wang most recently served as Co-Director of Under the Radar Festival (UTR) and Director of the Devised Theater Initiative at The Public Theater in New York. Since 2005, the 12-day UTR festival has been a catalyst in discovering new performance in the US and around the world. Artists have included Reggie Watts, 600 Highwaymen, Toshiki Okada, Belarus Free Theatre, Back to Back Theater, and Guillermo Calderon. In 2013, she led the creation of the Devised Theater Initiative, a program that enhances UTR's year-round programmatic structure by serving as an incubator for independently-produced work. She was the 2015 curator of the Artist in Residence series of New York's critically-heralded Park Avenue Armory and the lead curator of Arts Emerson's TNT Festival 2012. She is currently the creative producer for the opera Octavia E. Butler's Parable of the Sower, by Toshi Reagon and Bernice Johnson Reagon, and Pig Iron Theater Company's A Period of Animate Existence. She is also a Mellon Foundation Creative Research Fellow at the University of Washington. Wang holds a B.A in Political Science and Theater Studies from Yale and an M.F.A. in Directing from Columbia.
Since its inception in 2009, the Playhouse's signature Without Walls series has become one of San Diego's most popular and acclaimed performance programs. Over the last eight years, the Playhouse has been commissioning and presenting a series of immersive and site-specific productions at locations throughout the San Diego community, including Susurrus (2010), The Car Plays: San Diego (2011), Sam Bendrix at the Bon Soir (2012), Accomplice: San Diego (2013), El Henry (2014), The Grift at the Lafayette Hotel (2015) and The Bitter Game (2016), as well as the biennial WoW Festival.
The 2017 Without Walls Festival is supported in part by The James Irvine Foundation and The Wallace Foundation, as well as a $25,000 grant from the National Endowment for the Arts.
WoW Festival Projects and Artists/Companies:
Gob Squad's Super Night Shot is a unique multi-screen movie which is shown only once. Filming begins exactly one hour before the audience arrive at the theatre when Gob Squad take to the city streets, cameras rolling. The city streets are turned into a film set where cigarette butts, graffiti and cars serve as props and facades and the local people become potential lovers, liberators or friends. This is the movie of their lives, their chance to shine. Super Night Shot is a magical journey through the night time streets of San Diego. Full of unexpected surprises, the public become co-stars in a movie that celebrates unplanned meetings with strangers, serendipity and chance. Anything can happen - each show is as totally unique as the city in which it is filmed and the people who inhabit it. Following its highly acclaimed premiere in Berlin, Super Night Shot continues to wage its war on anonymity in various cities all over the world with over 250 shows on six continents.
Gob Squad has been devising, directing and performing together since 1994, working where theatre meets art, media and real life. Always on the hunt for beauty amidst the mundane, they place their work at the heart of urban life: in houses, shops, underground stations, car parks, hotels or directly on the street, as well as in theatres and galleries. Motivated by a desire to elevate the everyday and empower audience members to step beyond their traditional role as passive spectators, Gob Squad set up often absurdly utopian scenarios where meaningful collective experience and genuine encounters involving passers-by and audience members are suddenly possible. Audiences might be asked to dance, sing, play guitar in a band, play the part of a lover or liberator in a semi-improvised film, or be asked to explain the complexities of the world to an unknown future. Or they might just simply be asked to sit and bear witness to the organized chaos unfolding on stage before them. For 20 years, Gob Squad have been searching for new ways to combine media and performance, producing stage shows, video installations, radio plays, interactive live films and urban interventions. They try to scratch beneath the shiny, pixelated surface of the 21st century, seeking out the dark corners and hidden desires of contemporary culture. Gob Squad was founded in 1994, whilst its members were still at Nottingham Trent and Giessen universities. Berlin has been the group's creative home since 1999. Core members are Johanna Freiburg, Sean Patten, ShaRon Smith, Berit Stumpf, Sarah Thom, Bastian Trost and Simon Will.
Model Home is an urban intervention/installation situated in downtown San Diego, anchored by a large construction crane hoisting a brightly colored, archetypal house, high up in the air. At once incongruous and familiar, the performative installation reflects the shifting infrastructure of a changing city, and asks, what makes a home?
Mimi Lien is a designer of sets/environments for theater, dance, and opera. Arriving at set design from a background in architecture, her work often focuses on the interaction between audience/environment and object/performer. She was named a 2015 MacArthur Fellow, and is the first set designer ever to achieve this distinction. Lien is a company member of Pig Iron Theatre Company, resident designer at BalletTech, and co-founder of JACK, a performance/art space in Brooklyn. Selected work includes Natasha, Pierre, & The Great Comet of 1812 (Broadway; Tony Award, Lortel Award, 2013 Hewes Design Award), John (Signature Theatre, 2016 Hewes Design Award), Appropriate (Mark Taper Forum, LA Drama Critics Circle Award), Preludes, The Oldest Boy (Lincoln Center), An Octoroon (Soho Rep/TFANA, Drama Desk and Lortel nominations), Black Mountain Songs (BAM Next Wave). Her stage designs have been exhibited in the Prague Quadrennial in 2011 and 2015, and her sculptures were featured in the exhibition, LANDSCAPES OF QUARANTINE, at the Storefront for Art and Architecture. Lien is a recipient of the Cullman Award for Extraordinary Creativity at Lincoln Center Theater, Lucille Lortel Award, American Theatre Wing Hewes Design Award, LA Drama Critics Circle Award, Barrymore Award, and an OBIE Award for sustained excellence.
Under Construction: An American Masque by Charles L. Mee is set within a contemporary banqueting hall, where spectators will be served a light repast while immersed within a collage of America today - scenes and songs and dances inspired by both Norman Rockwell of the fifties, and by the installation artist whose work most resonates in today's culture of socio-political corruption and moral degradation, Jason Rhoades. Rockwell and Rhoades juxtaposed side by side-then and now, the fifties and the present, the red states and the blue states, where we grew up and where we live today, a piece that is, like America, permanently under construction. Following their exuberant and muscular production of Mee's Heaven on Earth at the 2015 WoW Festival, Under Construction will be conceived, directed and designed by the same core artistic team, consisting of Sledgehammer Founding Artists Scott Feldsher and Robert Brill (Feldsher will direct, Brill will design) and will be produced in association with the UC San Diego Department of Theatre & Dance, where Brill serves as Professor of Scenic Design.
Thirty years ago a group of ambitious UC San Diego undergraduates set about to make their mark on theater creating their first show in a canyon near Geisel Library, and a company designed to "sledgehammer" existing theatre. Moving to The Warehouse district of pre-Redevelopment downtown, they were quickly dubbed the "Bad Boys of Sledgehammer Theatre" in a 1998 American Theatre magazine cover story, making a national reputation for bold settings of classic works, new plays and multi-media installations. Collaboration among multi-disciplinary artists is a core artistic value, with most productions featuring original musical scores and collaboration with visual and movement artists. The company has created over 70 productions, almost 30 world premieres, performed in New York, San Francisco and Los Angeles and operated St. Cecilia's Theatre (6th Avenue Playhouse) for over 10 years, providing a creative home for other local and emerging companies.
So Say We All's Sex, Drugs, and Copenhagen showcases the voices of military veteran writers and their true stories related to the coping mechanisms they depended on, both in the service and while re-acclimating to civilian life. A rare opportunity to hear about the relationships and habits they formed, at the risk of their careers but to preserve their mental health, the newest offering by the So Say We All Veteran Writers Division will surprise audiences and confound stereotypes related to service members, hilarious and poignant all at once.
Founded in 2009, So Say We All (SSWA) is a literary and performing arts non-profit organization whose mission is to help people tell their stories, and tell them better, through three core priorities: publishing, performance, and education. In addition to programs made available to the public, SSWA offers education outreach programs specifically targeting communities who have been talked about disproportionately more than heard from in mainstream media. The biggest hurdle for someone with a story that needs to be told is knowing where to begin. So Say We All's purpose is to answer that need, to be a resource that listens to all facets of its community regardless of the volume at which they speak.
The Quest 3.0, developed in collaboration between La Jolla Playhouse and The New Children's Museum, is an interactive family adventure that challenges participants to gather clues as they embark on a great adventure-exploring artifacts, engaging in clandestine meetings and solving peculiar puzzles-in order to discover a surprising truth. Help the Society of Creative Thinkers solve this dilemma. Open your eyes to the world around you where anything-or anyone-might be a clue. Make your plans now to embark on The Quest 3.0. Everyone is guaranteed to have a fun time!
In planning since before Trisha Brown's death earlier this year, ArtPower is proud to present a unique iteration of In Plain Site, a site-specific work created for the UC San Diego campus by Trisha Brown Dance Company (TBDC). The company will adapt Brown's signature works around the campus, honoring her commitment to the presentation of performances in nontraditional venues, a format she helped pioneer. Trisha Brown was an iconic American choreographer and co-founder of postmodern dance. She formed TBDC in 1970, and the company has toured her work throughout the world. She was a recipient of awards from the MacArthur Foundation, U.S. Artists, the Dorothy & Lillian Gish Prize, and the National Medal of the Arts, among many others. Brown engaged collaborators who are themselves leaders in music, theater, and the visual arts, including visual artists Robert Rauschenberg, Donald Judd, and Elizabeth Murray, and musicians Laurie Anderson, John Cage, and Alvin Curran, just to name a few. With these partners, she created exceptionally varied works that have been staples in the dance world for decades.
WoW Festival Partners/Venues:
ArtPower at UC San Diego builds creative experiences in music, dance, exhibition and food for our collective pleasure and inspiration. We engage diverse audiences through vibrant, challenging, multi-disciplinary performances by emerging and renowned International Artists. Through extensive partnerships, ArtPower provides exciting opportunities for research, participation, and creation of new work, igniting powerful dialogue between artists, students, scholars, and the community.
Border X Brewing is a Mexican inspired craft brewery specializing in true Mexican flavours combined with traditional craft brewing techniques. Our flagship beer, Blood Saison, is an excellent example of fusing the traditional Mexican "agua fresca" with traditional craft brewing to create a delicious new Saison style beer that is floral, almost fruity but with a crisp tart finish. We the only Latino, family owned craft brewery in California, and possibly the US. Our roots are firmly planted in the "Border Region" between Mexico and US, and we believe that it is not only a unique geography, but a state of mind. We chose our name, Border X Brewing, to celebrate the combinations of the best from both sides of the border. Music, art, food and now, craft beer, intersect in new and exciting ways that are only possible when two unique and distinct cultures cross and influence in both directions. Border X Brewing is committed to exploring this fusion in craft brewing in new, exciting and delicious ways.
Bread & Salt is a former Weber Bakery turned community arts building located in Logan Heights, a tight knit community located just south of downtown San Diego. It is a 40,000 square foot rambling structure filled with galleries, event spaces, offices and a soon to emerge neighborhood cooperative café. It is a nexus of artists, artisans, designers, established arts organizations, and community members. In 2018 we will engage phase two of the project, which will involve the creation of 25 live/work affordable for rent spaces for artists and artisans. Fine and performance artists, metal workers, wood workers, potters, jewelers and other craftspeople are losing their shops in order to make way for the encroaching downtown and this project will allow a permanent home for these creative individuals. In its time, The Weber Bakery was a stalwart of the community, employing local people and acting as a center of the community, offering jobs, hosting weddings, dances, and a home to community meetings. That which provided sustenance of body also aspired to provide sustenance of soul, of community. That is what we are going to resurrect here, in this barrio, because this arts center can help to establish this area as a haven for artists, for creative thought, for inclusion and for diversity.
Located in the heart of Downtown San Diego, Horton Plaza Park is a world-class urban plaza and the region's newest outdoor entertainment venue. From grand scale productions to intimate affairs, the property offers unparalleled service to clients and exceptional experiences for guests. The Park is a central gathering area for Downtown workers, resident and tourists, as well as a destination for the greater San Diego County. Horton Plaza Park is the perfect location for special events, offering a sanctuary amidst the energy and excitement of the Gaslamp District.
The New Children's Museum is a new model of children's museum whose mission is to stimulate imagination, creativity and critical thinking in children and families through inventive and engaging experiences with contemporary art. Serving San Diego for 30 years, the Museum opened in 1983 in La Jolla as the Children's Museum/Museo de los Niños and reopened downtown in 2008. The New Children's Museum brings families together in a rich educational environment that fosters creativity - blending elements of children's museums and art museums. The Museum collaborates with contemporary artists on an ongoing basis, both for large-scale thematic exhibitions, individual installations and educational programs for children. The New Children's Museum is a non-profit institution funded by admissions, memberships and community support. To learn more, visit thinkplaycreate.org.
With a vision of being the place for opportunity, discovery and inspiration, the San Diego Public Library is a hub for knowledge and lifelong learning. As the largest library system in the region, it serves a population of more than 1.3 million people. Learn about events at the San Diego Central Library @ Joan & Irwin Jacobs Common and 35 community branch libraries, find links to programs and resources or search for materials in the online catalog at sandiegolibrary.org.
The Tony Award-winning La Jolla Playhouse is internationally-renowned for creating some of the most exciting and adventurous work in American theatre, through its new play development initiatives, its innovative Without Walls series, artist residencies and commissions. Led by Artistic Director and 2017 Tony Award winner Christopher Ashley and Managing Director Michael S. Rosenberg, the Playhouse was founded in 1947 by Gregory Peck, Dorothy McGuire and Mel Ferrer, and reborn in 1983 under the artistic leadership of Des McAnuff, La Jolla Playhouse has had 28 productions transfer to Broadway, garnering 38 Tony Awards, among them the currently-running, Tony Award-nominated shows Come From Away and Indecent, as well as Jersey Boys, Memphis, The Who's Tommy, Big River, as well as Billy Crystal's 700 Sundays and the Pulitzer Prize-winning I Am My Own Wife, both fostered as part of the Playhouse's Page To Stage Program. More at LaJollaPlayhouse.org.
Related Articles View More San Diego

Stories

Shows
More Hot Stories For You