Cast and Creative Team Announced for The Old Globe's THE IMPORTANCE OF BEING EARNEST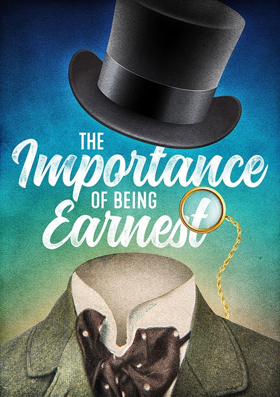 The Old Globe's 2017-2018 Season continues with today's announcement of the complete cast and creative team of a top-notch revival of Oscar Wilde's endlessly entertaining comedy The Importance of Being Earnest. Maria Aitken will direct the Globe's handsome production of this timeless world classic-an unmissable opportunity to see what the London Telegraph calls "the most perfect comedy in the English language." The Importance of Being Earnest will run January 27 - March 4, 2018 on the Donald and Darlene Shiley Stage in the Old Globe Theatre, part of the Globe's Conrad Prebys Theatre Center. Tickets start at $30.00 and are on sale now to the general public. Previews run January 27-31. Opening night is Thursday, February 1 at 8:00 p.m.
Oscar Wilde's wildly entertaining comedy sparkles with dazzling wordplay and hilariously unlikely situations. This "trivial comedy for serious people" features two carefree bachelors, Jack and Algernon, each with a carefully hidden double life. But when Algernon discovers that Jack has been posing as a man named Ernest to escape to the city, he promptly travels to Jack's country estate to pose as the fictional figure himself! Silliness ensues with whimsical ingénues, jealous fiancées, indomitable dowagers, and the most famous handbag in theatre history.
The cast features Kate Abbruzzese (Hon. Gwendolen Fairfax), Sam Avishay (Merriman), Helen Carey (Lady Bracknell), Helen Cespedes (Cecily Cardew),Christian Conn (Algernon Moncrieff), Rodney Gardiner (Rev. Canon Chasuble), Daniel Harray (Lane, Moulton), Jane Ridley (Miss Prism), and Matt Schwader(John "Jack" Worthing).
The creative team includes Hugh Landwehr (Scenic Design), Fabio Toblini (Costume Design), Philip S. Rosenberg (Lighting Design), Fitz Patton (Sound Design), David Huber (Voice and Dialect Coach), Caparelliotis Casting (Casting), and Anjee Nero (Production Stage Manager).
"World-class revivals of the world's classics have always been an important part of The Old Globe's work, and this splendid and hilarious production of The Importance of Being Earnest continues this theatre's legacy of excellence," said Erna Finci Viterbi Artistic Director Barry Edelstein. "I am thrilled to welcome the great Maria Aitken here for her Globe debut. Along with a distinguished acting career that saw her perform in more than one production of this play, she has forged a directing career notable for its accomplishment in high comedy. There's no director in whose hands I'd rather see this gloriously witty play, and the actors and designers Maria has gathered promise a beguiling and wild night of Wilde."
The Importance of Being Earnest is supported in part through gifts from the Jean and Gary Shekhter Fund for Classic Theatre and Production Sponsors Nikki and Ben Clay, Ann Davies, Silvija and Brian Devine, Jean and Gary Shekhter, Darlene Marcos Shiley, United Airlines, and The Erna Finci Viterbi Artistic Director Fund. Financial support is provided by The City of San Diego.
Oscar Wilde (Playwright, 1854-1900) was born in Dublin, Ireland, and attended University of Oxford, where he proved to be a brilliant scholar, winning the Newdigate Prize for his poem "Ravenna." His first collection, Poems, was published in 1881. His only novel, The Picture of Dorian Gray, was published in 1890 and was widely condemned by Victorian critics for its "immoral" content, but it remains one of his most acclaimed works. In the subsequent years, Mr. Wilde had enormous success on stage with his comedies Lady Windermere's Fan (1892), A Woman of No Importance (1893), An Ideal Husband (1895), and The Importance of Being Earnest (1895). His play Salome (1893), written in French, was refused a license in London but, 13 years later, was adapted by Richard Strauss into a successful opera. The Marquess of Queensberry strongly disapproved of the playwright, and a quarrel ensued that eventually led to Mr. Wilde's imprisonment for homosexuality. He was sentenced to two years hard labor and was released in 1897. He moved to France under the name Sebastian Melmoth and, while there, wrote his famous poem "The Ballad of Reading Gaol." He died in exile in 1900.
Maria Aitken (Director) just directed August Strindberg's Creditors at American Players Theatre. Her previous credits include Tartuffe and Heartbreak House(Resident Ensemble Players), The Cocktail Hour (Guthrie Theater), Bedroom Farce, Private Lives, Educating Rita, The Cocktail Hour, and The Seagull (Huntington Theatre Company), Man and Boy (Broadway, West End, tour), The Gift (Melbourne Theatre Company, Geffen Playhouse), Private Lives and As You Like It(Shakespeare Theatre Company, Regent's Park Open Air Theatre), Quartermaine's Terms (Williamstown Theatre Festival), The 39 Steps (Broadway, Tony Award nomination for Best Direction of a Play, Olivier Award-winning nine-year West End production, Helpmann Award), Japes (Bay Street Theater), The Mystery of Irma Vep and Happy Family (West End), After the Ball Was Over (The Old Vic), and The Rivals (Court Theatre). Ms. Aitken has taught courses in high comedy at the British American Drama Academy, The Juilliard School, Yale School of Drama, New York University's Tisch School of the Arts, The Actors Center, Academy for Classical Acting, and Royal National Theatre Studio. As leading actress, she has appeared in the West End productions of Blithe Spirit and Bedroom Farce(National Theatre), Travesties and Waste (Olivier Award nomination for Best Actress), The Happiest Days of Your Life (Royal Shakespeare Company), Humble Boy, Sylvia, Other People's Money, The Vortex, The Women, Sister Mary Ignatius Explains It All for You, Design for Living, Private Lives (Olivier Award nomination for Actress of the Year in a Revival), and A Little Night Music. She also appeared in the film A Fish Called Wanda (BAFTA nomination for Best Actress in a Supporting Role). Ms. Aitken is the author of A Girdle Round the Earth and Style: Acting in High Comedy. She received a Master of Arts from University of Oxford in English Language and Literature, and she is a Trustee of the Noel Coward Foundation.
Additional events taking place during the run of The Importance of Being Earnest include:
VICKI AND CARL ZEIGER INSIGHTS SEMINAR: Tuesday, January 30 at 5:30 p.m.
An opportunity to closely connect with productions both onstage and backstage. A panel selected from the artistic company of each show (playwrights, actors, directors, designers, and/or technicians) engages patrons in an informal and illuminating presentation of ideas and insights to enhance the theatregoing experience. Reception at 5:00 p.m. FREE.
SUBJECT MATTERS: Saturday, February 3 following the 2:00 p.m. matinee.
Explore the ideas and issues raised by a production through brief, illuminating post-show discussions with local experts, such as scientists, artists, historians, and scholars. Subject Matters will ignite discussion, bring the play's concerns into sharp focus, and encourage you to think beyond the stage! FREE.
POST-SHOW FORUMS: Tuesdays, February 6 and February 13, and Wednesday, February 21.
Join us after the show for an informal and enlightening question-and-answer session with cast, crew, and/or Globe staff members. Get the inside story on creating a character and putting together a professional production. FREE.
OUT AT THE GLOBE 2018 Thursday, February 8 at 6:30 p.m., curtain at 8:00 p.m.
See The Importance of Being Earnest in an evening for the whole LGBT community! This event includes three drinks from the wine and martini bar, delicious appetizers, door prizes, and a pre-show mixer. Featured guest Christian Conn (Algernon in Earnest) will give us a brief "inside scoop" on what it's like to play one of Oscar Wilde's most unforgettable characters, the witty and stylish Algernon Moncrieff. Everyone is welcome. Just $24 per person in addition to your theatre ticket. Sponsored by Sabuku Sushi.
SINGLE TICKETS to The Importance of Being Earnest start at $30.00 and are on sale now to the general public. Tickets can be purchased online atwww.TheOldGlobe.org, by phone at (619) 23-GLOBE [234-5623], or by visiting the Box Office at 1363 Old Globe Way in Balboa Park. Discounts are available for full-time students, patrons 29 years of age and under, seniors, military members, and groups of 10 or more.
Performances begin on January 27, 2018 and continue through March 4, 2018. Performance times: Previews: Saturday, January 27 at 8:00 p.m.; Sunday, January 28 at 7:00 p.m.; Tuesday, January 30 at 7:00 p.m.; and Wednesday, January 31 at 7:00 p.m. Opening night is Thursday, February 1 at 8:00 p.m. Regular performances (February 2 - March 4): Tuesday and Wednesday evenings at 7:00 p.m., Thursday and Friday evenings at 8:00 p.m., Saturdays at 2:00 p.m. and 8:00 p.m., and Sundays at 2:00 p.m. and 7:00 p.m. There will be an additional matinee performance on Wednesday, February 21 at 2:00 p.m. and no matinee performance on Saturday, February 24 at 2:00 p.m.
LOCATION and PARKING INFORMATION: The Old Globe is located in San Diego's Balboa Park at 1363 Old Globe Way. Through a special arrangement with the San Diego Zoo, Old Globe evening ticket-holders have the opportunity to pre-purchase valet parking in the Zoo's employee parking structure. With a drop-off point just a short walk to the Globe, theatregoers may purchase fast, easy, convenient valet parking for just $14 per vehicle per evening. Pre-paid only, available only by phone through The Old Globe Box Office. Call (619) 234-5623 or visit
www.theoldglobe.org/plan-your-visit/directions--parking/valet-parking. The Balboa Park valet is also available during performances, located in front of the Japanese Friendship Garden. For additional parking information visit www.BalboaPark.org.
There are numerous free parking lots available throughout the park. Guests may also be dropped off in front of the Mingei International Museum. There is a 10-minute zone at The Old Globe, used only for daytime deliveries, ticket purchases, and handicapped access dropoff. For directions and up-to-date information, please visit www.theoldglobe.org/plan-your-visit/directions--parking/detailed-directions.