AD Productions Premieres BLURRED AT THE EDGES, A New One-Person Play About Dr. John Langdon Down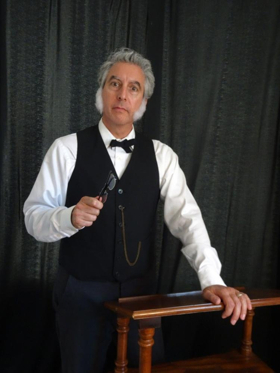 In March of 2019, AD Productions will present the premiere of San Diego playwright Steven Oberman's new play, "Blurred at the Edges," based on the life and accomplishments of Dr. John Langdon Down, one of the pioneers for the humane treatment of the developmentally disabled. The play, written, performed, and produced as a one-person play by Steven Oberman and directed by Annie Hinton, will run for only four performances at the Black Box Space, located at Diversionary Theatre, 4545 Park Blvd, in the University Heights area of San Diego. Performance dates are Tuesday, March 19; Wednesday, March 20; Tuesday, March 26; and Wednesday, March 27. All performances begin at 8pm. Ticket information and reservations are available online at https://blurredattheedges.ticketleap.com/dr-down/. Ticket prices are $25 for general admission, $20 for seniors and $15 for students. To follow on Facebook, search for "dr.downplay".
"Blurred at the Edges" takes audiences to England of 1887, where Dr. John Langdon Down, the namesake for Down's Syndrome, prepares for another day at Normansfield, his residential hospital for the "feeble-minded." As Down chronicles his medical career specializing in the moral treatment of the mentally disabled, a surprise letter arrives with dire consequences for one of his patients. Although still affected by personal tragedies, Down must persevere in order to effectively fight for his patient's wellbeing.
The play was conceived upon the urging of UC Irvine Medical Center staff member Eric Doran, who is the Down Syndrome Program Manager. Doran and his colleagues felt Dr. Down was overlooked in the history books and had not received proper credit for his forward thinking in medical treatment and care for the developmentally disabled. A close friend of Mr. Doran, Oberman began writing the play in earnest after enrolling in the Solo-Piece Writing Workshop led by The Roustabouts Theatre Co.'s Phil Johnson and writing coach Marni Freedman. Oberman's acting experience includes several roles in his own plays, and for Scripps Ranch Theatre, Broadway Theatre, Patio Playhouse, and Star Theatre.
The play's premiere production will be directed by acclaimed San Diego actor and director Annie Hinton, who also serves as dialect coach. Hinton received the San Diego Critics Circle Award in 2017 for Outstanding Featured Performance by a Female for her role in "Well" by Lisa Kron at Diversionary Theatre.