Photo Flash: BIG RIVER Rolls Into SCERA Shell Outdoor Theatre
Zack Elzey might be playing Huckleberry Finn and Jonathan Gustavson might be portraying runaway slave Jim, but the biggest star of the SCERA Shell Outdoor Theatre's upcoming musical might just be a river.
That's because set designers Teri Griffin and Kurt Elison have designed a 10-foot wide ribbon of water that covers the depth of the large outdoor stage in Orem's SCERA Park. It's the major stage element in SCERA's production of "Big River: The Adventures of Huckleberry Finn."
"The water will be in a six-inch-high trough, and the water never empties," director Jerry Elison explains. "When we need dry land, we use a boardwalk made of flats that covers it. We have a raft that floats off the harbor that we maneuver with poles down the river, and the raft is hooked to a block and tackle to pull it back up the river. "We have had a few little challenges-such as finding a way to treat the water to avoid mosquitoes-but we are confident the river with be a great highlight," Elison says.
"Big River: The Adventures of Huckleberry Finn" will open July 6 and continue Mondays, Tuesdays, Thursdays, Fridays and Saturdays through July 21 at 8:00pm. General admission tickets are $12 for adults and $10 for children 3-11 and seniors 65 and older. Patrons should bring a blanket or limited quantities of rental chairs are available for $1.00. Reserved areas with a free chair are also available for an additional cost. They are available at www.scera.org, by calling 801-225-ARTS, in person at the main office at SCERA Center for the Arts (745 S. State St.) or at the gate beginning 90 minutes prior to each performance.
This is just a delightful American story," says Elison. "It's perfect for a summer show. It is down-to-earth, cleverly written and full of heart and humor. I find myself laughing through a lot of the rehearsals."
Using award-winning country and bluegrass music by the king of country music Roger Miller, the story unfolds in pre-Civil War Missouri where Huck Finn, who has been adopted by the Widow Douglas and her spinster sister Miss Watson, is being pressured by practically the entire town to learn to read and write. The only one who does not attempt to pass judgement on the vagabond child is Miss Watson's slave, Jim, who becomes Huck's friend and predicts his friend will lead a life of "considerable trouble and considerable joy." Huck has a drunken father who attempts to kill him, so Huck escapes and encounters Jim, who also wants to escape his life of slavery. What follows are their harrowing and hilarious adventures along the Mississippi.
The musical is faithful to Mark Twain's timeless classic piece of Americana as it sweeps the audience along the mighty Mississippi River. The story centers around Finn who has tried to disappear and is helping his friend Jim escape to the mouth of the Ohio River and reach freedom and his family. Support comes from a variety of favorite characters: the Widow Douglas and her stern sister, Miss Watson; the uproarious King and Duke who may not be what they seem; Tom Sawyer, Finn's perennial partner in crime and their rowdy pals; sinister Pap Finn; the lovely Mary Jane Wilkes and more. Typical of Elison productions, he has a large cast of 56.
Dr. J. Arden Hopkin is music director, and Kristen Bradley and Jasmine Petrell are providing the choreography. Deborah Bowman is costume designer; McKenzie Ottley is lighting designer; Chase Elison is sound designer; and Christy Norton is props designer.
Jerry Elison has directed a play every year since the Shell opened 34 years ago. He recently celebrated his 88th birthday.

Zack Elzey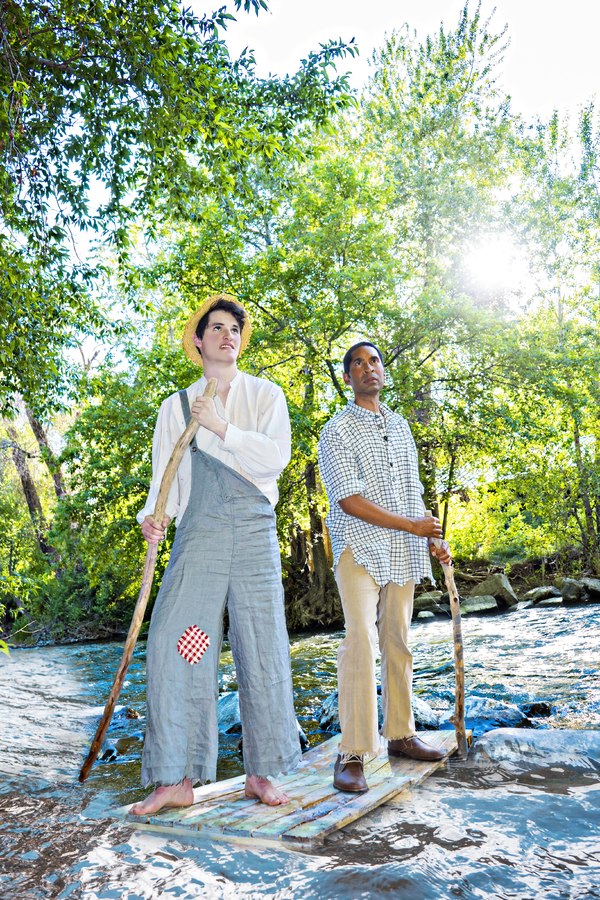 Zack Elzey, Jonathan Gustavson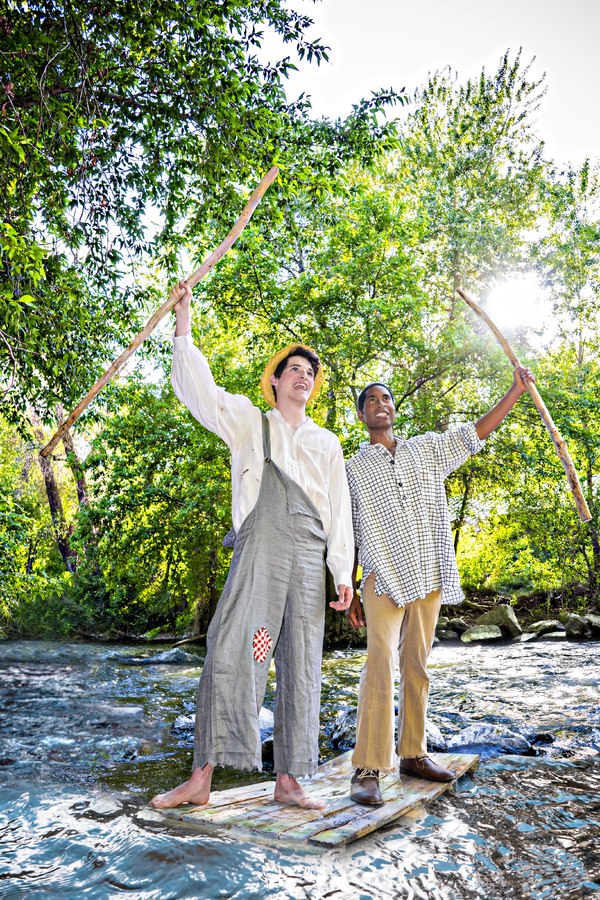 Zack Elzey, Jonathan Gustavson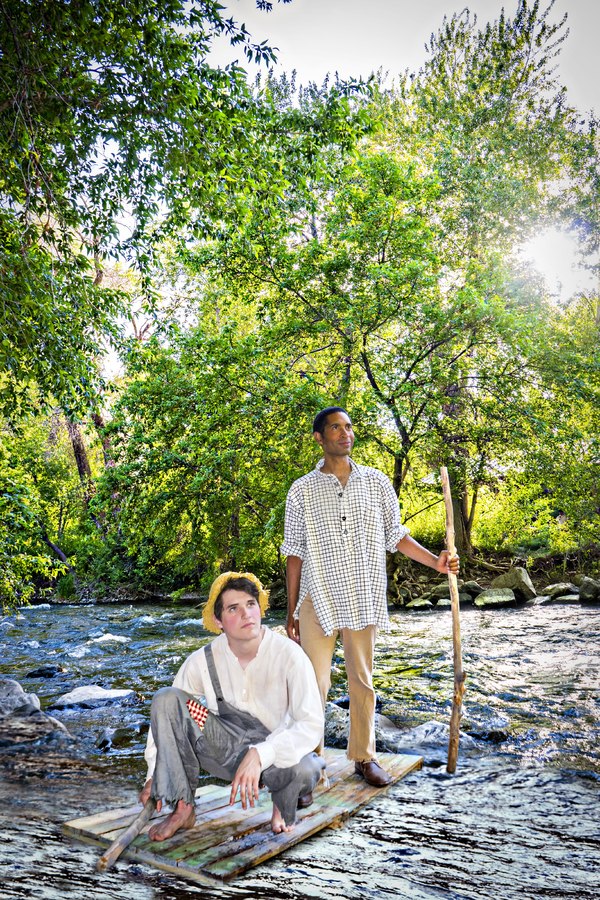 Zack Elzey, Jonathan Gustavson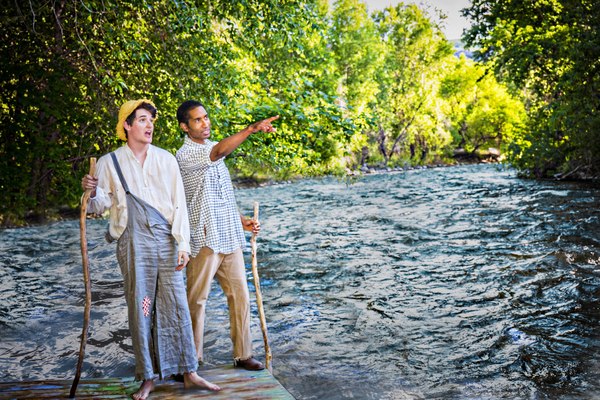 Zack Elzey, Jonathan Gustavson

Zack Elzey, Jonathan Gustavson

Zack Elzey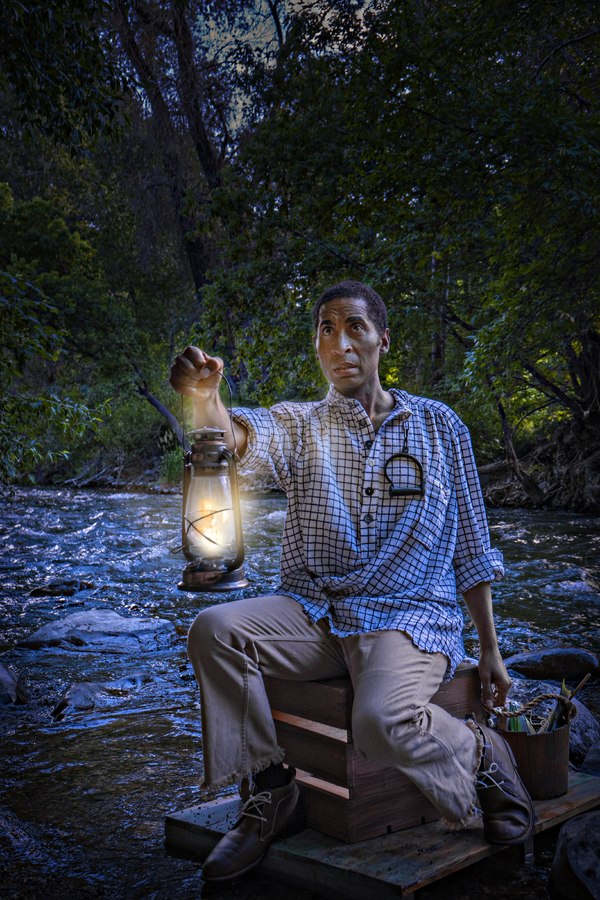 Jonathan Gustavson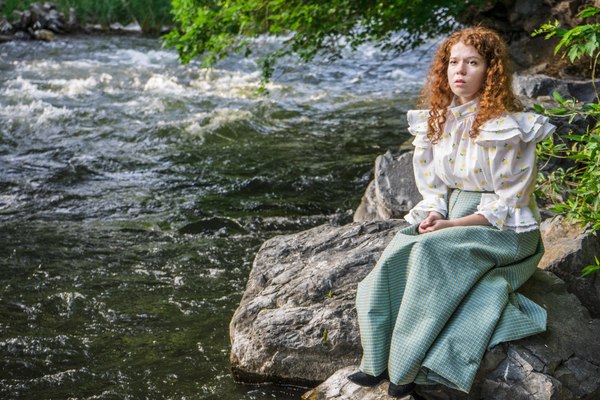 Jonathan Gustavson