Megan Hilty, Jeff Calhoun, and Jenifer Foote to Appear at 2018 Junior Theater Festival West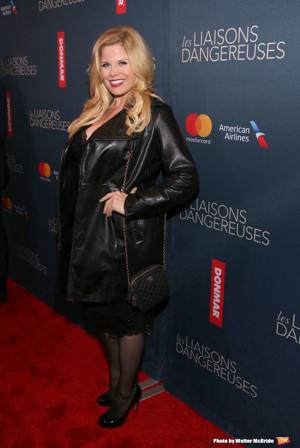 1,500 musical theatre students and educators will join Megan Hilty ("Smash!", Wicked); Jeff Calhoun (Newsies, Bonnie & Clyde on Broadway); Sacramento's own Jenifer Foote (Broadway's Gypsy of the Year, Hello Dolly! on Broadway); Curt Hansen (Kinky Boots national tour, Hairsprayon Broadway); Elyssa Samsel & Kate Anderson ("Olaf's Frozen Adventure;" Between the Lines, Kansas City Rep); Coy Middlebrook (director of ABC's Musical Special ENCORE), New York Times Bestselling Author Jodi Picoult (Between the Lines, "Off the Page"), and YouTube sensation Tyler Mount for the 2018 Junior Theater Festival West (#JTF18, #JTFWEST), happening February 9-11, 2018 at the Sacramento Memorial Auditorium and the Sacramento Convention Center Complex in Sacramento, CA.
The announcement was made by Timothy Allen McDonald, Founder and CEO of iTheatrics and the Junior Theater Group, which produce the event. Title sponsors are Music Theatre International (MTI), Disney Theatrical Group, Playbill, Inc.®, and the Educational Theatre Association.

JTF West will bring together 1,500 students and educators from 37 educational musical theater groups representing 10 U.S. states and Seoul, South Korea in an incredible weekend of theatrical fellowship rewarding and empowering student-driven musical theater programs. Events include adjudications, workshops for students and teachers in all areas of musical theater education, a New Works Showcase, special performances and panels featuring Broadway professionals, and a performance by Megan Hilty (NBC's "Smash"; Tony nominee Noises Off).
During adjudication, students present 15 minutes from a MTI Broadway Junior™ musical in a process that is decidedly celebratory, supportive and informative. Groups perform for a distinguished panel of theater professionals, who offer constructive feedback. The young performers also learn from and cheer on other students' presentations from the audience. Immediately following their adjudication, each group takes part in a private discussion led by education specialists who encourage the students to process their experience, identifying both negative and positive aspects, celebrating their achievements.
Music Theatre International is the leading licensor of musical theatre performance rights. Its Broadway Junior™ collection of great musicals for young performers are condensed, author-approved versions of classic musicals, Disney favorites and modern works, custom-tailored to the needs of young people and schools. The collection was conceived in 1994 by Music Theatre International's Chairman Freddie Gershon, and launched in 1996.

Students and teachers will also get to see young performers present Music Theatre International's newly adapted Broadway Junior musicals which will soon be available for licensing at the JTF West New Works Showcase. This year's program includes Wildfish Theatre Company (Houston, TX); Bay Area Children's Theatre (Oakland, CA), and Poison Apple Productions (Martinez, CA) presenting Chitty Chitty Bang Bang JR., Disney's Aladdin JR., and Children of Eden JR.
"As a native northern Californian, I have seen access to the arts diminish, especially for the young people who need these programs most. The Junior Theater Festival West celebrates existing programs, and reminds the world that every child, everywhere deserves access to the transformative power of the arts in their schools. Anyone questioning this impact should join us at the festival. I guarantee they will leave with a smile on their face, a heart filled with warmth, and a mind that understands the future of the world is bright in the hands of these young people," says McDonald.
To advance the mission of expanding access to the arts, three exceptional educators from schools and performing arts centers around the country will be selected to join five previously-selected fellows for the ninth annual "The Freddie G Fellowship," in which the teachers receive an all-expense-paid trip to New York City for four days of master classes working one-on-one with Broadway greats and a 5,000 grant to put toward his or her theater program. The event is underwritten and hosted by Freddie and
Myrna Gershon
and is designed to raise awareness of the teachers' programs and develop their skills, thereby enhancing their programs to introduce young people to Broadway and musical theater. Additional theater professionals sharing their talents at JTF West include
Danny Gardner
(Dames at Sea on Broadway);
Rob Rokicki
(The Lightning Thief: The Percy Jackson Musical off-Broadway, Miss Saigon, national tour);
Amanda Flynn
(Wicked, LA company);
Matthew Lee Robinson
(new musical Atlantis in development with
Christopher Gattelli
);
Morgan Siobahn Green
(Between the Lines, Kansas City Rep), and
Krystina Alabado
(Between the Lines, Kansas City Rep). JTF West debuted in 2017 as a West Coast alternative to the Junior Theater Festival Atlanta which launched in 2003. The 2018 Junior Theater Festival Atlanta took place this past January and united 6,500+ students and educators from 119 educational musical theater groups representing 26 U.S. states, the District of Columbia, New Zealand, and Canada. In addition, the Junior Theater Group also produces Junior Theater Celebrations, which provide one-day Junior Theater Festival experiences across the U.S. as well as in the United Kingdom, New Zealand, and Australia. Worldwide, 14,500 people participate in a Junior Theater Festival event each year.

Based in New York City, for the last decade iTheatrics has been dedicated to making the world a better place one musical at a time. The company has worked with leading public and private companies around the world - including The White House, the Kennedy Center, NBC and all the leading theatrical licensors. Over 36 million people see one of iTheatrics' educational musical theatre adaptations each year.
Photo Credit: Walter McBride / WM Photos
More Hot Stories For You