BWW Review: The First National Tour of A BRONX TALE Comes to Broadway Sacramento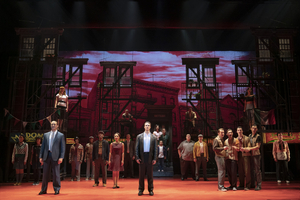 Growing up unscathed in the Bronx in the 1960s was not easy. Young men had to deal with racial tensions as well as violent crime. Academy Award-nominated actor Chazz Palminteri somehow made it out successfully and, in 1989, wrote a one-man play chronicling his experiences. It did so well that Robert DeNiro bought the rights and made his directorial debut with the 1993 film that also starred Palminteri. After a ten-year development process, Palminteri's story, A Bronx Tale, was made into a musical and opened on Broadway in 2016. A dream team of creatives designed a show that boasts music by Alan Menken (The Little Mermaid, Beauty and the Beast), lyrics by Glenn Slater (The Little Mermaid, Sister Act), co-direction by Jerry Zaks (Guys and Dolls, Sister Act), and choreography by Sergio Trujillo (The Addams Family, Jersey Boys, Ain't Too Proud).
Despite the heavy story that A Bronx Tale tells, it is not a heavy piece of theatre. The book by Chazz Palminteri infuses humor into every possible crevice. Delivering a majority of it is Jeff Brooks, who plays Sonny, the Mafia brawn with a heart. Brooks follows in the footsteps of Palminteri, who played Sonny in the film version, and Nick Cordero, who originated the musical role on Broadway. Rather than be overshadowed by two great actors, Brooks makes Sonny his own, with a laser focus on making Sonny into a sympathetic figure. Sonny comes across not as a cold-blooded killer (although he is), but as a man of complexities. He does it so naturally, in fact, that you will laugh as he sees how many gangsters can fit into a bathroom and cry as his vulnerability becomes apparent.
The object of Sonny's softening heart is Calogero, a neighborhood kid who impulsively protected Sonny-immediately earning his loyalty and respect. He is played by Alec Nevin, who is by turns sweetly starry-eyed and jaded. You cheer for "C" as he fights racism to woo the girl he loves and hope that he never loses the hopeful naivete of his youth.
Choreography by Trujillo showcases the athletic prowess of the ensemble and the Menken/Slater score celebrates a culture of doo wop, jazz, and Motown sounds that blend together like we wish Belmont and Webster Streets would. Songs like "Belmont Avenue," "Roll 'Em," "I Like It," and "Out of Your Head," invoke memories of "West Side Story," "Jersey Boys," and even "Grease" with some "Goodfellas" thrown in. But, this is better.
As C's father, Lorenzo, says, "The saddest thing in life is wasted talent." Luckily, none of it is wasted here.
Tickets for A BRONX TALE start at $26, and are available now at the Broadway Sacramento Box Office, 1419 H Street, Sacramento, or by calling (916) 557-1999; they are also available at the Memorial Auditorium Box Office, 1515 J Street, Sacramento, or by calling (916) 808-5181, or online at BroadwaySacramento.com. Evening performances are Tuesday, Mar. 3 through Saturday, Mar 7 at 8:00 PM. Matinee performances are Thursday, Mar. 5, Saturday, Mar. 7 and Sunday, Mar. 8 at 2:00 PM.
Photo credit: Joan Marcus