BWW Previews: TEADA Brings Old Ireland to The Palms Playhouse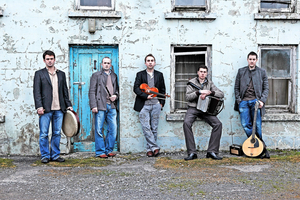 It was just this past December when Oisin Mac Diarmada charmed his way into the hearts of Northern Californians at The Sofia. His Irish Christmas in America tour sold out several cities during the North American tour, and rightly so. Its blend of storytelling, dancing, world-class musicians, and unexpected comedy made for an unforgettable evening. Now, Mac Diarmada has brought Ireland back to us. This time he comes with his traditional Irish supergroup, Teada (which means strings in Irish).
Fresh off of recording, Teada is bringing new music and a sound that has a worldwide following. They have played in such exotic locales as Zimbabwe and Malaysia and now, Winters, California. Mac Diarmada has been called "one of the most talented fiddlers in Ireland today" by The Irish Echo and is joined by equally accomplished musicians from the Irish Christmas in America Sacramento show- Seamus Begley, Sean Gavin, and Patrick Doocey, with champion stepdancer Samantha Harvey as a welcome addition. I can certainly vouch for the fact that Begley is a County Kerry treasure. A legend on the accordion and a comedian on the stage, this true multi-tasker can shoot Jameson while leading 300 people in a singalong of "McCarthy's Party." No easy feat, I assure you.
Showcasing music from the 18th century to the modern day, Teada promises an evening of live entertainment not soon to be forgotten. This will appeal to everyone-those with Irish heritage, those interested in learning more about Ireland, and those who just enjoy listening to gifted musicians playing the music that moves them. They are in Winters for one night only, February 27, before moving on to the Bay Area, so don't miss your chance to see them in the intimate setting of The Palms Playhouse.
For more information on Teada, please visit teada.com. Ticket information may be found at www.palmsplayhouse.com.
Photo credit: Brendan Duffy