BWW Interview: Best-Selling Author Jodi Picoult Gives Insight Into Her New Musical, BETWEEN THE LINES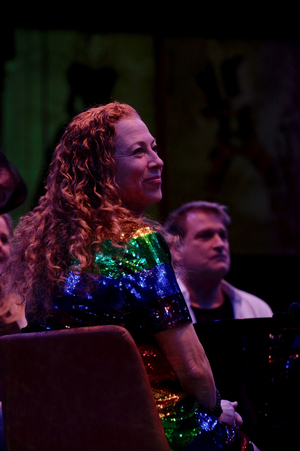 Over the second weekend of February, thousands of students and educators from around the globe gathered at the 4th annual Junior Theatre Festival (JTF) West here in Sacramento. For many, the highlight was hearing the incredible voices that come to the Festival each year to share their experiences and hard-earned wisdom. One such voice was best-selling author Jodi Picoult, who believes in the mission of the Junior Theatre Festival so much that she strives to be at both the Atlanta and Sacramento events each year. This year, however, was even more special. The musical, Between the Lines, which is based on a book written by Picoult and her daughter, Samantha van Leer, opens Off-Broadway on April 21. Much of the talent responsible for bringing the novel to the stage was at JTF West talking about their journey and showcasing songs for the first time for the lucky young thespians. Included were composing team Elyssa Samsel and Kate Anderson, Tony-nominated director Jeff Calhoun, and book writer (and JTF founder) Timothy Allen McDonald. Broadway World Sacramento was able to sit down with Picoult and speak to her about the challenges of getting a show to Off-Broadway, women in theatre, and all things Between the Lines.
First of all, I need to know about your shoes! You, Elyssa, and Kate all have matching shoes!
Kate is the one who found them! She said, "These are so cute and we need to have matching shoes," and I said, "Yes, we do!" We've been working together now for 6 years and, in many ways, Tim and I feel like mom and dad bringing up the girls. They're called Saludos and I love them!
I was surprised to see your name on the list of guests at the festival. I hadn't realized that you were involved in musical theatre. Is that something that has always interested you?
I have been involved with JTF now for several years and I was involved in musicals when I was younger. Then I grew up and started a teen theatre troupe in New Hampshire that performs original musicals and donates all of the money earned back to local charities. They now perform licensed musicals, as well. My kids participated in them. My oldest went through the program and is now a musical theatre educator. My middle son was involved his entire life and went to Yale. We've been involved as a family for a very long time.
Do you actually have any spare time to do that?
Absolutely not, but it's really important to me to do it for a lot of reasons. I've had kids come into my program in New Hampshire who were almost mute and at the end of four years with us are transformed. My middle son was a hockey goalie and one day decided to join a community theatre production. He told me that none of his hockey friends came to see him in the play but all of his theatre friends went to see his hockey games. That, to me, is the difference between sports and theatre. It's unlike any other connection. These festivals are some of my favorite weekends of the year. Now that Tim and I are writing together, I feel a true commitment to him but I love it. I'm kind of the cast mom and responsible for creating the family dynamic.
And you bring the snacks.
One of the things that I learned pretty quickly is that when you write for theatre, you have every type of food possible. We just sit there with these giant piles on the table and one of the things I really loved was when we were in Kansas City doing our first production of Between the Lines, we used to bring snacks to rehearsal. We called them "stress snacks," and they would be really bad-chocolate and Twizzlers.
Between the Lines is starting Off-Broadway! What will happen when the run is over?
April 21 is our first preview and May 7 is opening night and we will run through the summer. One can only hope that it will be transferred to Broadway. This is a remarkable first step, as Tim said today. It's very hard to get to New York with a show. There are millions of new shows all of the time. We're really proud of that and we had such a remarkable turnout in Kansas City. That was our first out of town. We were the only show other than Evita to ever sell out there. We had people who came back 7 or 8 times bringing family members. I mean, it was really moving. The show was deeply moving to people. I know that when people see it, the word of mouth will be extraordinary. I can't wait for us to get performing again.
How long is the process from the beginning to transform a novel into a work of musical theatre?
Six years ago in May is when I first met with Kate and Elyssa about the music. At that time, I had been in touch with a producer who was kind of helping me and guiding me because I really did not know how to write the book for a show at this level. I could do it for community theatre but this is very different. The producer was a woman named Daryl Roth and she was very generous with her talents and her advice. She invited me to come in and talk to her and I went in the day after I met with the girls. She had a room full of people and she asked me where I was in the process. I told her that I had hired a songwriting team and I was really proud of myself. She asked me who was going to write the book and I said I didn't know. Tim McDonald was there and he said, "Well, I'll write the book!" When we met after that meeting, it was uncanny. It was like meeting the other half of my brain. It's been a joy working with Tim. Then, Daryl said, "Of course I'm going to produce." Having Daryl Roth produce is like winning the Golden Ticket. She was the one who brought an incredible team together. She got us to Second Stage. She believes so strongly in this show that she wants to give theatre-goers a chance to see it and believe in it, as well.
This is a largely female-run production. You've spoken out about gender inequality in publishing. Do you see the same thing happening on Broadway?
It's really bad in theatre. It's embarrassingly bad in theatre. To the point where Tim McDonald had every female songwriting team in this theatre today, because there are TWO of them. Kate and Elyssa and Marcy and Zina and that is it. There are very few female producers, as well. It's very sad. I'm a big believer in representation. We know that many facts don't add up. Women buy 80% of Broadway show tickets. We know that Waitress was one of the fastest shows to recoup. It recouped in 6-8 weeks because, very much like what happened in Kansas City, women went and found that it was a female-centric topic, and then brought their mom and daughters. They kept coming back. It wasn't just one ticket-people were buying tickets 3 to 4 times to see the show again.
Like Waitress.
There you go. Why did you see it? Because you've probably never seen a show with an entire song about peeing on a pregnancy stick. It's very relatable. There are elements of motherhood in that. I wouldn't call it a mother/daughter story but it is a female-centric story and about female empowerment and female struggles. I don't know why-well, I do know why-I don't understand why, with 80% of the market being women, we don't see stories that are important to women, for women, by women, and about women reflected on the stage. Particularly in musicals. We are expected to go all-in with Mrs. Doubtfire and all of these male-dominated shows when, again, it's an uphill battle to get theatre owners to buy into the story of a teenage girl. They don't see it, they don't get it, and because it's not their own experience, they don't want to reflect it in their theatres. Theatre owners are mostly white men and so that is a glass ceiling that is much harder than I thought it would be. I was really shocked to find that. I do believe that it's breakable. It's not enough for a woman to write something good. They have to write something extraordinary and it has to be twice as good as something a man writes. What I can tell you is that it's important to see yourself on screen, in books, in musicals, in film. That's how we get girls to dream about being creators and it's also how they learn that women's stories matter. Women's stories are every bit as important as men's stories and we do need to see them on Broadway. I will die on this hill because I'm not really part of this community, so why not? I mean, I've long talked about publishing and gender equity and gender parity and we have seen the needle move. I believe that it can move on Broadway, too, and I believe that people need to start taking a chance on stories about women and recognize that these stories are equally important as those of men.
Is it more difficult to get published when you're a woman?
Yes. There is a group called VIDA, and I'm on their advisory board. They crunch the numbers every year and they look at how many books are reviewed that are written by women and how many reviewers are women. When they first did their tally on all of these review outlets, it was so biased it was ridiculous. Since they crunched the numbers, because no one can argue with numbers, we began to see some of those review outlets say that they were going to fix this. That's great, because that's accountability. The thing is, there's no accountability until someone calls you out. We see it, also, in gender equity across different fields. I'm glad that everyone is talking about the Oscars right now and the fact that there were no women directors nominated, because that's an abomination. But you know what, you have to hire women directors if you want them to be nominated. You have to hire actors of color if you want to see them be nominated. Same thing with musicals or any other art form. It's something that I've been very vocal about in the publishing industry and it's something that I think is important in musical theatre, as well. Look at this amazing festival. There are all of these incredible young women here and there are very few shows that they can see that have really strong female-centric casts. I think it's really important to have our allies in this community, those white men, stand up and say that it's time to tell our stories. I love that Jeff Calhoun, our director, is sensitive enough to that and wants to be a part of telling Delilah's story.
What about the story made you want to turn it into a musical?
The best way I can describe it is, and this isn't much of a description, it sang. Probably because I've written musicals myself, there was something about the story itself that felt as though there were whole pieces of it that were musical. Sure enough, when the girls began to create songs, so much of the book, verbatim, is in the lyrics. They're the perfect songwriters for this. I just felt that I wasn't done with this story and I had to finish telling it. It was really fun because the books are targeted younger and we aged up the story. Delilah is 17 now instead of 15 and we put in a lot more about the mother/daughter relationship. We wanted to see more of it because, again, we don't see really positive mother/daughter relationships in musical theatre. If I asked you, right now, to name 5 shows with mother/daughter relationships, I bet you couldn't get past three.
Little Women is the first one that comes to mind. I can't think of another right now.
Yes, that's good. I'll let you have that one. I mean, there's Mamma Mia, which I don't know how realistic that is. Then there's Gypsy, which isn't exactly a positive relationship. Nobody talks about it, nobody thinks about it. Why aren't we? Honestly, it's the gatekeepers. Even when you have a lot of talent bubbling up that's unique and diverse, you don't always have the right people letting that talent through. We see it in publishing and that's something that needs to be corrected. What I really hope is that Between the Lines has such great word of mouth that it makes people realize that these are stories that need to be told and, ultimately, that it opens the door wide, blasts it open, for other females in theatre. Between the Lines is really a story about a girl who struggles and has the power to change her own life. It's a very powerful musical and you leave feeling good about yourself.
Do you have plans to write another musical?
We actually like working with each other so much and writing together, Tim and I, that we sort of get separation anxiety. We thought, "If we could do anything together as a musical, what would we do?" All four of us put in our suggestions and one of them was The Book Thief, which is an extraordinary novel, also about a young girl. We've adapted that and are also taking it out of town to the U.K.
What do you tell kids who are interested in pursuing writing?
I would recommend to read a lot. Take a writing workshop. It will teach you how to write on command and how to take criticism, which are the two biggest tools you will need. It's never too early or too late to start writing.
Between the Lines opens at the Tony Kiser Theater at Second Stage on April 21. For more information and to purchase tickets, visit www.BetweenTheLinesMusical.com.
Photo credit: Marcus Woollen