First Major Revival of Leonard Bernstein's PETER PAN Launches Bard SummerScape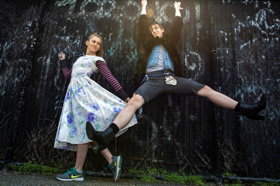 On August 25 this year, Leonard Bernstein would have celebrated his 100th birthday. To honor this centennial, the 2018 Bard SummerScape festival launches with the first major revival of the composer's Peter Pan. Commissioned from Olivier Award-winning director and Bernstein specialist Christopher Alden, and presented complete in an intimate new chamber arrangement, Bard's new production is the only one of Bernstein's theatrical works to be staged in the New York area during the centenary year. Alden's psychologically gripping treatment reveals the childhood fantasy's darker side, combining new choreography from Jack Ferver, with Bernstein's joyous, shimmering score. By turns whimsical and sinister, the production's cast is led by William Michals as Captain Hook, Peter Smith as Peter Pan, Erin Markey, as Wendy, and Ferver as Tinker Bell. The new production premieres in 25 performances in the LUMA Theater of theFrank Gehry-designed Richard B. Fisher Center for the Performing Arts,on Bard's Hudson Valley campus, between June 28 and July 22. Critics are welcome as of July 5, for an official opening on July 6. The production is suitable for audiences aged twelve and above.
Originally an Edwardian play by Scottish dramatist J.M. Barrie, Peter Pan, or, The Boy Who Wouldn't Grow Up owes its status as an enduring children's classic chiefly to two popular American adaptations, both of which date from the 1950s: the 1953 Disney animation and 1954 Broadway musical, a hit whose regular revivals included a star-studded 2014 telecast. Yet, as is far less well-known, the post-war years yielded an earlier American adaptation too: a Broadway show that opened in 1950 and ran for 321 performances, with music and lyrics by Leonard Bernstein. To accommodate the vocal limitations of its cast, however, the original production featured only five of the composer's nine songs, and since then there has been just one fully staged revival at which they were performed complete.
In keeping with Bard's mission of rediscovery, restoring this long-lost score to the canon fills in what the Los Angeles Times has called "the only musical gap in the best documented career in classical music." Moreover, far from being of historical interest only, Bernstein's music for Peter Pan has impressed the New York Times as "bewitching, ... a black comic pearl" that "poses precocious existential questions in terms of pensive tenderness." Three of the songs - "Who Am I?", "Build My House", and "Dream With Me" - have been incorporated into the American songbook.
To commission its contemporary new staging, Bard turned to two key figures in the Bernstein field. As Vice President of Project Development and Senior Music Editor for the Leonard Bernstein Office, it was Garth Edwin Sunderland who created the first theatrical performing edition of Peter Pan, besides writing new arrangements of A Quiet Placeand Trouble in Tahiti and adapting the scores of West Side Story and On The Waterfront for screenings with live performance. For Bard's intimate take on Peter Pan, Sunderland rescores Bernstein's music for a band of five musicians, all of whom will appear onstage, fully integrated with the action.
This will be the creation of opera and theater director Christopher Alden, whose original productions have graced the stages of the New York City Opera, Lyric Opera of Chicago, San Francisco Opera, Boston Lyric Opera, Houston Grand Opera, Canadian Opera Company, English National Opera, and Festival d'Aix en Provence, to name just a few. His history with Bernstein's work includes, most notably, a game-changing take on A Quiet Place, the composer's sole full-length opera, for New York City Opera. This altered the course of history for the formerly unpopular work, conjuring such "theatrical magic" that the New York Times was moved to exclaim: "If only Bernstein could have been there."
Taking his cue from Peter Pan's desire for eternal childhood, Alden situates the story in a dreamy environment reminiscent of an abandoned fairground. Billed as "definitely not your grandparents' Peter Pan," his treatment features a young, diverse cast, a dreamlike concept, and a humorous, off-kilter energy that combine to propel the period classic into the 21st century. To keep focus on Bernstein's exquisite score, the director whittled Barrie's script down to a fast-paced 90 minutes, producing a chamber Peter Pan in which Wendy Darling has become an only child and all the roles are undertaken by a cast of ten, highlighting the theme of role-play so central to the story's ethos.
Peter Smith and Erin Markey, who bothuse "they/them" pronouns, represent the growing community of young trans and nonbinary performers who are gaining increased visibility in the mainstream. Smith recently proved a sensation in the dual roles of Bruce and Caitlyn Jenner in Katdashians! Break the Musical! Off-Broadway; as the New York Times observed, "Peter Smith ... ultimately steals the show."The New Yorker says, "It's impossible to take your eyes off the performance artist Erin Markey,"another trans star of the New York performance scene,"who matches siren-like self-possession with off-the-wall non-sequitur humor. Imagine Tilda Swinton crossed with Yogi Berra."
They will be joined by William Michals, of Broadway's South Pacific and Beauty and the Beast fame, whose "sonorous voice is nothing short of breathtaking" (Broadway World) as Captain Hook, and Rona Figueroa, as seen in Miss Saigon and Les Miserables on Broadway, who lends her dynamic voice and range to Mrs. Darling, Tiger Lily, and the infamous Crocodile. Jack Ferver, "a wonderful actor and storyteller" (New Yorker), will play the fairy Tinker Bell. An ensemble of Bard alums round out the cast: Milo Cramer,of the rising young theater company New Saloon, Catherine Bloom, Jewel Evans, Alec Glass, and Charles Mai.
To realize his vision, Alden joined forces with renowned scenographer Marsha Ginsburg, an Obie Award-winner and two-time Hewes Design Award nominee whose "hip, interesting, and original" (Los Angeles Times) work has graced such venues as the Metropolitan Opera, Brooklyn Academy Of Music, and Glimmerglass Opera. Her canary yellow Peter Pan set features a working carnival ride from the 1950s, with shark-shaped cars in which cast members "fly" to Never Land.
Costume and lighting design are by Terese Wadden and JAX Messenger respectively. The two recently collaborated on Alden's radical reimagining of Handel's Aci, Galatea e Polifemo at Brooklyn's National Sawdust, as well as on Opera Philadelphia's world premiere production of The Wake World, winner of the Music Critics Association of North America's 2018 Best New Opera award. Both artists' work is familiar from previous SummerScape productions, Wadden having designed the costumes for Oklahoma, and Messenger the lighting for Oresteia, The Wreckers, and The Turandot Project.
Peter Pan's Music Director is Michael A. Ferrara, a graduate of the Bard College Conservatory of Music's Master of Music program in orchestral conducting. He will be joined by sound designer Stowe Nelson, who has been recognized with a Drama Desk Award nomination and the NY Innovative Theatre Award for Outstanding Sound Design.
Leonard Bernstein's youngest daughter, Nina Bernstein Simmons, said of the production, "I can't wait to see what Christopher Alden does with this piece. I have a feeling it's going to be quite surprising. ... It should make for a great theater experience."
Major support for Peter Pan is provided by Jeanne Donovan Fisher.
Photo by Maria Baranova