Arc Stages To Begin Writer's Lab With DIG A LITTLE DEEPER Starring Alice Ripley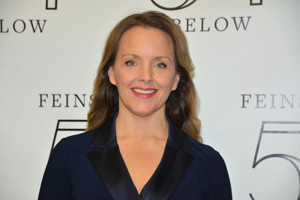 Pleasantville theater company Arc Stages announces Dig A Little Deeper to begin the new Next Stage Writer's Lab. The Next Stage premiered two years ago with John Cariani's LOVE/SICK and focuses on showcasing new, innovative work by a wide variety of exciting and talented writers. The Next Stage Writer's Lab will produce a few Readings each year with audience Q&A, in order to help new works reach audiences and to nurture the development process. The Next Stage is the third wing of a company that also includes a thriving Educational Stage and Community Stage.
The Staged Reading will be held on Saturday, March 10 at 8pm at Arc Stages, located at 147 Wheeler Avenue in Pleasantville NY.
Dig A Little Deeper will feature Alice Ripley*, Nicole Vanessa Ortiz*, Tony Wolf*, Chris Anthony Giles*, Joe Candelora*, Christine Cornell*, Jay Paranada*, Gina Kreiezmar*, Stacey Bone-Gleason*, Giancarlo Pinzon, Kenneth Lopez*, Lyndsi Skewes.
Book & Lyrics by Glenn David BassettMusic by Adam David CohenOriginally Developed with Suzanne Bradbeer. The Staged Reading will be directed by Ann-Ngaire Martin and musical directed by Marcus Baker.
Dig A Little Deeper is an original musical thriller, based on the true events surrounding the discovery of several bodies in the backyard of a Sacramento boarding house. When Tammy, a young rookie cop, brings a homeless man, Clay, to the boarding house of Martine Blanquet, she thinks she has found the perfect place for him. But we soon discover Martine is fiercely protective of the home she has made for her motley bunch of boarders, and that she is much more than the sweet, kind woman that she seems. As the bond between Clay and Martine grows tighter and more and more boarders go mysteriously missing, will Tammy be able to save Clay from the imminent danger she has put him in - or will it be too late?
Arc Stages is a multifaceted arts organization in Pleasantville, New York, which is composed of three theatre companies under one roof.
The Educational Stage: an educational theatre company where students of all ages (youth and adult) can explore the world of theatre through a professional rehearsal process, master classes, outreach and intensive ensemble work.
The Community Stage: a community theatre company for actors, singers and technicians from all walks of life that offers the best in American musicals and dramas.
The Next Stage: a professional theatre company that endeavors to produce high quality contemporary theatre as well as new works, cabaret, workshops and staged readings.
These three theatres, all under one roof, strive to better serve the community and its artistic needs. We are thrilled to be your artistic haven and look forward to creating more exciting, transformative theatre!
*member of Actors' Equity Association
More Hot Stories For You