THE GREAT GATSBY to Bring Jazz-Age Glamour to The Burbage Theatre Co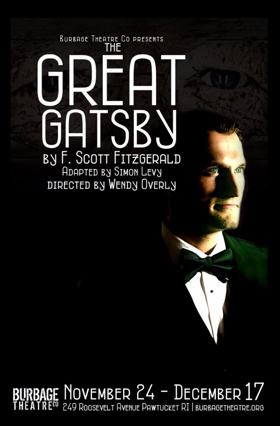 The Burbage Theatre Co announces the second play of their 2017-2018 season and first production in partnership with Pawtucket's own TEN31 Productions, F. Scott Fitzgerald's THE GREAT GATSBY adapted by Simon Levy, directed by Wendy Overly, which opens previews on Friday November 24, 2017, and closes on Sunday December 17, 2017.
Ticket information and subscription packages for Burbage Theatre Co's 2017-2018 Season may be found at www.burbagetheatre.org.
Midwest native Nick Carraway arrives in 1922 New York in search of the American dream. Nick, a would-be writer, moves in next-door to the mysterious millionaire Jay Gatsby, just across the bay from his cousin Daisy and her philandering husband, Tom Buchanan.
Thus, Nick becomes drawn into the captivating world of the wealthy and -- as he bears witness to their illusions and deceits -- narrates a tale of impossible love, dreams, and tragedy that embodies the breathtaking glamour and decadent excess of the Jazz Age.
---
IF YOU GO:
THE GREAT GATSBY
by F. Scott Fitzgerald, adapted by Simon Levy, directed by Wendy Overly
CAST:
Nick Carraway, Dillon Medina
Jay Gatsby, Jeff Church
Daisy Buchanan, Shannon Hartman
Tom Buchanan, Patrick Keeffe
Jordan Baker, Allison Crews
Myrtle Wilson, Valerie Westgate
George Wilson, Andrew Stigler
Ensemble, Scott Levine, Robin Zucchero, Gabby McCauley, Andrew Iacovelli
PRODUCTION CREW:
Stage Management, Andrew Iacovelli
Set/Production Design, Trevor Elliot, Andrew Iacovelli
Lighting Design/Assistant Stage Management, Jess Winward
Costume Design, Abby Dufresne
Production Assistant, Liz Hallenbeck
Dance Captain, Robin Zucchero
Music, Vince Petronio, Jeff Church
PERFORMANCES:
Friday, November 24 at 8pm Preview Performance
Saturday, November 25 at 8pm PAY-WHAT-YOU-CAN/Press Preview Performance
Sunday, November 26 at 2pm Press Preview Performance
Friday, December 1 at 8pm
Saturday, December 2 at 8pm
Sunday, December 3 at 2pm
Friday, December 8 at 8pm
Saturday, December 9 at 8pm
Sunday, December 10 at 2pm
Friday, December 15 at 8pm
Saturday, December 16 at 8pm
Sunday, December 17 at 2pm
---
Founded in 2010, Burbage is a 501(c)3 nonprofit theatre organization based out of Pawtucket, RI.
Burbage was started by four actors who wanted to take the craft of acting out of the classroom and into the hands of the greater theatrical community. We believe that acting comes first. We believe the theatre's continued relevance as a civil institution is best perpetuated by building productions around the collaboration of an expert ensemble of storytellers.
We believe it is the actor's job to activate thought and inner movement in his audience.
Burbage produces innovative and spare, actor-centric and inherently theatrical plays that speak to the culturally rich and diverse artistic community of Pawtucket RI. Burbage makes theatre accessible and affordable for a new generation of theatre-goer.
More Hot Stories For You