Photos: First Look at THE MUSIC MAN at Theatre By The Sea
THE MUSIC MAN is currently playing at Theatre By The Sea, in Wakefield, RI, through July 15. BroadwayWorld has a first look at the cast in action below!
One of the most cherished American classics, THE MUSIC MAN, marches onto the Theatre By The Sea stage. Join us for the timeless story of the fast-talking salesman, Harold Hill, who cons the good folks of River City, Iowa, into believing that he can teach their children to play in a marching band. Before the fraudulent teacher can skip town with the loot, Harold's got trouble when he falls for the quick-witted, not to mention beautiful, small town librarian, Marian. A slice of Americana you won't want to miss!
Tickets are $46 - $72. Tickets are available to purchase by phone (401) 782-8587, online at theatrebythesea.com, or in person at 364 Cards Pond Road, Wakefield, RI 02879.
Photo Credit: Steven Richard Photography


Tiffan Borelli (Marian Paroo) and Jason Ostrowski (Harold Hill)

Jason Ostrowski (Harold Hill) and the cast of THE MUSIC MAN at Theatre By The Sea

Jason Ostrowski (Harold Hill) and the cast of THE MUSIC MAN at Theatre By The Sea

Jason Ostrowski (Harold Hill) and Tiffan Borelli (Marian Paroo)

The cast of THE MUSIC MAN at Theatre By The Sea

The cast of THE MUSIC MAN at Theatre By The Sea

Jason Ostrowski (Harold Hill) and Lorinda Lisitza (Eulalie MacKecknie Shinn) and the cast of THE MUSIC MAN at Theatre By The Sea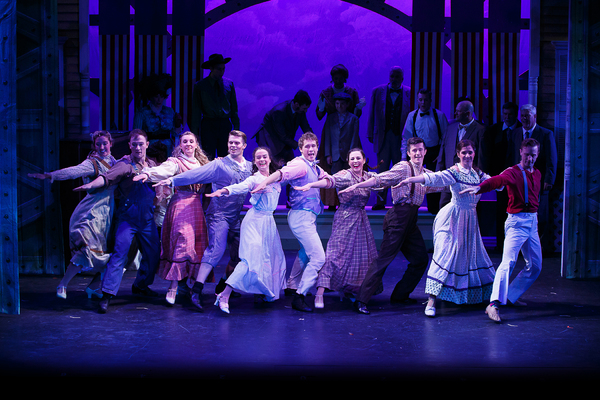 The cast of THE MUSIC MAN at Theatre By The Sea

Jamie Jones (Jacey Squires), Chad Putka (Ewart Dunlop), Mike Maino (Olin Britt), and Bob O'Connell (Oliver Hix)

The cast of THE MUSIC MAN at Theatre By The Sea

Tiffan Borelli (Marian Paroo), Jason Ostrowski (Harold Hill) and the cast of THE MUSIC MAN at Theatre By The Sea

Tiffan Borelli (Marian Paroo) and Bobbie Celine Doherty (Amaryllis)