Photos: First Look at Mia Ellis, Jeanine Kane and More in The Gamm's GOOD PEOPLE
The Sandra Feinstein-Gamm Theatre (The Gamm) stages the Rhode Island premiere of Good People, Pulitzer Prize-winning playwright David Lindsay-Abaire's tough, tender and seriously funny play about class divisions and the shrinking American Dream. Directed by Rachel Walshe (Anne Boleyn, Mauritius), Good Peopleruns from tonight, November 7 through December 8 at The Gamm Theatre, 172 Exchange St., Pawtucket, RI. Check out a first look below!
Tickets are $38 and $48 (depending on day/time); preview and press performances (Nov. 7-11) are just $28. Discounts for subscribers, groups of 10 or more, seniors and students. Tickets at 401-723-4266 or
gammtheatre.org
.
Set in South Boston, the blue-collar neighborhood where Lindsay-Abaire himself grew up, Good People explores class differences in a way few American plays do: with "quiet three-dimensional depth" (Los Angeles Times) and characters who are not easily divided between good and bad. Good People features Gamm Resident actress Jeanine Kane as Margie Walsh, let go from yet another job and facing eviction; and Boston-based actor Bill Mootos, as Margie's old flame who has made good and left his Southie past behind.
Boston native and Pulitzer-winning playwright David Lindsay-Abaire (Rabbit Hole) explodes the Hollywood version of class in America with his Tony-nominated play, Good People. When Margie Walsh, a single mother with a severely disabled adult daughter, loses her job at a South Boston dollar store, she looks to her high-school boyfriend turned successful doctor for a new job. But her attempt to hit up "Dr. Mike," who left working-class "Southie" for the manicuRed Lawns of Chestnut Hill, takes a surprising turn when Margie realizes the power of a secret from her old flame's past. Unsentimental and seriously funny, Good People topples moral stereotypes and lets neither characters nor audience off easy.
Photo Credit: Peter Goldberg

Bill Mootos, Jeanine Kane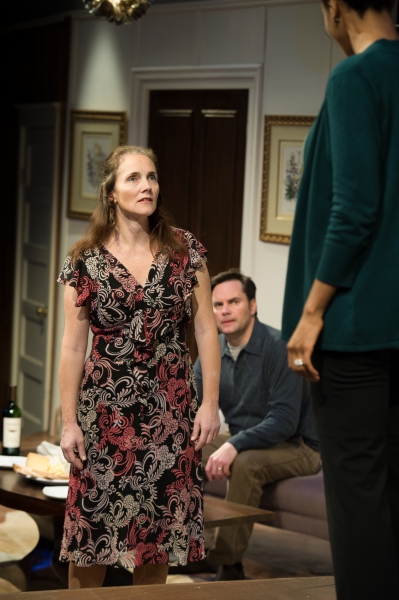 Jeanine Kane, Bill Mootos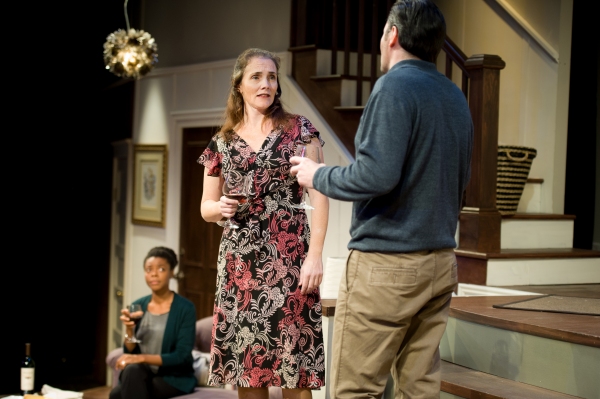 Mia Ellis, Jeanine Kane, Bill Mootos

Jeanine Kane, Bill Mootos, Mia Ellis

Jeanine Kane, Casey Seymour Kim