Interview: Lauren Kennedy on Theatre Raleigh, Performing at GPAC, & More!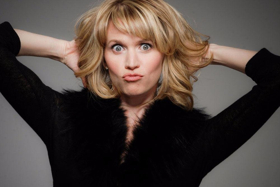 Lauren Kennedy started her career at the North Carolina Theatre, having performed in many of their productions since she was 7 years old. She went on to appear on Broadway in Sunset Boulevard (original cast), Side Show (original cast), Les Misérables (Fantine), and Monty Python's Spamalot (The Lady of the Lake). Her other performing credits include Betty Schaefer in Sunset Boulevard (first national tour), Judy Haines in Irving Berlin's White Christmas (World Premiere), Cathy Hiatt in The Last Five Years (World Premiere), Nellie Forbush in South Pacific (London), Holly Golightly in Breakfast at Tiffany's (St. Louis MUNY), Nefertari in The Ten Commandments (Los Angeles), Agnes Ford in Lone Star Love (World Premiere), Mary in Vanities (Pasadena Playhouse/Second Stage Theater), Martha Jefferson in 1776 (Paper Mill Playhouse), and The Witch in Into the Woods (Westport Country Playhouse).
In recent years, she's been back home in the Triangle area running Theatre Raleigh, where she is the Producing Artistic Director. There, she has directed productions of Drift, True West, Vanities, The 25th Annual Putnam County Spelling Bee, A Midsummer Night's Dream, The Wolf, and more!
I was recently able to get in touch with Ms. Kennedy via email, so today you shall be reading our conversation. Among the many things we've talked about were Theatre Raleigh's recently announced 2018 Summer Series, her upcoming concert appearance at the Garner Performing Arts Center on January 13th, and some highlights of her career.
---
To start things off, we should talk about your recently announced 2018 Summer Series at Theatre Raleigh. What are you most excited about this upcoming season in particular?
I mean...how to choose what I am most excited about? I think they are all really amazing shows that fit in with what Theatre Raleigh does best. I am REALLY thrilled with the directors that are returning to helm these shows, such as Eric Woodall (TR's The Light In The Piazza, Parade, August: Osage County) and Tim Seib (TR's The Secret Garden, Million Dollar Quartet, Pump Boys And Dinettes) and Julia Murney (Smokey Joe's Cafe) and TR's Favorite choreographer Abbey O'Brien (Dreamgirls, Smokey Joe's Cafe, Rock Of Ages).
Throughout all your years as the Producing Artistic Director of Theatre Raleigh, what has usually gone into planning a season for you?
Firstly, I think about the patrons. What they respond to and what they will like! I also consider what we can afford and still keep the importance on high quality performances! But in the end, I choose the shows that I LOVE and that I get excited about!
Before the upcoming season starts, you'll be ringing in the new year with a concert appearance at the Garner Performing Arts Center on January 13th. How excited are you to be performing at GPAC?
I am THRILLED! I don't get to sing very much these days, I am so busy creating shows for our Family Series or Producing and Directing.
What songs can audiences expect to hear from you?
Oh, you know the regular walk down career memory lane as well as some songs from my albums, Songs Of Jason Robert Brown and Here And Now.
So going back to the beginning, how did you get yourself started in the theatre?
Well, my parents were big theatre fans! They were involved doing shows at Raleigh Little Theatre and Theatre In The Park when I was a kid...so we caught the bug real fast. My sister and I were pretty much every Orphan in Annie and every Von Trapp in The Sound Of Music in those days! They would take us on epic trips to NYC and we would squeeze in 5 shows in 4 days!
I've read that you were only 19 years old when you got cast in the original Broadway production of Sunset Boulevard. What was that like for you at a young age getting to make your Broadway debut in a new Andrew Lloyd Webber musical?
It was overwhelming actually. Looking back I am not sure I was really ready for it. I sure thought I was! But it was a very big deal for a very young girl. It was incredibly excited to be doing a brand new show with Trevor Nunn and Andrew Lloyd Webber starring movie star Glenn Close at the age of 20 yrs old.
I recently interviewed Karen Mason (who was a standby for the role of Norma Desmond) a few months ago, and she told me that the two of you shared a house together during the year you were all out-of-town in Los Angeles.
My entertainment lawyer still refers to me as 'Karen Mason's Roomie', after all these years! Karen and I had some good times, and bless her heart for putting up with a college roommate when she was a grown up! I learned so much from her grace, class and her immense talent!
You were also a part of the original cast of Side Show, which has been a cult favorite of many musical theatre fans over the years. Not to mention that original cast really had a who's who of Broadway favorites such as Emily Skinner, Alice Ripley (who you understudied in Sunset Boulevard on Broadway), Hugh Panaro, Jeff McCarthy, Norm Lewis, Ken Jennings (not the Jeopardy champion), and J. Robert Spencer. What was that whole experience like for you?
It was the best understudy experience anyone could ever have...it was a tough sing, especially for Alice and Emily. So I got to go on a lot! That show and that group of actors and creators had such heart! It was a real highlight for me in my career!
Probably the most notable credit on your resume is that you were actually the 'original' original Cathy Hiatt in The Last Five Years when it had its world premiere in Chicago. What was that like for you to originate this lead role in an original two-hander musical by Jason Robert Brown, who at the time was fresh off of winning his first Tony for Parade, and starring opposite a then up-and-comer by the name of Norbert Leo Butz?
Well, it was an incredibly exciting show to be a part of because we were creating something new! Not to mention working with JRB, Norbert and Daisy Prince...that show was a thrilling experience for me! It felt like I finally belonged. I was finally singing music that felt like a perfect fit for me. I had been looking for my creative voice for a long time, and working with JRB changed everything for me.
While you may not have gone on to be in The Last Five Years when it came to New York, you got to be in London, starring as Nellie Forbush in the National Theatre's production of South Pacific. What was that like for you being an American to perform on the West End stage?
Well It was amazing! I loved being a part of the British theatre community!
I believe your first credit back on the New York stage after that was a four month stint playing Fantine in the original Broadway production of Les Misérables, where you even got to spend part of it with Terrence Mann during his return engagement as Javert.
That is right! He rejoined the company when they announced the closing. That was cool especially since I grew up at the North Carolina Theatre doing shows with him when he was the Artistic Director back in the 80's and early 90's!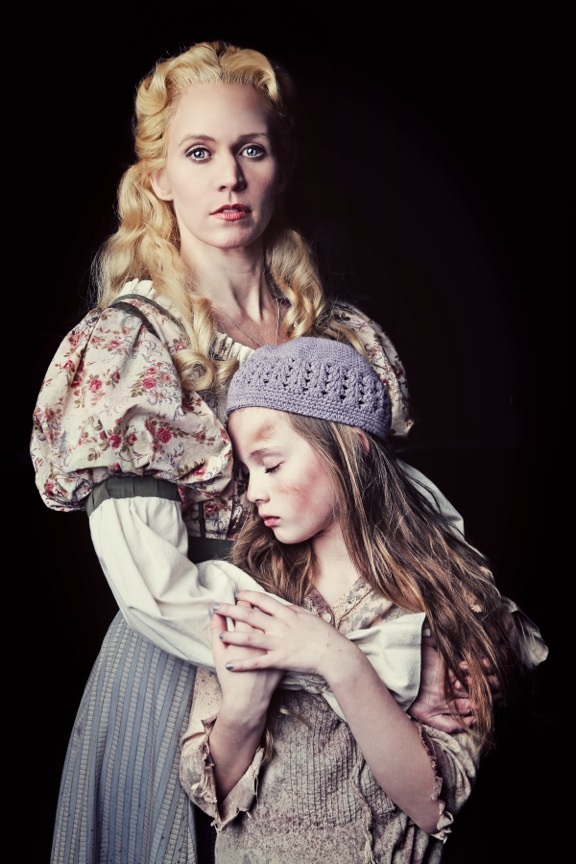 You've also revisited that character in North Carolina Theatre's production a few years ago where your real-life daughter played Young Cosette. Did that experience in some ways feel a little cathartic to you given what Fantine had to go through to provide for her daughter?
Oh absolutely, it really made it special. When I was performing the role on Broadway I probably didn't really understand Fantine as much as I did all those years later, after having a child...experiencing more of life's ups and downs. And seeing her in that setting, being a professional and holding her own on that stage. That was very emotional!
One interesting credit I found on your resume was that you did a musical version of The Ten Commandments at the Kodak (now Dolby) Theatre in Hollywood that starred Val Kilmer. I also noticed that Adam Lambert (who later found fame from the eighth season of American Idol), and Alisan Porter (who is a recent champion from The Voice) were in the cast as well.
How about that! That was a trip! I Loved working with both Alisan and Adam, great great humans!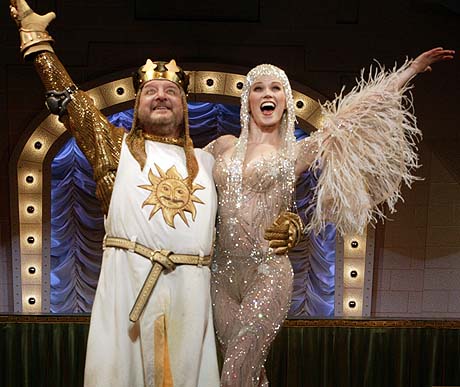 You were last seen on Broadway playing The Lady of the Lake in Spamalot. Not only that, but you were the one who took over for Sara Ramirez. What was that whole experience like? Was there extra pressure due to the fact that you were taking over for the Tony-winning performer?
It really was. She was a powerhouse and I was SO different from her, so the creative team didn't quite know what to do with me at first! But I did get to have a 2 hour rehearsal (just me) with Mike Nichols, and boy did that rock my world! I learned a lot about myself during that experience.
I recently found out that you were actually part of the cast of Lone Star Love, which I remember was that musical that was suppose to come to Broadway 10 years ago with Randy Quaid making his Broadway debut.
Oh dear...I am still not ready to talk about that experience. I am still sad it didn't come to NY, it could have been really special.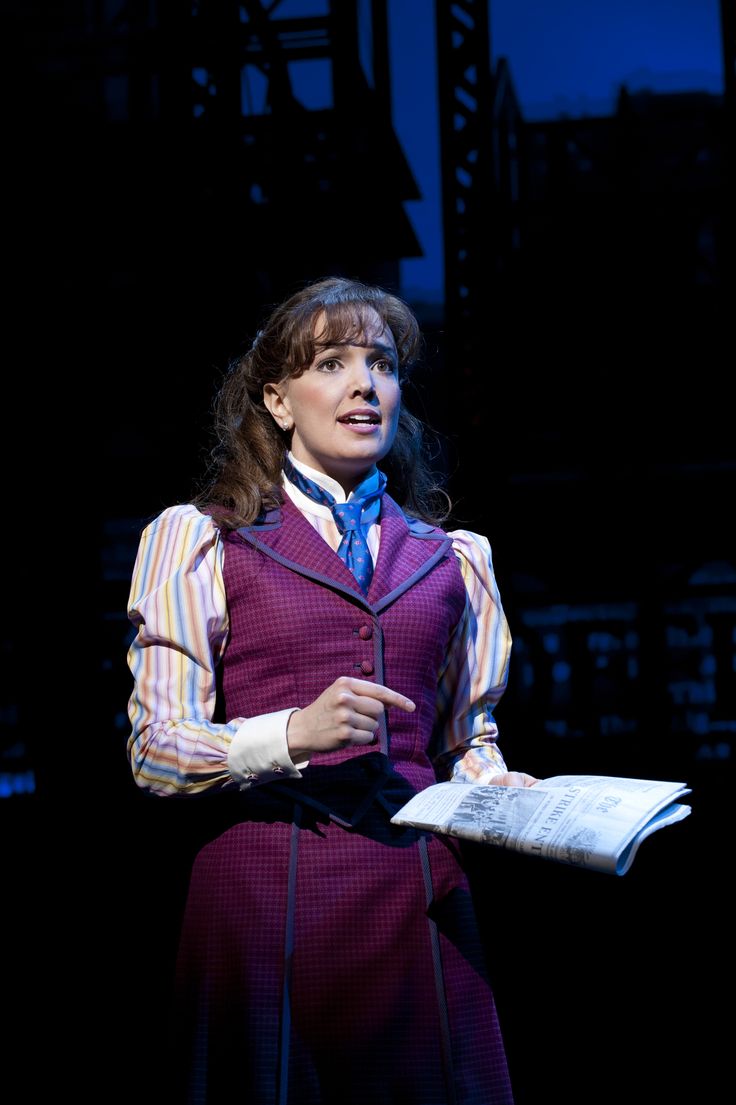 Another performer who I recently found out was in the cast was Kara Lindsay, who at the time was a recent graduate of Carnegie Mellon University. Of course, she would later make her Broadway debut a few years later originating the role of Katherine in Newsies.
LOOOOOVE Kara!
So after having spent all those years working off and on Broadway, how did Theatre Raleigh come about for you?
Well, my brother and Dad were running it in those days, and it was called Hot Summer Nights at the Kennedy. And Michael (my brother) would ask me to help him cast NY actors and direct some shows...so I got invested in what they were building. Ultimately, they both lost the steam for it because they both had other interests and jobs...so, I took it over.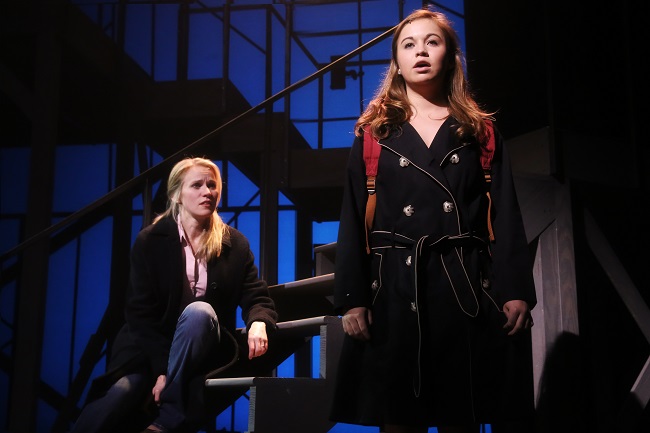 One of your most recent acting credits was playing Diana Goodman in North Carolina Theatre's production of Next to Normal, which I was able to see you in (incredible performance, by the way). What was it like for you getting to take on a role like that? I've heard Alice Ripley describe her experience with it as if she was opening Pandora's box.
It was one of the most memorable and rewarding theatrical experiences that I have ever had. An incredible cast (I got to do it with my, now-husband Charlie Brady, who played the Doctor) ...and just such a thrilling score and emotionally rich subject matter. I am desperate to play the role again!
I interviewed English Bernhardt last year while she was on tour with If/Then. I believe you've done four shows with her at NCT (including Next to Normal, where I remember being blown away by her performance). What was it like for you getting to work with her?
English is an incredible performer with lots of promise! It is really thrilling to watch all her dreams come true!
For those who would like to have a career in the theatre, where do you think would be a good place to start?
First of all go see shows! Start understanding what theatre does for our world. Take class, engross yourself in the community! And don't forget to have experiences...live life.
Lauren, I thank you very much for devoting your time to this interview, and Happy Holidays!
Thanks Jeffrey!
---
For more information on her upcoming concert appearance at GPAC, please visit:
http://www.garnernc.gov/departments/parks-recreation-and-cultural-resources/garner-performing-arts-center/events/lauren-kennedy

For more information regarding Theatre Raleigh, please visit:
http://www.theatreraleigh.com/
Jeffrey Kare currently resides in Raleigh, North Carolina. Having been born and raised in Northeast Ohio, Jeffrey took interest in live theater at age 11. He also had the great pleasure of seeing s... (read more about this author)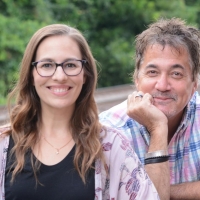 Interview: Chatting With Cora Hemphill & Tim Arts of Firebox Theatre Company

December 2, 2022

One of the newer theatre companies in the Triangle Area is Firebox Theatre Company. It's located in Wake Forest, North Carolina. I had the great pleasure of interviewing both of the founders, Cora Hemphill & Tim Artz, about all of this and more.
---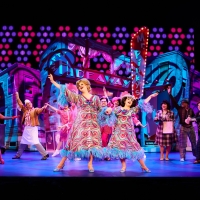 Review: HAIRSPRAY National Tour at Durham Performing Arts Center

November 17, 2022

Based on John Waters' 1988 cult film of the same name, Hairspray takes place in Baltimore, Maryland in the year 1962. The story centers on a plump teenage girl named Tracy Turnblad, whose lifelong dream is to dance on the local TV dance program known as The Corny Collins Show. When Tracy wins a role on the show and becomes an overnight sensation, she launches a campaign to integrate the show.
---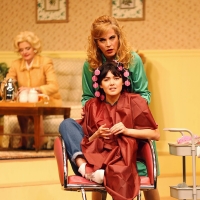 Review: North Carolina Theatre's STEEL MAGNOLIAS

November 6, 2022

Set in Chinquapin, Louisiana during the late 1980s, Steel Magnolias takes place in Truvy's beauty salon where all the ladies who are 'anybody' come to have their hair done. Helped by her eager new assistant, Annelle (who is not sure whether or not she is still married), the outspoken, wise-cracking Truvy dispenses shampoos and free advice to several of her friends.
---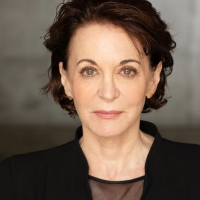 Interview: Kathleen Garrett of North Carolina Theatre's STEEL MAGNOLIAS

November 2, 2022

From November 4th-13th, North Carolina Theatre will be launching their 2022-23 season with a production of Robert Harling's STEEL MAGNOLIAS at A.J. Fletcher Opera Theatre, which is located inside Duke Energy Center for the Performing Arts. Actress Kathleen Garrett is taking on the role of Ouiser Boudreaux. She has most recently appeared as Laura Bush on the Showtime series, THE FIRST LADY, as well as Netflix's Emmy nominated miniseries, INVENTING ANNA. Next, she'll be seen on NCIS: LOS ANGELES. She has countless other screen credits which includes appearing on episodes of different TV shows such as HOME IMPROVEMENT, ER, MURDER, SHE WROTE, MURPHY BROWN, THE WEST WING, BEVERLY HILLS, 90210, MALCOLM IN THE MIDDLE, LAW & ORDER, and many more. She's also appeared in Oscar nominated films such as 2007's AMERICAN GANGSTER directed by Ridley Soctt and 2020's THE TRIAL OF THE CHICAGO 7 directed by Aaron Sorkin. I had the great pleasure of interviewing her about a lot of this and more.
---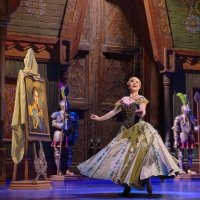 Review: FROZEN National Tour at Durham Performing Arts Center

September 16, 2022

Based on Disney's 2013 Academy Award-winning animated movie musical of the same name as well as Hans Christian Andersen's 1844 fairy tale, The Snow Queen, Frozen follows two royal sisters named Anna and Elsa. Read our review of the stage show, based on the blockbuster film, which eventually became the highest-grossing animated movie of all time at the worldwide box office (before it was eventually dethroned by Frozen II six years later).
---