Photo Flash: Merideth Kaye Clark and Leif Norby Star in A CHRISTMAS MEMORY and WINTER SONG
This winter, a delightful offering of holiday story and song will run in The Armory's Ellyn Bye Studio. Truman Capote's tender holiday tale, A Christmas Memory, will be paired with Winter Song, an original presentation of music and storytelling created by the brilliant singer Merideth Kaye Clark and The Armory's own Brandon Woolley. Preview performances will begin November 18, opening night is November 24, and performances will run through December 31. Get a sneak peek at the actors below!
Local favorite Leif Norby will take the stage for A Christmas Memory and then join Merideth Kaye Clark to perform in Winter Song. Brandon Woolley, who previously collaborated W.T. Clark for her concert performances of Joni Mitchell's album BLUE, will direct both pieces. Mont Chris Hubbard, who also collaborated on BLUE, will provide music direction and accompaniment.
"Winter is the most emotionally complicated season," said Clark of the inspiration behind Winter Song. "The music that it inspires is rich. There are, of course, holiday songs. But we were more interested in the music that captures other winter feelings. Traveling home or hunkering down in the cold. The loneliness and isolation the darkness brings. The gatherings of families and communities."
Regular tickets start at $25. Tickets may be purchased at www.pcs.org, 503.445.3700, or in-person from the box office (128 NW Eleventh Avenue, Portland, OR). Rush tickets are $20. Students and patrons who are 30 or younger can purchase $30 premium tickets. $5 tickets are available for Oregon Trail Card holders through the Arts for All program. Discounts for groups of 10+. Active duty or veteran military personnel and their immediate families get 50% off the price of regular tickets. General performance times are Tuesday through Sunday evenings at 7:30 p.m., Saturday and Sunday matinees at 2 p.m. and Thursday matinees at noon (special exclusions apply, see below). A special 2 p.m. show will be offered on Thursday, December 28. Recommended for ages 10 and up.
A Christmas Memory, Truman Capote's autobiographical recollection of his rural Alabama boyhood, is a tiny gem of a holiday story offering an unforgettable portrait of an odd but enduring friendship between two innocent souls - one young and one old - and their shared memories of beloved holiday rituals. Winter Song, created by Merideth Kaye Clark and Brandon Woolley, is an original presentation of favorite songs that celebrate winter and all it represents: love, loss, family, solitude, renewal and friendship. More information at www.pcs.org/winter.
WINTER SONG CO-CREATOR AND PERFORMER
Merideth Kaye Clark performed the role of Elphaba in the First National Tour of Wicked, Eva Perón in Evita (Northern Stage) and Nancy in Oliver! (5th Avenue Theatre). Her Portland credits include: Cathy in The Last Five Years and Tzeitl in Fiddler on the Roof (The Armory); Clara, Light in the Piazza (Portland Playhouse); and Lilli/Kathryn, Kiss Me Kate (Clackamas Repertory Theatre). Clark is also a concert artist and multi-instrumentalist. She debuted her acclaimed Joni Mitchell's BLUE concert at The Armory in 2015 and released the studio album in 2016. Her solo album Young Stellar Object also garnered critical praise.
A CHRISTMAS MEMORY AND WINTER SONG PERFORMER
Leif Norby was most recently seen at The Armory as The Dealer in Wild and Reckless; Astor and others in Astoria: Part One; Voice of The Oregon Trail and others in The Oregon Trail; and Professor Willard/Joe Stoddard in Our Town. Other recent Portland appearances include: Cervantes in Man of La Mancha (Lakewood Theatre Company), Dr. Givings in In the Next Room (Profile Theatre) and Tom in The God Game (Brandon Woolley prod).
THE CREATIVE TEAM
Brandon Woolley, co-creator of Winter Song and director of A Christmas Memory and Winter Song, most recently directed Mary's Wedding and Sex with Strangers at The Armory. He leads a creative team featuring Music Director/Accompanist Mont Chris Hubbard (music director for Merideth Kaye Clark's concert performances of Joni Mitchell's BLUE); Scenic Designer Daniel Meeker (scenic designs for The People's Republic of Portland and others at The Armory); Costume Designer Paula Buchert (resident cutter/draper at The Armory in her costume design debut); Lighting Designer Sarah Hughey (lighting designs for Steppenwolf Theatre, Lookingglass Theatre and others); Sound Designer Casi Pacilio (The Armory's resident sound designer; most recently Every Brilliant Thing); with Stage Manager Janine Vanderhoff.

Merideth Kaye Clark and Leif Norby. Photo by Kate Szrom.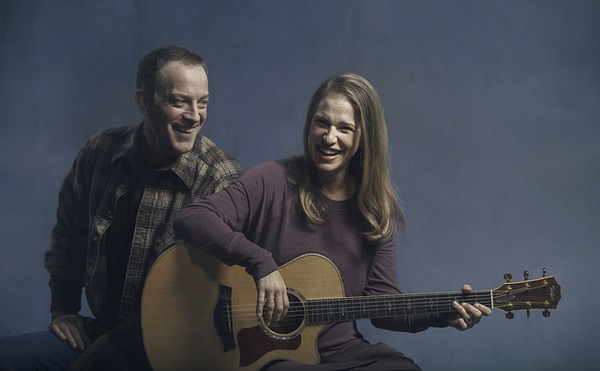 Merideth Kaye Clark and Leif Norby. Photo by Kate Szrom.
Related Articles View More Portland

Stories

Shows
More Hot Stories For You