Review: SCARLET Puts a Modern Bent on a Tragically Timeless Story, at Portland Playhouse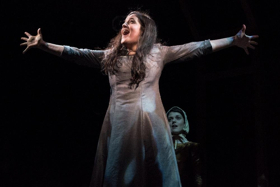 There were zero dry eyes and two standing ovations (one during the show) at opening night of SCARLET, Michelle Horgen's excellent new musical adaptation of Nathaniel Hawthorne's classic novel The Scarlet Letter. This show, which is Horgen's first musical (she's the playwright, composer, and lyricist) and was funded in part through a Kickstarter, is the best new musical I've seen in recent years. It had me from the moment the cast came out singing the first song and hasn't let go of me since.
This isn't exactly the story you read in high school. It has the same basic plot -- as punishment for having a child with someone other than her husband, Hester Prynne is forced to wear a scarlet "A" on her clothing at all times and is subjected to harsh judgment by and alienation from the Puritan society in which she lives. But, though the original story is intact, the musical has a decidedly modern and feminist bent, forcing us to examine how, more than 150 years after the novel was published, we're still living in a world that judges, and often punishes, women for pursuing life on their own terms. It's also incredibly positive and full of hope. Horgen's script is funny and thought-provoking, and the music is gorgeous, particularly the songs that end both acts. (You'll want the cast album, when it's available.)
The cast that directors Brian Weaver and Jessica Wallenfels have assembled includes many go-tos of Portland musical theatre and several actors who have been involved in the project since its early days.
At the center are Rebecca Teran, who brings the perfect blend of toughness and tenderness to Hester, and Isaac Lamb, who gives his best performance I've seen so far as the tortured pastor and the father of Hester's child, Arthur Dimmsdale (don't worry, that's not a spoiler -- it's revealed in the opening number). Their love song, "Fallen for You," is flat-out sexy, which I'm quite sure is an adjective that has never been applied to the book. Susannah Mars also gives a noteworthy performance as Anne Hibbins, a townswoman who has realized that being considered a witch has its upside -- namely, you don't have to follow society's rules (Anne is actually a fictionalized representation of a real person who was executed for witchcraft), as does Darius Pierce as Roger Chillingsworth, a role much different from the ones he typically plays.
But the real standout in this show is Rainbows (Eva Hudson Leoniak), who plays Hester's six-year-old daughter Pearl. This young actor has the poise and professionalism of someone with decades of experience under her belt, and a terrific voice to boot.
Before SCARLET opened, Portland Monthly asked, "Can Portland Playhouse pull off a Scarlet Letter musical?", noting that "it's 2018, people." My answer is an emphatic yes! And now is the perfect time.
SCARLET runs through April 1 at Portland Playhouse. See it now, so in a few years when it's making waves on Broadway, you can say you were the first. More details and tickets here.
Photo credit: Brud Giles