BWW Review: Broadway Rose's A 1940S RADIO CHRISTMAS CAROL Is a Holiday Musical Journey to a Simpler Time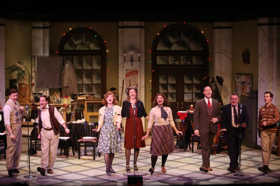 We must have a collective longing for the past. That's the only explanation I have for the fact that not one, but two, of this year's holiday shows are old time radio broadcasts of seasonal favorites - Broadway Rose's A 1940S RADIO CHRISTMAS CAROL opened last weekend, while Artists Rep's IT'S A WONDERFUL LIFE: A LIVE RADIO PLAY starts December 6.
In a season full of politically charged theatre, A 1940S RADIO CHRISTMAS CAROL is a breath of fresh air. It allows you to slip briefly back to a time that, looking through today's lens, seems a little simpler. Many young Americans were serving abroad in WWII, but at least the folks at home were all tuning into the same radio broadcast to hear the news.
In the show, it's 1943 and that radio broadcast is the Feddington Players' version of A Christmas Carol, starring none other than stage and screen sensation William St. Claire as Scrooge. As probably happened in a fair share of real live radio broadcasts at the time, everything goes wrong. There's an electrical blackout, the Shriners are making a ruckus in the next room, St. Claire has a breakdown, and the rest of the cast improvs their way to a very strange ending that isn't at all like Dickens' original.
The best part of this play is the radio broadcast itself. There's a long, awkward intro when everyone arrives at the studio, and a short, awkward ending when everyone leaves. But the part in the middle is gold! The gags are silly, the jokes only barely off-color, and the singing lovely.
Also, the cast is dynamite. Tim Blough, with his deep, emotion-filled voice, is a perfect St. Claire/Scrooge. Malia Tippets is delightful as Margie O'Brien, who plays the Ghost of Christmas Past in the main drama and various characters with accents in the commercials. And it's great fun to watch William Shindler create all of the sound effects as the hard-working foley artist Isadore "Buzz" Crenshaw. There are relatively few songs compared to Broadway Rose's standard holiday fare, but that's alright - at least you won't get sick of Christmas carols too early this year.
Overall, I enjoyed A 1940S RADIO CHRISTMAS CAROL very much. It's a holiday show / history lesson / hilarious comedy all in one - fun for the whole family. A 1940S RADIO CHRISTMAS CAROL runs through December 23. More details and tickets here.
For something completely different, but just as much fun, check out Liberace and Liza Christmas! A Tribute starring David Saffert and Jillian Snow Harris, also at Broadway Rose this holiday season.
Photo credit: Sam Ortega