BWW Review: BUYER & CELLAR Is a Fabulous Journey to Fantasyland, at Portland Center Stage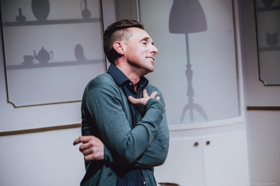 Did you know that Barbra Streisand has a mall in the basement of the barn of her Malibu estate? It's where she keeps her antiques, old costumes, and other things she's acquired over her lifetime, arranged into themed shops. This is a real place (see photos here) that serves as the setting for Jonathan Tolins' delightful one-person play BUYER & CELLAR, now playing at Portland Center Stage.
If you have a mall full of shops, it stands to reason that you need people to work in those shops. At least you need one person -- and that's where out-of-work-actor-with-retail-experience Alex More comes in. He gets the gig of mall employee, which mostly means 8-hour days spent with only the dolls in the doll shop and for company. But, every once in a while, the mall's only customer comes down to her personal fantasyland to spend time with her things, haggle over prices, and get some frozen yogurt. Over time, Babs and Alex go from strangers to employer-employee to something maybe like friends, until the fantasy comes to an end as they all do, often when we start to expect too much from them.
Nick Cearley, last seen in PCS's Little Shop of Horrors, absolutely shines in this production, directed by Rose Riordan. He alternates between playing Alex; his boyfriend, Barry; the house manager, Sharon; and, of course, the lady of the house herself. He's funny and charming, and has a childlike wonder that will stop cynicism in its tracks. I found him captivating from the first moment he stepped into the spotlight and pointed out the illogic of some of Streisand's most famous lyrics (the brain is round; therefore, the mind doesn't have corners). For the rest of the show, I was completely absorbed.
Overall, BUYER & CELLAR is imaginative, wildly entertaining, and full of juicy (fictitious) gossip. The price of fame, loneliness, and the challenges of personal relationships also make an appearance. But what this play is really about is the importance of doing things and creating spaces that bring us joy, even if that means indulging in a little fantasy.
BUYER & CELLAR runs through March 3. More details and tickets here.
Photo credit: Patrick Weishampel/blankeye.tv courtesy of Portland Center Stage at The Armory