BWW Review: THE NUTCRACKER / A CHRISTMAS CAROL at Opera WROCLAW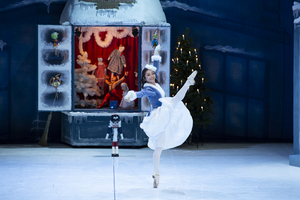 When you were a kid (or it's still ongoing) you were dreaming about Christmas presents weeks before the winter. Can you imagine that you find not only one perfect present under your Christmas tree but suddenly two of them? This will happen if you will go to The Opera Wroclawska to see The Nutcracker / A Christmas Carol.
This show is truly stunning. Costumes, choreography, scenography, music, dance - absolutely everything! Youri Vámos makes a perfect combination of two different stories and in a strongly snowy way he allies Tchaikovsky with Dickens - what a nineteenth century duet! When I first heard about this idea I was downbeat. How wrong I was...
Motifs are flowing like snowflakes and making perfect harmony of sound, movements and colors - you feel like you are there - in the city, in the forest, getting those presents one after another. Leaving proof that pieces of arts are limitless recyclable. I cannot even tell what was the best in this production - it's like a huge box of chocolates (with 0 calories!) and every single one was delightful.
Story goes from The Nutcracker to A Christmas Carol and backfoward- takes ingredients from first and another making a fascinating mix. Characters from reality are also in fantasy/dreamy part, all those personalities show something different but simply beautiful. My favorite was oriental couple with absolute precision of movements... or maybe spirited Russian dancers, it's hard to forget duo Klara with Nutcracker as well and of course snow ensemble took my breath away - which was my the most cherished one? It's hard to decide - just too much joy (theirs and mine) came from their movements.
Scenography made by Youri Vamos and Karol Dutczak will amaze you, the scene in the city is like icing Charles Dickens vision with a magical brush, continuation with forest and snow will put you under a spell. I will not beat about the bush: I personally hate winter, I watch it and survive it with huge dose of sorrow and misery - but I have to say - if world would be that magical during this time like in Youri Vamos's version I would go and dance in the City Center with guards and salesmen with a big smile on my face.
The biggest plus of this show is that you feel like a kid again, amazed by pictures, touched by dance and carried away by this atmosphere. And by the end of the day I know what was my favorite part - it's dance of Scrooge and children - touching and moving in a very simple and pure way.
So GO GO GO to see this! Take your kids, neighbor, mum and grandpa, go and enjoy being a child again.
Photo: Ewa Krasucka
Related Articles View More Poland

Stories

Shows