Review: CINDERELLA at Opera Wroclaw
Another great production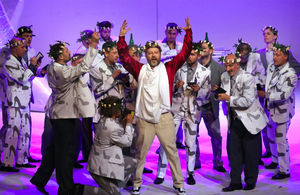 We all know the fairytale where a bullied girl led by her kindness and magic transforms herself into a princess and finds her happily ever after in the prince's arms.
How to make it interesting and funny? Opera in Wroclaw knows how to do it.
This show is in Italian and it has a very Italian style, a little bit of musical Nine, a touch of parody of the Godfather. It's still an opera but made with a sense of humor, contemporary, fresh. It's not the first time in this Wroclaw theater that we witness an easy approach to classical music and I love it. Although I would not say it's a play for kids but an adult can forget about the whole world from the first notes. That's magic.
There are main characters: Angelina (Aleksandra Opala), an overwhelmed, nice girl, working in a bar, struggling a lot but has an energy that makes her dance alone; Don Magnifico (Jacek Jaskula), her stepdad, a football lover, a small businessman which in Italian means that we want to be in the mafia probably, he wants to upgrade his status; Don Ramiro (Michele Angelini), a real prince that wants to find true love so he pretends that he's not who he is. Smart, right? There is Dandini (Yuriy Hadzwtskyy) who is acting like a prince, well actually a mafia boss, so would check who is after him and who is after his money. Two sisters, brilliantly played by Hanna Sosnowska-Bill and Barbara Baginska. They have energy and they are motivated, oh they are, they do pilates, like make up and dress up, they despise their sister and lower class. They want to be loved(?) and adored(!). Last but not least there is Alidoro (Tomasz Rudnicki), a wizard, a sage with such a dose of charm and flow in his body that he enchants not only characters on the stage but also the public seems to be under his spell. I was.
The cherry on the pie is the choir, those men are like a fashionable accessories. The group scenes are powerful and dynamic. The sound of their voices and the way how they fill the space is amazing. Actors are playing in every scene with their characters and they seem to have a lot of fun (especially Hanna Sosnowska-Bill).
Director Irina Brook squeezes Italian motifs like a lemon, there is wine, football, olive oil, coffee, mafia, unbuttoned shirts, and gold chains. It's convincing, consistent, and fun. We all know how it would end but for some reason, we are cheering the poor girl the whole time. Costumes (by Anna Sekula) are great, especially those for choir, there is a freshness and playfulness in all this. Suits, dresses, and capes are accurate and enhance impressions. The contemporary elements are not too heavy and don't overload the piece.
Besides all costumes, great acting, and amazing music, my favorite part of classical pieces in Wroclaw's Opera is a sense of humor. How do they do it? It's light, it's classy, and natural. It brings air. You can experience true entertainment in an Opera. Is it wonderful?
To summarize: this show is a perfect way to spend time in an Opera without feeling overwhelmed. Rewriting a well-known story can be so much fun! Ci vediamo!
Photo: M. Grotowski