Pittsburgh Public Theater Presents WILLIAM SHAKESPEARE'S LONG LOST FIRST PLAY (ABRIDGED)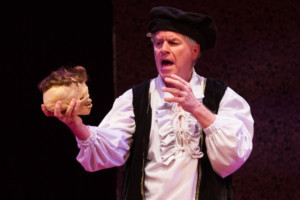 Pittsburgh Public Theater welcomes back The Reduced Shakespeare Company (RSC) to close season 43 with William Shakespeare's Long Lost First Play (abridged). Written and directed by Reed Martin and Austin Tichenor, this uproarious comedy runs May 31 - July 1, 2018 at the O'Reilly Theater, Pittsburgh Public Theater's home in the heart of Downtown's Cultural District. For tickets call 412.316.1600 or visit ppt.org.
According to RSC legend, they found a sprawling manuscript by 17-year-old William Shakespeare in a parking lot in Leicester, England. In it young Will took a stab at his most famous works to come. Since he hadn't yet worked out all the kinks, this draft was rife with strange bedfellows. Puck and Ariel got into a grudge match, Dromio fell for Juliet, and King Lear fathered the Weird Sisters. There was bad guy named Malvol-Iago, Hamlet was coached by Lady Macbeth, and Caliban was replaced by the Taliban. Helped by a puppet and the audience, RSC's fast and physical three-man crew will portray a bear, a ghost, multiple sets of twins and more with quick costume changes, lots of wigs, a couple of water pistols, and a kazoo. In this "tale told by idiots," Shakespeare's most famous characters, greatest lines, and magnificent speeches are lampooned in a comic smorgasbord.
The Reduced Shakespeare Company premiered William Shakespeare's Long Lost Fist Play (abridged) at Washington D.C.'s Folger Shakespeare Theatre in 2016. Since 1995, RSC has performed at Pittsburgh Public Theater numerous times, including the world premiere of The Millennium Musical (abridged to the 21st century) and the American premiere of Completely Hollywood (abridged). This is their first appearance at The O'Reilly since 2011.