Click Here to Visit the College Center

BWW Blog: How to Survive a BFA Program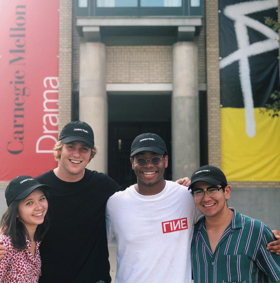 Transitioning to college is tough. What no one tells you is how to survive it! Now in the middle of my first semester at Carnegie Mellon University as a directing major in the School of Drama, I'm here to share what has worked for me thus far. Here my tips on how to survive a BFA program!
1. Sleep as much as you can!
BFA programs are intense, to say the least, but it doesn't mean you should sacrifice your mental health for your work! Try taking naps in between classes and get a good night's worth of sleep. Try to avoid pulling "all-nighters" to complete an assignment, the progress won't be significant by staying up. Instead, complete what you can and break up the workload over the week so your sleep isn't compromised. Without sleep, you'll most likely not be fully engaged in an acting class as opposed to being in class feeling well rested. Sleep is important, to say the least!
2. Make friends outside of the theatre/Drama Department!
While being around people who're just as passionate about our craft as us, seeking friends from other majors can be an escape from a stressful day or it can simply be time where theatre isn't the focal point of conversation. I've found it very helpful to find friends who have the same interests as me that aren't theatre-based, where I can just be a college student and not be absorbed in theatre 24/7 when I want to relax! Shoutout to my non-drama major friends: Amyas & Miles.
3. Find your community
The transition to college can make you feel really lonely. Offset that feeling by finding a smaller community that you identify with. Whether it be an ethnic, religious, or even an LGBTQA+ community! Finding a group of people you can confide in can help you feel a sense of acceptance and peace within your major and new home. What has helped me avoid feeling homesick has been having Sunday brunches with the Latinx people of the School of Drama at CMU! It can be difficult to find your community at first but all the work is worth it in the end.
4. Find a professor/academic advisor you can rely on
Having a professor within your major that you can confide in is really helpful for those not-so-good days. Professors really want the best for you, reaching out can be scary at first, but talking about your academic needs can only bring good into your life!
5. Explore your new home! Leave campus!
A therapeutic activity I like to do on weekends is to go off campus and explore the new city that I'm living in! Whether it be with friends or just by myself, I learn something new every weekend from exploring Pittsburgh, allowing me to bring new knowledge into the classroom. Get on a bus and explore the surrounding area to your new home. Your new favorite hangout is waiting to be explored.
I hope my five tips are useful in your journey to surviving your BFA program! With that, I leave you with some words of wisdom from actress, Geena Davis: "If you risk nothing, then you risk everything."
Pictured: Samantha Ozeas, Jacob Musgrove, Joshua Christian Wyatt, and Moses Garcia
| | | |
| --- | --- | --- |
| | Donations | Arts Orgs |
Related Articles