Click Here for More Articles on STEPHEN SONDHEIM
Upstart Productions To Stage Stephen Sondheim's COMPANY; Tickets Now On Sale!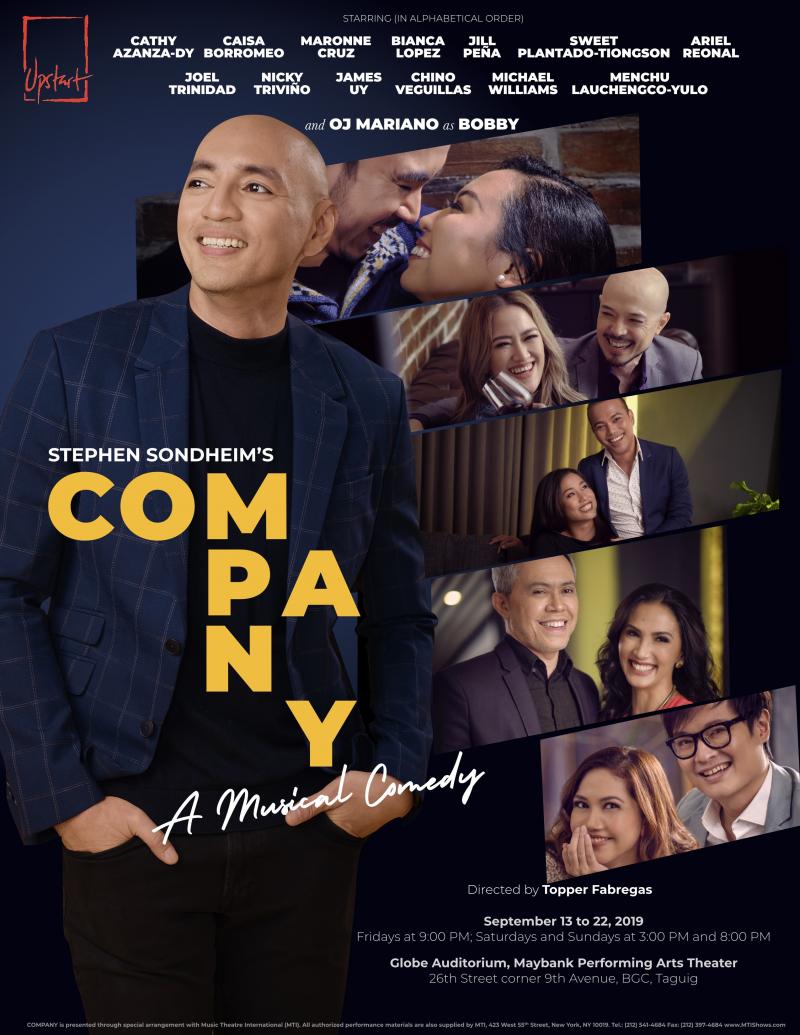 Phone rings, door chimes, in comes company!
Manila, Philippines--Upstart Productions Inc. ("Monty Python's Spamalot," "Into The Woods") returns with a brand new production of Stephen Sondheim's COMPANY at the Globe Auditorium, Maybank Performing Arts Theater, BGC Arts Center, Taguig City, from September 13-22, 2019.
One of Sondheim's most beloved musicals, COMPANY is about love, marriage, friendship, and loneliness. With its "unforgettable score" (The Boston Globe) and the "sparse, elegant wit" of its lyrics (New York Times), every major production of COMPANY on Broadway in the West End has earned accolades, including multiple Tony and Olivier Awards, since its debut in 1970.
Helmed by acclaimed actor-director Topper Fabregas, Upstart Productions' take on COMPANY features theater veterans such as Michael Williams (Larry), Menchu Lauchengco-Yulo (Joanne), Cathy Azanza-Dy (Amy), and Caisa Borromeo (Marta), with OJ Mariano playing the central character of Bobby.
Also in the cast are Maronne Cruz (April), Bianca Lopez (Jenny), Jill Pena (Kathy), Sweet Plantado-Tiongson (Sarah), Ariel Reonal (Peter), Joel Trinidad (Harry), Nicky Trivino (Susan), James Uy (Paul), and Chino Veguillas (David).
Rony Fortich, TOYM awardee and former Hong Kong Disneyland musical director, is the musical director; New York City-based Joey Mendoza, also a faculty member at Fordham University Theater Program at Lincoln Center, is the set designer.
"It's timeless and relatable to anyone who has loved, has wanted love, or has been afraid of wanting love. It's a big fat hug that will make you appreciate the people in your life more," said cast member Caisa Borromeo.
"COMPANY digs deep on love, friendship, and marriage. I just love how real it is! One of the best musicals by Sondheim," said Bianca Lopez.
COMPANY is presented through special arrangement with Music Theatre International (MTI).
Tickets (P1500-P3500) are now available at TicketWorld.com.ph.