M. BUTTERFLY 2019 National Tour Flies to the Philippines' Biggest Cities, 2/14-6/2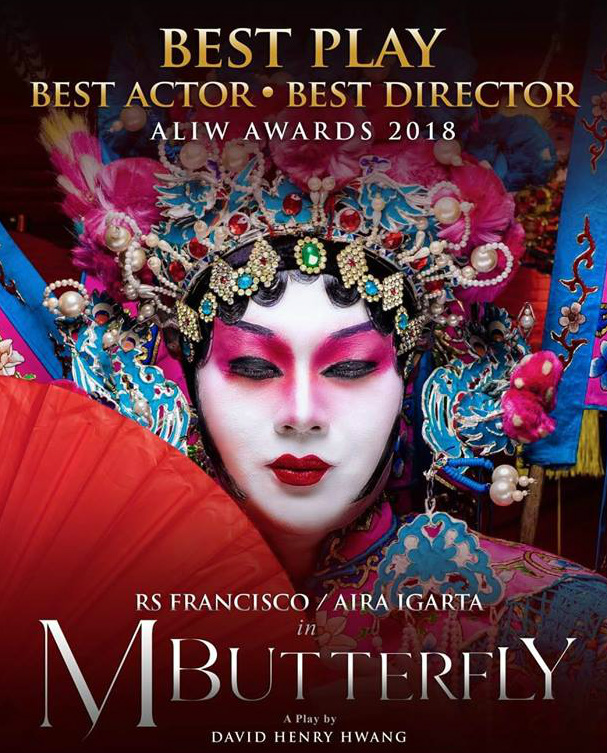 Manila, Philippines-- Tony and Grammy Award-winning Broadway producer Jhett Tolentino and Frontrow Entertainment have officially announced the six key Philippine cities for the five-month "M. Butterfly" 2019 National Tour, commencing this February 14, 2019 in Iloilo, and ending June 2 in Baguio.
Local theater enthusiasts from Iloilo, Dumaguete, Cebu, Davao, and Baguio can now finally enjoy "M. Butterfly," the Tony Award-winning play by David Henry Hwang and winner of 2018 Aliw Awards Best Play, Best Director (Kanakan-Balintagos), and Best Actor (RS Francisco), which had its successful revival run at Maybank Performing Arts Theatre in Bonifacio Global City last year.
The show returns to Maybank Performing Arts Theatre with 10 shows in May and then goes up to Baguio City, where it completes its last leg.
At the Chinese New Year-themed press launch at Oriental Palace on Tomas Morato, Quezon City on February 4, Tolentino said it was his personal dream to take "M. Butterfly" to as many cities. He shared that the production projects a 100 million-peso economic impact that will benefit not just the artists but also locals who will be employed in the process.
Proceeds from the 2018 production, in the amount of 12 million pesos, had been donated to different charitable institutions.
In the said launch, Tolentino and Francisco introduced old and new cast members to the local media. The change in cast, it was stressed, was due to some artists' unavailability.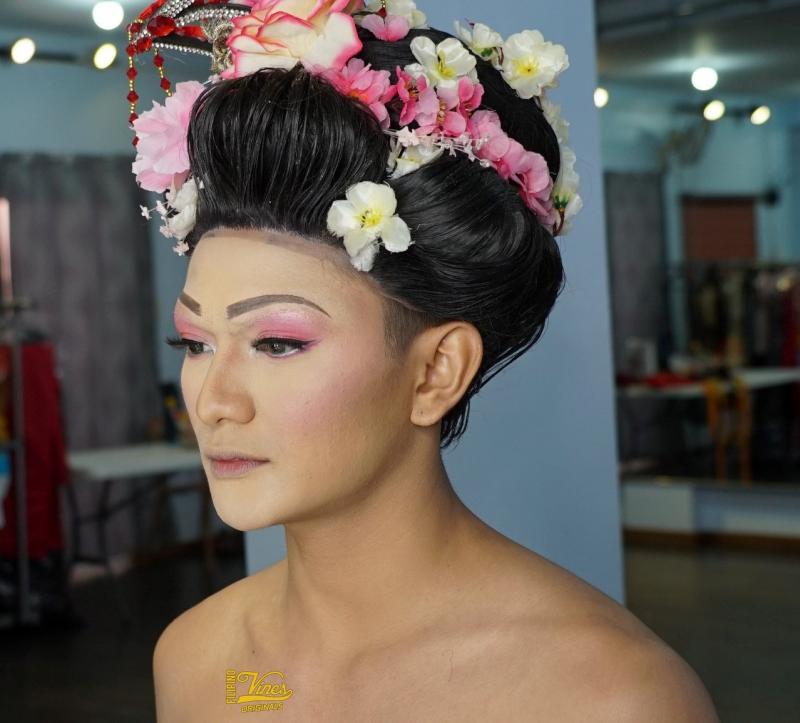 Francisco, who originated the role of Song Liling both in the Dulaang UP premiere in 1990 and 2018 revival, reprises his award-winning role; however, for this tour, he shares equal billing with Aira Igarta, who used to understudy the part in the revival production but never had the chance to perform it.
Francisco proudly announced that Igarta would be doing half of the shows in the entire tour. To the delight of the crowd, Francisco intimated how Igarta courageously asked to audition for the part. Igarta was eventually given the opportunity to understudy the lead. It was Igarta's dedication, as Francisco put it, that persuaded him to finally give Igarta the chance to perform.
French actor Olivier Bourten also reprises the part of Rene Gallimard, a former French diplomat, whose passionate and disastrous affair with Song Liling is central to the play's narrative.
"Miss Saigon" alum Jenine Desiderio, who played the role of Kim on West End, joins the tour cast as Helga, originally played by another "Miss Saigon" alum Pinky Amador. Desiderio considers the role her biggest challenge so far as it marks her transition from doing musicals to a straight play.
Perhaps one of the biggest surprises of the launch was the introduction of newcomer opera singer Jasmin Salvo, who mesmerized the audience with an aria from Puccini's opera Madame Butterfly. Salvo was discovered by Tolentino on YouTube.
Other original actors joining the touring cast are Norm McLeod as Manuel Toulon, Lee O'Brian as Marc, Mayen Estanero as Suzuki/Comrade Chin/Shu Fang, and Maya Encila as Renee/Pin-Up Girl.
Interestingly, Robert Encila, a US drama teacher, theater actor, and reviewer, joins the creative team as language coach.
"M. Butterfly" is the story of mild-mannered Gallimard, a member of the French embassy in China, who meets and falls in love with Chinese opera star Song Liling, whom he considers to be the embodiment of the perfect woman, "Madame Butterfly." Unknown to him, Song uses their relationship to extract highly classified government information, which Song then feeds to his own government. The play exploits themes like espionage, deception, and eastern and western cultural conflicts, among others.
The "M. Butterfly" 2019 National Tour will benefit 10 charitable institutions, namely Iloilo Prima Galaw, Philippine National Red Cross Iloilo Chapter, The Children of Cebu Foundation, Silliman University Culture and Arts Council, The Arts Council of Cebu Foundation, Love the Children Foundation, House of Hope Foundation, Halfway Home for the Boys, and St. Louis University Culture and Arts Center.
PLAYDATES:
ILOILO CITY
VENUE: SM City Iloilo Cinema 6
Feb. 14 - Thursday - Opening Night - 7pm
Feb. 15 - Friday - 2pm / 7pm
Feb. 16 - Saturday - 2pm / 7pm
Feb. 17 - Sunday - 2pm / 7pm
DUMAGUETE CITY
VENUE: Luce Auditorium, Silliman University
Feb. 28 - Thursday - Opening Night - 7pm
Mar. 01 - Friday - 7pm
Mar. 02 - Saturday - 2pm / 7pm
Mar. 03 - Sunday - 2pm / 7pm
CEBU CITY
VENUE : SM Seaside City Centerstage
Mar. 14 - Thursday - Opening Night - 7pm
Mar. 15 - Friday - 7pm
Mar. 16 - Saturday - 2pm / 7pm
Mar. 17 - Sunday - 2pm / 7pm
DAVAO CITY
VENUE: SM Lanang Premier Cinema 6
Mar. 28 - Thursday - Opening Night - 7pm
Mar. 29 - Friday - 2pm / 7pm
Mar. 30 - Saturday - 2pm / 7pm
Mar. 31 - Sunday - 2pm / 7pm
MANILA
VENUE: Maybank Performing Arts Theater
May 8 - Wednesday - Opening Night - 8pm
May 9 - Thursday - 8pm
May 10 - Friday - 8pm
May 11 - Saturday - 2pm / 8pm
May 12 - Sunday - 2pm / 8pm
May 15 - Wednesday - 8pm
May 16 - Thursday - 8pm
May 17 - Friday - 8pm
May 18 - Saturday - 2pm / 8pm
May 19 - Sunday - 2pm / 8pm
BAGUIO CITY
VENUE: St. Louis University
May 30 - Thursday - Opening Night 7pm
May 31 - Friday - 7pm
Jun. 1 - Saturday - 2pm / 7pm
Jun. 2 - Sunday - 2pm / 7pm
Ticket merchants per area:
ILOILO, DAVAO, CEBU, BAGUIO - SM Tickets at any SM Mall nationwide or online at SMTickets.com
DUMAGUETE - Culture and Arts Council Office, Silliman University through contact nos. (035) 422-4365, (0917) 300-0346, (0999) 797-7825
MANILA - TicketWorld through contact no. (02) 891-9999 or TicketWorld.com.ph
The ticket prices vary per city between P500 to P2,000 plus taxes and fees.