Review Roundup: Bucks County Playhouse's MILLION DOLLAR QUARTET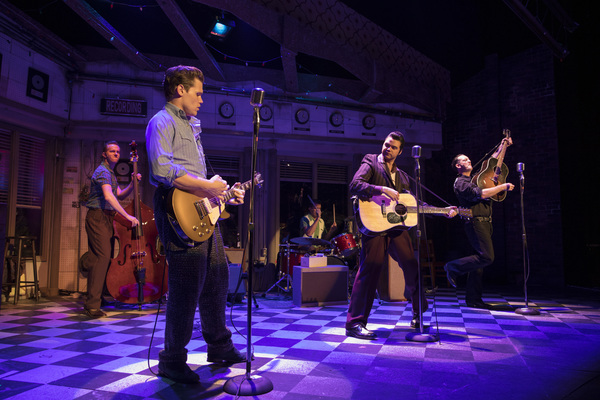 Audiences are reveling in a recreation of one of music history's most famous jam sessions at Bucks County Playhouse's production of the Tony Award-winning musical "Million Dollar Quartet." The production which runs through September 15 is directed by original Broadway cast member Hunter Foster. The high voltage musical, with book by Colin Escott and Floyd Mutrux, is inspired by the true story of a famed recording session that brought together Elvis Presley, Johnny Cash, Jerry Lee Lewis and Carl Perkins for an infamous all-night jam session.
"Million Dollar Quartet" comes on the heels of a Foster-helmed production of "42nd Street," which broke box office records at the Playhouse. The Bucks County cast includes John Michael Presney as Carl Perkins, Sky Seals as Johnny Cash, Brandyn Day as Jerry Lee Lewis, Ari McKay Wilford as Elvis Presley, James Ludwig as Sam Phillips, Ryah Nixon as Dyanne, James David Larson as Jay Perkins and Zach Cossman as Fluke Holland. The show features full renditions of top rock 'n' roll, gospel, R&B and country hits, performed live onstage by actors who play their own instruments, as well as sing and perform.
Josh Smith is Scenic Designer. Lighting Designer is Kirk Bookman. Costume designer is Lauren T. Roark. Bart Fasbender is Sound Designer. John Michael Presney is Music Director. Jane Pole is Production Stage Manager. Michelle Scalpone is Assistant Stage Manager.
Single tickets to "Million Dollar Quartet" are on sale now. Tickets range from $45 - $80; special rates are available for groups of 10 or more. For complete details, up-to-date pricing and to purchase tickets, please visit buckscountyplayhouse.org, call 215-862-2121, or visit the box office at 70 South Main Street, New Hope, PA.
Let's see what the critics have to say!
Neal Zoren, Princeton Info: One remarkable achievement is Josh Smith's set, a music studio one could move into. Anyone familiar with BCP history has to realize the difference between now and the past when they see the quality and clean lines of Smith's design.
Mark Cofta, Broad Street Review: Escott and Mutrux can't resist adding material aimed at today's audience. Cash gets a chuckle when he utters the title of a hit he recorded in 1996. Phillips makes a disparaging comment about Elvis's "terrible movies," though he had only made one (Love Me Tender) when the quartet jammed; his vapid romance musicals came in the 1960s.
Hugh Hunter, The Inquirer: These musicians never forget their roots in country and gospel and turn out a beautifully harmonized "Peace in the Valley." They were also attracted to black music (Phillips was a leader in recording African American rhythm and blues), and just before intermission you hear the mix of influences as "Rockin' Robin" blends into "I Shall Not Be Moved."
Anne Marie Scalies, BroadwayWorld: Normally, it's the vibe of an opening night audience that always leaps to their feet but this show is bound to have a Standing-O for its entire run! The entire finale sequence which includes all the greats, "Hound Dog", "Ghostriders In the Sky", "See You Later Alligator", and "Whole Lotta Shakin" will make you want more, even after the other 20 hits throughout the evening are played! This picky theatre goer has the time of her life.
Jean Brenner, Bucks County Herald: Elvis Presley is the biggest star among them. Ari McKay Wilford resembles Presley, plays and gyrates as Presley did, and his voice is Presley-like. However, at times, I found him difficult to understand. I know Presley's enunciation was not the clearest, and neither is Wilford's. The final two essential musician singers are James David Larson playing bass as Jay Perkins, and Zach Cossman, a member of "Blue Man Group" who was excellent as drummer Luke Holland. James Ludwig is excellent in capturing the persona of Sam Phillips, his excitement to have his guys together again ... his disappointment that they are not staying. In spite of that, he plays harmonica and joins in the jamming at the end. The audience absolutely loved the show. All were on their feet for the final extended jam session.