InterAct Theatre Company Readies Regional Premiere Of Seth Rozin's HUMAN RITES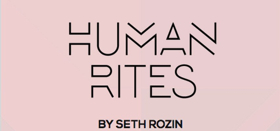 Forget what you thought you knew. Inspired by the life of anthropological scholar Fuambai Sia Ahmadu and a contentious paper by cultural psychology pioneer Richard Shweder of the University of Chicago, HUMAN RITES by Seth Rozin is a sharp, incisive investigation of western cultural perspectives. In a review of Phoenix Theatre's world premiere production, Lou Harry of the Indiana Business Journal says "[HUMAN RITES] relentlessly challenges its audience to rethink its assumptions about both big-picture issues and the human characters wrestling with them."
The third play in InterAct's 30th anniversary season takes incendiary research on the topic of female initiation rites and places it in the context of a personal battle between academic heavyweights. In response to a student protest, an African-American Dean and a Jewish cultural psychology professor now find themselves facing off on two sides of an ideological debate. When a brilliant young doctoral candidate from Sierra Leone enters the fray, the battle over science, privilege and cultural pluralism heats up and digs deep into moral and intellectual obligations that threaten to shake the ivory tower to its foundations.
Rozin's play runs March 23 - April 15, 2018 at InterAct (opening March 28) and will be directed by Barrymore Award-winner Harriet Power. The cast features acclaimed actor Kimberly S. Fairbanks, Barrymore Award-winner Joe Guzmàn, and Barrymore Award nominee Lynette Freeman. Performances take place in the Proscenium Theatre at The Drake, located at 302 S. Hicks Street in Center City Philadelphia. Tickets cost between $25-$40 and are available online at interacttheatre.org, at the box office at boxoffice@interacttheatre.org, or by phone at 215-568-8079. Limited "INTER-HALF" half-price tickets are available after January 25 and must be purchased the same day and in-person at the box office (credit card fees apply).
"After reading Shweder's paper, and then meeting Fuambai Ahmadu, I felt compelled to write a play that might challenge audiences in the same way I found myself challenged and provoked." says playwright and InterAct Producing Artistic Director, Seth Rozin. "Never before had I experienced such an immediate and arresting shock to my cultural assumptions and unexamined Western morality."
While students fume, Michaela, an African American dean at a major American university, summons Alan, a renowned professor of cultural psychology, regarding the findings of his controversial paper on female initiation rites in sub-Saharan Africa. But dormant feelings from an extramarital affair years earlier turn a heated argument over science and cultural pluralism into a knock-down, drag-out fight. HUMAN RITES compels audiences to interrogate their own privilege and bias. In connection with HUMAN RITES, InterAct will be hosting a free symposium on Saturday, March 31 @ 4 - 6 PM entitled: THE LIVES OF OTHERS: A conversation about the parallel pursuits of playwriting and anthropology. The event will feature
Wendy Rosenfield, Editor-in-Chief, Broad Street Review
Richard Shweder, Professor of cultural psychology at the University of Chicago whose paper 'What about Female Genital Mutilation? And Why the Question of Culture Matters in the First Place' inspired HUMAN RITES
Fuambai Sia Ahmadu, Anthropological scholar whose life & research has been a primary source for HUMAN RITES
Deborah Thomas, Professor of anthropology at the University of Pennsylvania
Gordon Bermant, Lecturer in psychology at the University of Pennsylvania
Mashuq Mushtaq Deen, Playwright & actor, whose autobiographical one-man show, DRAW THE CIRCLE will be performed at InterAct in June
Seth Rozin, Playwright of HUMAN RITES and Producing Artistic Director of InterAct
InterAct is committed to connecting stories on stage with issues facing our world today and to making their work accessible through discounted ticketing programs and special talkback opportunities. InterConnections, an audience engagement program presented by PNC Arts Alive, enables InterAct to partner on this production with Intercultural Journeys whose mission is to promote understanding and peace between people of diverse faiths and cultures through music, dance, the spoken word, and other art forms. Intercultural Journeys will receive all proceeds from InterAct's Pay What You Can Final Dress on Thursday, March 22.
During the run, InterAct will present further post-show audience conversations. Coffee Conversations occur on Tuesday and Wednesday nights, featuring informal discussions with the artists and complimentary coffee from Rival Bros. Coffee and treats from Insomnia Cookies. Other evenings feature Audience Discussions after performances during the run (beginning March 30). These will be facilitated by local community members to foster conversation connecting the play to the larger community. InterAct will also host speakers for three "Speaker Sunday" events on April 1, 8 & 15 following Sunday matinee performances.
InterAct is also pleased to continue Parents' Day Out!, a new initiative for theatergoing patrons with children. During the matinee on Sunday, April 8, InterAct will provide theatre-themed childcare at The Drake during the performance, allowing parents and guardians to see the show without worrying about the price or logistics of babysitting.
To expand accessibility, InterAct will be offering an open captioned performance on Sunday, April 8 and a Spanish captioned performance on Friday, April 13.
Harriet Power (Director) is delighted to return to InterAct to work with Seth and this superb team. At InterAct, she previously directed two Seth Rozin world premieres: Missing Link and Reinventing Eden. A nationally-recognized director and dramaturg, she recently directed for Orbiter 3/FringeArts (The Brownings): Simpatico (Ironbound; In a Dark Dark House); 1812 Productions (I Will Not Go Gently - also at Peoples Light; Why I'm Scared of Dance); Temple MFA Playfest (Eight Minutes, Twenty Seconds) & Act II Playhouse, where she was Associate Artistic Director 2008-12 (Mystery of Irma Vep, Boeing-Boeing, Sylvia, Pride of Parnell Street, her 7-actor adaptation of The Tempest et al). She's worked extensively with new plays at RADA (London), New Dramatists, PlayPenn, Bay Area Playwrights Festival, West Coast Playwrights, Iowa Playwrights Festival, & International Women Playwrights Festival. Artistic Director of Venture Theatre, Philadelphia's multiracial theatre, 1994-98. Awards include 3 Barrymore nominations for "Outstanding Direction," winning for Angels in American: Perestroika. Upcoming: Splinter and Crack (Juniper Productions); Three Sisters (Hedgerow).
Seth Rozin (Playwright) -is the author of several plays, including Men of Stone (produced by Theater Catalyst, nominated for a Barrymore Award for Outstanding New Play, published by Playscripts, Inc.), Missing Link (produced by InterAct Theatre Company, nominated for a Barrymore Award for Outstanding New Play), Reinventing Eden (produced by InterAct), Black Gold (National New Play Network rolling world premieres at InterAct, Phoenix Theatre, Prop Thtr, Arts West), Two Jews Walk Into A War... (NNPN rolling world premieres at Florida Stage, New Jersey Rep, Playwrights Theatre, Shadowland Theatre, Unicorn Theatre, Merrimack Repertory Theatre, InterAct, Florida Studio Theatre, Geva Theatre, Barter Theatre, Jewish Theatre of Grand Rapids, New Repertory Theatre; published by Playscripts, Inc.), and The Three Christs of Manhattan (produced by InterAct). He also wrote the book, lyrics and music for the musical A Passing Wind, which received its premiere at the Kimmel Center for the Performing Arts' inaugural Philadelphia Inernational Festival of the Arts in 2011. He is the recipient of two playwriting fellowships from the Pennsylvania Council on the Arts, the National New Play Network's 2007 Smith Prize, as well as a 2002 new play commission from the Foundation for Jewish Culture.
Celebrating its 30th anniversary, InterAct is a theatre for today's world, producing new and contemporary plays that explore the social, political, and cultural issues of our time. Founded in 1988 by Producing Artistic Director Seth Rozin, InterAct seeks to entertain audiences by producing world-class, thought-provoking productions, and to use theatre as a tool to foster civic discourse.