HOW TO CATCH CREATION Comes to Philadelphia Theatre Company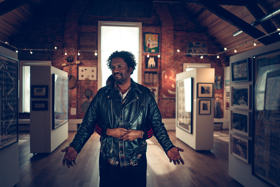 Philadelphia Theatre Company follows The Bridges of Madison County with the Philadelphia premiere of a new work from Christina Anderson. In a co-production with Baltimore Center Stage, PTC introduces local audiences to the talents of rising star Christina Anderson and her stunning new play How To Catch Creation, Philadelphia Theatre Company's pick from the 2017 Kilroys List. The "List" was created to give theatre producers a choice of underproduced works by women, with a recent focus on trans, and non-binary writers. Producing Artistic Director Paige Price has tapped Nataki Garrett, former Associate Artistic Director of Denver Center for the Performing Arts Theater Company (DCPA), to direct this production. How To Catch Creation features a cast of local talent and actors with an impressive range of Netflix, television, and regional theatre credits. The play runs March 22-April 14, with Opening Night on Wednesday, March 27 at 7 p.m. Single tickets and subscriptions are on sale now and available at the box office, online at philatheatreco.org or by phone at 215-985-0420. Tickets cost $10-$69.

Price is overjoyed to introduce local audiences to Anderson's work. "What's truly exciting is that she has finally hit the major markets. She's been an industry secret for some time, and is ready for prime time. I also love that it's a story that centers around black Americans but it's not about Race, with a capital "R." It's about people. "Nataki (Garrett) likes to say, 'It's about people who get up, have coffee, and break each others' hearts.' This season, we are trying to tell stories that engage audiences and elicit empathy, and to share many different kinds of American experiences on the stage. This play balances hope and heartbreak, laughter and loss."
From the acclaimed Kilroy's List, How to Catch Creation follows four artists and intellectuals in San Francisco who are struggling to nurture creative impulses and establish a legacy in both their professional and personal lives. When one discovers the works of a black queer feminist writer from a bygone era, their lives begin to intersect in unexpected ways. In this bold, imaginative play, Anderson, "a gifted playwright you want to pay attention to" (Variety), dissects the universal act of creation-creation of life, of family, of art-to inspire the dreamers and idealists in everyone.
"I saw a reading of the play in The Goodman Theatre's Next Stages Festival - a new play festival. They had commissioned it and it struck me as such a rich story. So many layers and kinds of relationships are examined - love, friendship, mentorship, authority. The power center shifts multiple times for each character," said Price.
With How To Catch Creation, PTC begins a commitment to produce one play from The Kilroys list each year. For the past five years The Kilroys, an LA-based collective of playwrights/producers, continuing the fight to achieve gender balance in the American theater, have been advocating for equal representation on our American stages, and have released an annual list of under-produced plays by women writers. In 2019, The Kilroys announced new leadership, with the original leaders serving as an advisory board. On the new board is playwright Emma Goidel, a member of Orbiter 3, whose work has been produced on several local stages.

"It came to me that so many industry leaders were putting plays forward to be on the list, but that to actually commit to producing them would be an important and impactful leap. In considering what PTC would put forward, we knew we wanted to feature women and stories by writers that might need more visibility - that need a break, frankly. I would love PTC to be a place that gives creative people the chance they need to break through," added Price.
The cast for this exciting new work, playing three generations of characters, is a mix of local, regional, theatre and film talent. Former University of the Arts student Tiffani Barbour plays GK Marche. Barbour was on the national tour of Mamma Mia! and has appeared on television in The Leftovers and Law & Order. The character of Stokes is played by Jonathan Bangs, a recent graduate of California Institute of the Arts and has appeared at the Kennedy Center and A.C.T. Shauna Miles plays Natalie. Miles appeared on The Good Wife, Law & Order SVU, and Luke Cage. She has performed on stages across the country, including the Radio City Christmas Spectacular. Shayna Small plays Riley. Small is a classically trained actor, singer and educator based in Brooklyn. She was part of the tour of Parable of the Sower written by Toshi and Dr. Bernice Reagon. Wilma Theater Hothouse member Lindsay Smiling plays Griffin. Smiling last appeared at PTC in Hillary and Clinton, and he recently played Friar Lawrence in the Wilma's Romeo and Juliet. Stephanie Weeks plays Tami. She has several Regional and Off-Broadway theatre credits and is set to appear in the Netflix show Tales of the City with Laura Linney.

"The characters are deep. A man who was wrongly incarcerated for 25 years is unable to go to his mother's funeral and now has trouble adapting. He is forced to engage with the same system that put him in prison when he tries to get approved to adopt a child. Another character is ambivalent about her relationship, even while subsuming her own needs to try and make it work...another is in a relationship with a writer, and we see what happens when that person feels she takes second place to her partner's work. I absolutely love how the lives of three seemingly unconnected people intertwine in a magically theatrical way," said Price.
Price and Garrett have assembled a stellar design team who are all making their Philadelphia debuts. Jason Sherwood designs the set, an impressive representation of the Golden Gate Bridge, on a rotating revolve, which lets the scenes shift quickly from era to era. Sherwood recently designed Rent Live on Fox. Ivania Stack is the Costume Designer. She has designed for many regional and Washington D.C. area theatres. Xavier Pierce is the Lighting Designer. He is one of the busiest designers, with shows opening in several theatres across the the country this year. Curtis Craig, Head of Sound Design at Penn State is the Sound Designer. He and Garrett previously worked together at the Denver Center.
How To Catch Creation was inspired by Anderson's time in the Bay area. "I had a year-long residency at the Magic Theatre in San Francisco. It was my first time living on the West Coast. I met so many wonderful and progressive Black folks living beautiful and dynamic lives, so I knew I wanted to capture a similar energy in a theatre piece someday. American Conservatory Theatre (also in SF) gave me a commission to write a play about the Civic Center neighborhood surrounding their secondary theater space. This commission sparked the idea that would become How to Catch Creation. The vibe and essence I experienced in The Bay inspired this piece, but ultimately the geography is unique to this story," she said.
She is looking forward to introducing Philadelphia audiences to her work. "I hope audiences see this as an opportunity to connect with new or familiar perspectives and an opportunity to see their reflection. I hope they gain inspiration, sparks of joy, courage. I'm thrilled to share this play with Philly audiences! It's been really great working with Paige in preparation for this production. And I'm excited to spend time in the city while working on the show," added Anderson.
Single tickets for How To Catch Creation are on sale now for $10-$69 with discounts available for groups, seniors, students, industry, and the military. For additional information, tickets or subscriptions, please visit philatheatreco.org or call 215-985-0420.
How to Catch Creation is produced in association with Baltimore Center Stage. The play was originally commissioned by The Goodman Theatre in Chicago, where the world premiere just opened to enthusiastic reviews.
The Honorary Executive Producers for How to Catch Creation are: Rhonda & David L.Cohen and PECO. Honorary Producers are: Dr. Peter Arger in memory of Donald S. Wilf and FS Investments. Kilroys@PTC New Play Initiative is supported by The CHG Charitable Trust.
PTC's 2018-2019 season is sponsored by Comcast NBCUniversal, Independence Blue Cross, Center City Film & Video, PNC Arts Alive and American Airlines, the official airline of Philadelphia Theatre Company.