BWW Review: 'Dinner and a Show' - Media Theatre's WEST SIDE STORY and Tom's dim Sum
Who doesn't recognize the music, the dancing and the story? Media's own Dann Dunn's is at the helm of directing and choreographing this high- energy piece assisted by Media favorite Jennie Eisenhower as associate director. The movement simply explodes! This is the standout WOW factor of this production.
With a book by Arthur Laurents, music by Leonard Bernstein, and lyrics by Stephen Sondheim, it remains a masterpiece of song, dance and story that explores themes still quite relevant even in modern times. Loosely inspired by William Shakespeare's tragic drama about star-crossed lovers, "Romeo and Juliet," the musical is reset in streets of New York City, where two warring teenage street gangs-the Jets, a Caucasian gang, and their rivals, the Sharks, comprised of Puerto Rican immigrants-clash for dominion over their working-class neighborhood.
As a company, the cast delivers the goods in the vigorous song and dance heavy
piece. This is a very handsome leading cast lead by Tony (Grant Stuble) and Maria (Patti Lee Meringo). Both sing beautifully but fall a bit short to ignite the passion of the ill-fated lovers. Their characters are a tad reserved especially surrounded by all the turmoil and excitement of this plot. Standout performances are offered by the lovely and fiery Victoria Guiteras Mayo's who plays Anita and Zachery Chiero playing Rif. Both rally to their roles creating a sense of enthusiasm and anarchy. Sound by Carl Park was a bit unstable at this performance for the first act making the solo parts of Maria and Tony a bit difficult to hear, but improved in act two.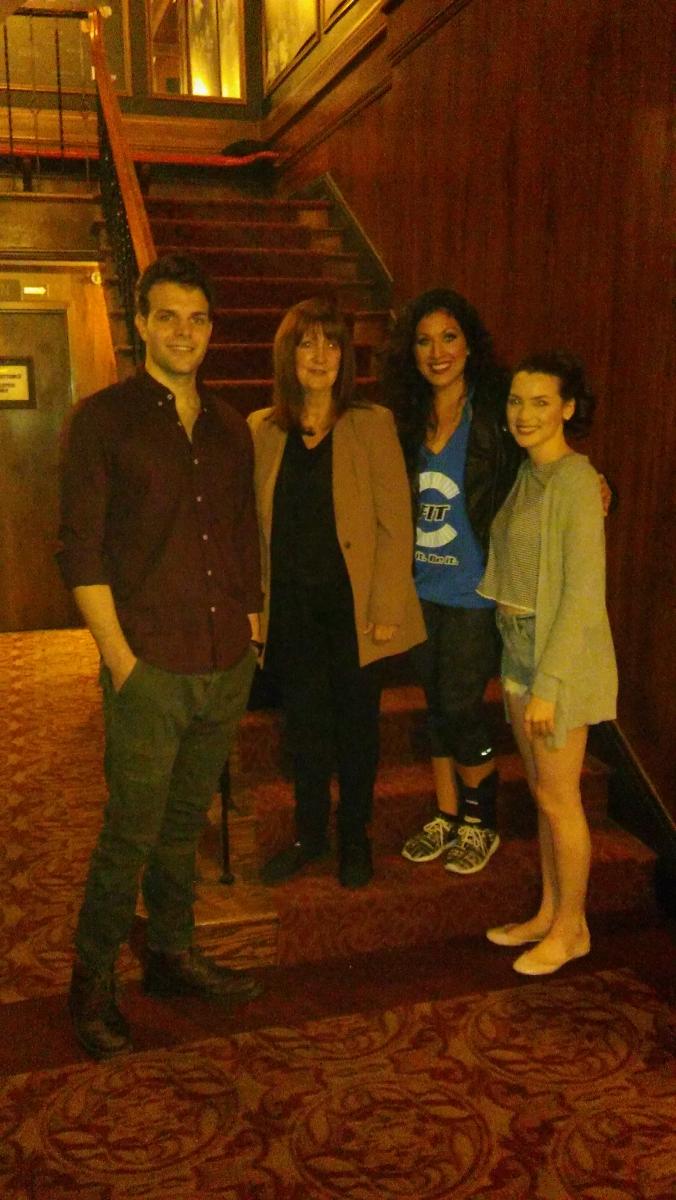 Still one cannot escape the gorgeous score such as "I Feel Pretty," "Maria," "America," "Tonight," "Somewhere," (and many more) that all contribute to the show's enduring brilliance. Sets by Kyle Brylczyk and Lighting by Steve Spera are strikingly stark and effective as the action revolves around the action, of course. Overall one can easily get lost in the story and the music and Media Theatre can be proud of another well delivered production.
WEST SIDE STORY plays at the Media Theatre, Media Pa. through June 11. For tickets and information visit: www.mediatheatre.org or call 610-891-0100.
Photo: Maria and her gal pals in "West Side Story". At center is Patti-Lee Meringo (Maria), with--from left to right--Kendyll Young, Marissa Barnathan, Brittany Monachino, and Mary Guarnieri
Photo: Victoria Guiteras Mayo as Anita (courtesy www.victoriagmayo.com)
Photo: Tony and Maria (Grant Struble and Patti-Lee Meringo)
Photo: Grant Struble, Pati Buehler, BWW.com, Victoria Guiteras and Patti-Lee Meringo. Photo by Pati Buehler
Media production Photos by Maura McConnell
Now on to dinner.....
TOM'S DIM SUM RESTAURANT: a fresh take on Asian cuisine. With 25 hot appetizers, 10 cold and 17 entrees there's something for everyone to enjoy. Tom's authentic unique recipes are each a wonderful experience. We enjoyed Hong Kong Shumai dumplings, scallion pancake appetizers, Spicy Crispy Shrimp with tender rice,
sautéed Shanghai Bok Choy and Cucumber salad. All prepared with delicious sauces.
The atmosphere is warm and friendly as was the staff and Tom personally visits his guests happily shaking hands and making sure you are having a wonderful experience! There are two locations on Tom's dim Sum; one on Arch St. Center City Philadelphia and 13 E. State Street Media .Pa. For more information visit www.tomsdimsum.com or call 610.566.6688