BWW Interview: Catching up with Christine Andreas Ahead of PIAF, NO REGRETS
There are two streaming performances on February 20th and 27th of the singers tribute to Edith Piaf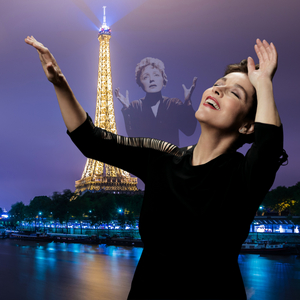 Two time Tony nominee Christine Andreas (On Your Toes, The Scarlett Pimpernel, La Cage aux Folles) continues The Cabaret Project of St. Louis' virtual season of TRIBUTES with PIAF, NO REGRETS, an homage to the legendary French chanteuse Edith Piaf.
Streaming February 20th & February 27th
Available 7:30 pm - midnight CENTRAL TIME both evenings
Tickets $25 https://e.givesmart.com/events/jjh/
Ahead of her streaming event, BroadwayWorld caught up with Christine Andreas to ask about the show.
---
What is your personal relationship with Edith Piaf's music?
I love singing in French... that said... I resisted a show on Piaf. I had never done an autobiographical show and I felt an unnerving sense of responsibility to do justice to such an iconic artist. And I know this will sound a little peculiar... she started haunting me... a lot! I ended up doing not one, but two very different shows on Piaf. One, a concert version for a French Canadian musical director, Raphael Derkson, who had pestered me for years about Piaf!! And one, for the Parisian choreographer Pascal Rioult & his modern dance company, Rioult Dance NY... singing Piaf w/beautiful dancers swirling all around me! The shows were so wonderfully inspiring and Piaf herself so intriguing as an artist & person, I ended up creating my own show.
What brought about the show's creation?
Edith pestering me! You see, most people don't understand the breadth of her genius, they just know the sensational, tragic elements of her life. So I wrote a show of my own to set her record and history straight. (Edith WANTS her record set straight! :)
The show debuted at Feinstein's 54 Below in NY. I've done many shows there, all wonderfully received, but we weren't quite prepared for the huge response to Piaf... we ended up bringing it back again a year later. I'm also very excited by both Columbia Artists Theatricals picking up the show for touring and by the beautiful recording of PIAF - No Regrets produced in London by Martin Silvestri, my husband, w/36pc orchestra!
How did you make your song choices for the show and what can audiences expect?
It's not hard to find great material for Piaf. She said simply, "my life is my song", so when you chronicle her life, the songs are there. I will be singing her great standards both in English & in French (don't worry, when i sing in French, you will always understand what I am singing as I guide you through the songs, and French is such a beautiful language to sing).
Did your approach to performing the show change knowing it would be for a streaming environment?
Well... this is new for all artists, but necessity IS the mother of invention. Its is a little unusual performing w/o an audience but actors are often asked to make 'adjustments' when approaching and crafting a role. So....'no audience' is more or less an 'adjustment' in streaming your performance. I know someone will be watching at some point and I am singing to them sort of 'in absentia' for now, but they are very much alive in my imagination.
What do you want audiences to know about Edith Piaf and her music when they leave the show?
Piaf was a genius, a phenomena rising from the slums of Paris to become the voice of France. A true artist guided by her guts, her will and her intuition. So her life was far more fascinating than the hype she so enabled. All of that life is reflected in her voice, and Edith and I both wish that our audiences leave the show with the understanding of her true, authentic, all too human life!
---
TRIBUTES continues with Tony DeSare and Capathia Jenkins in Frank & Ella on March 20 & 27 https://e.givesmart.com/events/jjh/
Piaf, No Regrets
Streaming Saturdays February 20th & February 27th
Available 7:30 pm - midnight CENTRAL TIME both evenings
Tickets $25 https://e.givesmart.com/events/jjh/