Latest News on Leigh Allen
Stage Credits
  [Broadway]
Original Broadway Production, 1952
Singer
Singer
  [Broadway]
Original Broadway Production, 1950
Singer
  [Broadway]
Original Broadway Production, 1949
Ensign Lisa Minelli [Replacement]
Productions
[Regional (US), 2016]
Lighting Designer
Stage
Performances
  [Broadway]
Original Broadway Production, 1952
Singer
Singer
  [Broadway]
Original Broadway Production, 1950
Singer
  [Broadway]
Original Broadway Production, 1949
Ensign Lisa Minelli [Replacement]
Productions
Lighting Designer
Leigh Allen News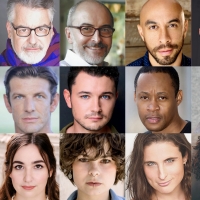 Full Cast Announced For OUR COUNTRY'S GOOD At South Pasadena Theatre Workshop
by A.A. Cristi - Apr 7, 2022
The South Pasadena Theatre Workshop has announced the cast for a new production of Timberlake Wertenbaker's award-winning dark comedy, Our Country's Good. Set in newly colonized Australia in the late 18th century, the production will run from May 26 to June 26. SPTW Artistic Director and co-founder, Sally Godwin Smythe, will direct the cast of twelve. 
Impro Theatre Brings TENNESSEE WILLIAMS UNSCRIPTED To Edinburgh Fringe Festival
by A.A. Cristi - Aug 11, 2021
Impro Theatre brings acclaimed "Tennessee Williams Unscripted" to Edinburgh Fringe Festival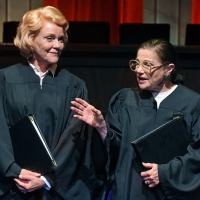 Review: SISTERS IN LAW Celebrates Friendship and Conflict Between the Supreme Court's First Two Female Justices
by Shari Barrett - Sep 30, 2019
During the thought-provoking 90-minute play, made even more visually intense via attention-grabbing historical projections of news headlines to forward the progression of time on Rachel Myers exquisitely transformational scenic design, Feldshuh and Faracy fully embody not only the physical presence of Ginsburg and O'Connor but also their dependency on each other to get their voices heard over the gender-biased male members of the Court. Their dedication to justice and the law was solid, although O'Connor felt the need to take it slowly like a tortoise while Ginsburg always felt the need to charge ahead like the hare when it came to issues of sexual harassment towards women.
The Wallis Presents SISTERS IN LAW
by A.A. Cristi - Jul 31, 2019
The Wallis Annenberg Center for the Performing Arts, in association with Elizabeth Weber, Dale Franzen (Hadestown) and Don Franzen, presents the West Coast Premiere of SISTERS IN LAW, starring Tovah Feldshuh (Golda's Balcony, a?oeThe Walking Dead,a?? a?oeCrazy Ex-Girlfrienda??) as Ruth Bader Ginsburg and Stephanie Faracy (Hocus Pocus, The Great Outdoors with Dan Aykroyd and John Candy, a?oeSneaky Petea?? and a?oeModern Familya??) as Sandra Day O'Connor.  Directed by Patricia McGregor (Lights Out: Nat a?oeKinga?? Cole, Skeleton Crew), with an all-female design  team,  performances begin Wednesday, September 18 through Sunday, October 13, 2019, in The Wallis' Lovelace Studio Theater.

BWW Review: A Disturbing SMART LOVE Rivets With Much Food For Thought
by Gil Kaan - Jan 19, 2019
The west coast premiere of Brian Letscher's SMART LOVE rivetingly posits a truly sci-fi event as a real-life situation in which you're forced to come face-to-face with some serious moral dilemmas. Anchoring this strong cast of four, Melissa Weber Bales totally inhabits the fairly recently widowed Sandy, who's freshly found a new zest for life in Vic (a most memorable Scott Conte in the show's smallest part).

SMART LOVE Opens In Los Angeles January 12th
by Julie Musbach - Jan 7, 2019
LA Drama Critics Circle Award Winning Director Elina de Santos helms the contemporary comedy SMART LOVE opening January 12th at Pacific Resident Theatre in Los Angeles. The west coast premiere marks the second professionally produced full length play by writer/actor Brian Letscher. This and Letscher's previous work, WHEN THE LIGHTS COME ON, premiered at Jeff Daniels' The Purple Rose Theatre Company.
BWW Review: JAZZANTIQUA PRESENTS FREEDOM! JAZZ! DANCE! IN THEIR 25TH ANNIVERSARY CONCERT ~ A CELEBRATION OF THE HEART! at The Nate Holden Performing Arts Center
by Valerie-Jean Miller - Dec 8, 2018
Artistic Director Pat Taylor's JazzAntiqua Dance and Music Ensemble is a beautiful jazz/dance and soulful enterprise that is so exuberant and exhilarating to watch, that, and this is also because the four jazz musicians who play throughout are just beyond brilliant, you forget every one of your troubles and feel compelled to join in to rejoice the human spirit through music, dance, poetry and the spoken word.
Elina De Santos Directs World Premiere Of A MISUNDERSTANDING
by A.A. Cristi - Dec 4, 2018
 Understand you? I don't even understand myself. Elina de Santos directs a playful play of ideas that challenges our fundamental understanding of reality. The world premiere of A Misunderstanding by Matt Chait (Disinherit the Wind) opens on Friday, Jan. 4 at The Complex in Hollywood, where performances continue through Feb. 3. Leave all your preconceived notions at the door… this play is sure to turn them inside out.

BWW Review: Kingsmen's TWO NOBLE KINSMEN Proves Honor Has Value and Chivalry isn't Dead
by Ellen Dostal - Jul 6, 2018
It contains possibly the last words William Shakespeare ever wrote and chances are you've never seen a production of it. THE TWO NOBLE KINSMEN was written around 1613 but not published until 1634, and is attributed to both Shakespeare and John Fletcher, the man who would succeed him as resident playwright for the King's Men (named for the company's benefactor, King James I). Kingsmen Shakespeare Company's production is the perfect opportunity to see it for the first time.

Photo Flash: Sexy, Scandalous LES LIASONS DANGEREUSES Premieres at Antaeus Theatre Company
by Julie Musbach - Oct 28, 2017
Sex, revenge, betrayal... let the games begin. Antaeus Theatre Company presents a fully partner-cast production of Les Liaisons Dangereuses, Christopher Hampton's Olivier, Evening Standard and New York Drama Critic's Circle Award-winning adaptation of the scandalous novel by Choderlos de Laclos. Directed by Robin Larsen, Les Liaisons Dangereuses opens on Oct. 26and Oct. 27 (one opening for each cast), running through Dec. 10 at theKiki & David Gindler Performing Arts Center in Glendale. Low-priced previews begin on Oct. 19.
Leigh Allen Frequently Asked Questions
How many Broadway shows has Leigh Allen been in?
Leigh Allen has appeared on Broadway in 3 shows.
How many West End shows has Leigh Allen been in?
Leigh Allen has not appeared in the West End