Latest News on Jackie Clune
Stage Credits
  [West End]
Original West End Production, 2019
Cast
  [West End]
London Production at Vaudeville Theatre, 2019
Performer
  [Off-Broadway]
St. Ann's Warehouse and Donmar Warehouse Off-Broadway Revival, 2015
Westmorland/Glendower
  [West End]
2012
Performer
  [West End]
Original London Production, 2005
Mrs. Wilkinson [Replacement]
Productions
[West End, 2003]
Additional Material
Writing
Author
Stage
Performances
  [West End]
Original West End Production, 2019
Cast
  [West End]
London Production at Vaudeville Theatre, 2019
Performer
  [Off-Broadway]
St. Ann's Warehouse and Donmar Warehouse Off-Broadway Revival, 2015
Westmorland/Glendower
  [West End]
2012
Performer
  [West End]
Original London Production, 2005
Mrs. Wilkinson [Replacement]
Productions
Additional Material
Writing
Author
Jackie Clune News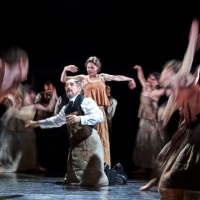 DR SEMMELWEIS Run Extended At Bristol Old Vic
by Stephi Wild - Jan 28, 2022
Bristol Old Vic today announces a week-long extension of the world première of Dr Semmelweis, based on an original idea by Mark Rylance, and written by Stephen Brown with Rylance. The production opened on 26 January, and now runs until 19 February 2022.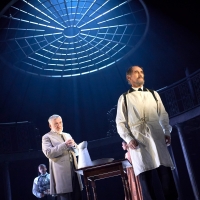 BWW Review: DR SEMMELWEIS, Bristol Old Vic
by Tim Wright - Jan 27, 2022
'Doctors must not carry their ghosts,' advises Johann Klein to his impatient assistant Dr Ignaz Semmelweis, a 19th-century obstetrics doctor. But Semmelweis is troubled: he feels it is only by carrying those ghosts that progress can be made.
Bristol Old Vic Announces Full Cast For DR SEMMELWEIS
by Stephi Wild - Nov 29, 2021
Tom Morris directs the previously announced Rylance (Ignaz Semmelweis), who is joined by Jackie Clune (Anna Müller), Sandy Grierson (Jakob Kolletschka), Felix Hayes (Ferdinand von Hebra), Enyi Okoronkwo (Franz Arneth), Clemmie Sveaas (Lisa Elstein), Thalissa Teixeira (Maria Semmelweis), Alan Williams (Johann Klein) and Daniel York Loh (Karl von Rokitanksy) with dancers Roseanna Anderson, Joshua Ben-Tovim, Megan May Cameron, Megumi Eda, Suzy Halstead and Millie Thomas.
BWW Interview: Laura Enrech y David Pintó nos hablan de LA SOMBRA DE AUDREY
by Ainhoa Hornero - Apr 13, 2021
El musical estará en el Teatro Lara a partir del 11 de abril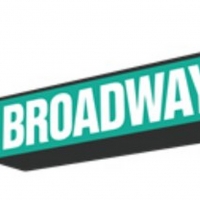 BroadwayHD Introduces Trailblazers Category, Spotlighting Underrepresented Voices in the Theater Community
by Chloe Rabinowitz - Mar 3, 2020
BroadwayHD's CEO Bonnie Comley has announced a new initiative to put the spotlight on underrepresented voices in the theater community, with a special Trailblazers Category.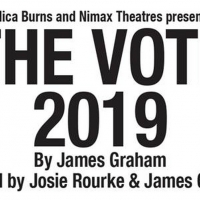 THE VOTE By James Graham Will Be Presented at Bush House Auditorium
by Stephi Wild - Dec 7, 2019
The Vote 2019 looks at what happens in Britain on election night through the eyes of those at the polling station. Once every 5 yearsa?" although, in recent times, increasingly more! - we assert our rights as citizens to uphold or replace our government. As we engage with democracy, we do it in the most unremarkable and understated ways- in local parish churches, primary schools and community centres across the country. James Graham set out to illuminate a?oethe diverse, diligent and often hilarious individualsa?? who turn the a?oeunglamorousa?? settings of polling stations into a?oeplaces where history is made.a?? Labelled a?oea glorious night at the polling stationa?? (Observer) and a?oebrilliant apta?? (Telegraph),the original Donmar production was broadcast live on More4 in 2015 and nominated for a BAFTA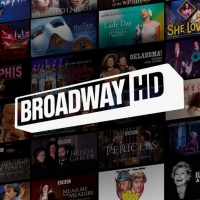 BroadwayHD Announces November Lineup Including PUTTING IT TOGETHER Starring Carol Burnett, NUNSENSE, and More!
by Stephi Wild - Oct 25, 2019
BroadwayHD is heading into November with a stellar lineup, lead by knock-out performances of theater classics. The all-female production of Donmar Warehouse's Julius Caesar makes its way to the platform on November 7, giving subscribers a stunning twist on a classic play. Dan Goggin's internationally acclaimed musical anthology series, Nunsense and its 6 sequels will be making its exclusive digital streaming premiere on BroadwayHD beginning November 14. Just in time for the 20th Anniversary of its debut on Broadway, Putting It Together starring Tony and Emmy Award winners Carol Burnett and George Hearn as well as Emmy Award nominee Bronson Pinchot brings a heavy dose of humor to the library on November 21. In addition to all of this, the holidays arrive early when beautiful productions of A Christmas Carol, MeshugaNutcracker! and The Royal Ballet's The Nutcracker debut on BroadwayHD on November 26.
BWW Review: [BLANK], Donmar Warehouse
by Debbie Gilpin - Oct 18, 2019
Alice Birch's [BLANK] comprises 100 scenes, any number of which can be selected and performed in any order a?" it's all in the hands of the creative team. For Maria Aberg's production at the Donmar Warehouse, an all-female company has been cast and 22 of the scenes have been pulled together. The common thread between all of the scenes is the experience of women in the criminal justice system, whether they work for it, are in prison themselves, or are victims of crime.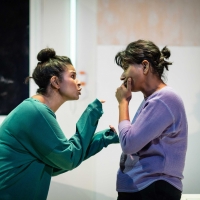 Photo Flash: First Look at [BLANK] at the Donmar Warehouse
by Stephi Wild - Oct 16, 2019
Alice Birch's heartbreaking new play reaches across society to explore the impact of the criminal justice system on women and their families.
Jackie Clune Videos
VIDEO: First Look - Alan Cumming Stars in BBC America Short Film Series QUEERS
by Caryn Robbins - Sep 22, 2017
BBC America's QUEERS sees eight established writers respond to the 50th anniversary of The Sexual Offences Act which partially decriminalized homosexual acts between men in the UK, will air throughout the day on October 11.
Jackie Clune Frequently Asked Questions
How many Broadway shows has Jackie Clune been in?
Jackie Clune has not appeared on Broadway.
How many West End shows has Jackie Clune been in?
Jackie Clune has appeared on London's West End in 4 shows.
What was Jackie Clune's first West End show?
Jackie Clune's first West End show was Billy Elliot which opened in 2005
How many shows has Jackie Clune written?
Jackie Clune has written 1 shows including Queers (Author).