BWW Feature: PALM SPRINGS THE MUSICAL
New musical on the horizon celebrates the old, by making it a new kind of sparkly.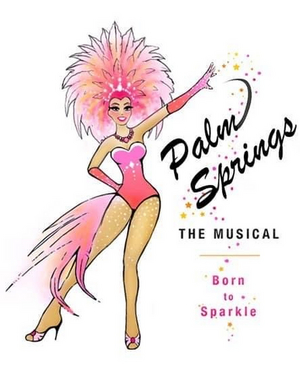 If you ask the creators of the new show, Palm Springs The Musical: Born To Sparkle, they will tell you they did not set out to write it. While the ingredients that went into creating it are all unique to Alyce Berard and Robbie Moss Manning, the foundation of the recipe is what residents of the valley call Palm Springs magic. There is no doubt that it first worked it's spell on Alyce Berard and Robbie Moss-Manning through Manning's mother Diane Bryant Moss Gordon, a Greater Palm Springs resident.
It was Diane's death bed request that left the best friends of 26 years scratching their heads over what she meant by, "Do something together; your people are here in this valley."
Several years later a random event clarified everything.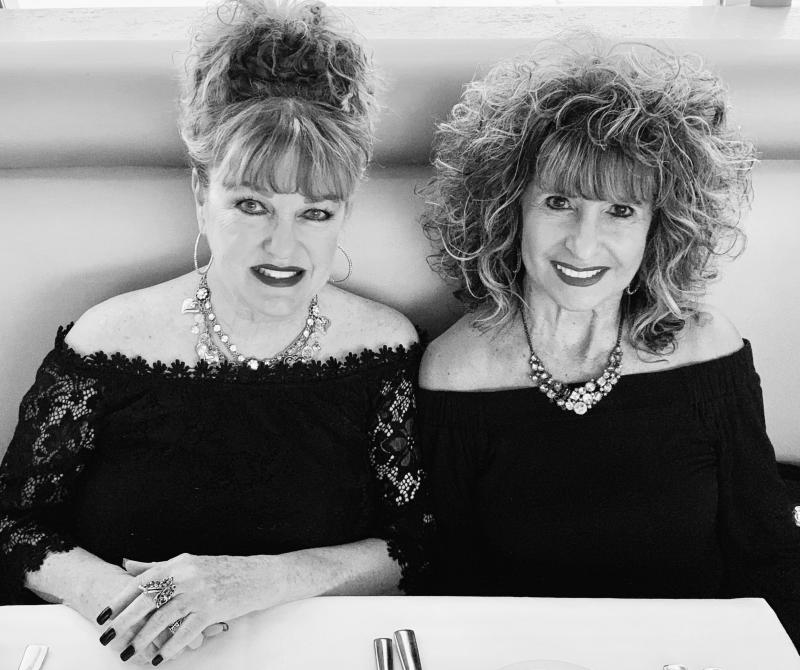 "I was trying to take Robbie to the $18 store in Palm Springs," Berard says. "We made a wrong turn and ended up at Alibi Azul. There was a Frank Sinatra tribute band playing that night."
Manning has been a performer from the age of three when she lopped off a fellow actor's head in a play. Lyric writing came later, but performing on stage was her first love. "When you're a performer, it becomes like eating and breathing," she says. "You could cut off my arm and I'd still get up and perform." The desire to perform is so strong, that since the pandemic hit, she tells us she often finds herself in her kitchen performing for the pots and pans.
Berard continues the story, "Robbie went to the bathroom, and I approached "Sammy Davis Jr." and said, "There's a special guest in the audience, Marilyn Monroe." Berard and "Sammy" colluded and during the next set, they called up Robbie. "She brought the house down," Berard continues, "and when we got back to the hotel, I said "Robbie, this is it! We're supposed to write a musical about our adventures in Palm Springs!
Manning agreed and, for the next six years, they wrote the book and lyrics. All they needed was the music, so they recruited Manning's son, Jonathan Baer. How did they do that?
"I think my mother just called me up and said, 'Alyce and I are writing a musical, and you're going to write the score,'" Baer says laughing.
This was not nepotism, Baer is an accomplished percussionist, and a well-rounded musician. He teaches, plays gigs in every genre of music, including steel drums, and has been writing and scoring music since his days at University.
Berard and Manning have been involved in music since they were kids. Both played in several local bands in their respective hometowns. Berard's first was The Rock Company playing guitar, keyboards, and singing vocals. In Manning's rock cover band, Bad Weather, she fronted and sang lead vocals.
Did they have a favorite song to perform?
Berard: Oooh Baby Baby (Linda Ronstadt)
Manning: Somebody To Love (Jefferson Airplane)
Baer: Anything by Frank Sinatra.
You'd nevér know from the collaboration that their tastes were so wide-ranging and diverse.
Baer's music is much more complicated than the crooner tunes he loves. The music he has written for Palm Springs The Musical: Born To Sparkle, is edgy, fun, with songs like the upbeat Woulda, Coulda, Shoulda, and the sinister Elder Skelter.
Manning is no slouch when it comes to lyrics. She's been writing music for television and film with her first husband, John Baer (Jonathan's father) for many years. In fact, he has written a few songs for the new musical.
Berard is a poet, musician and dancer (belly, if you need to know) but her life's vocation was teaching the Deaf.
The songs came before the story, as the story continued to unfold as they were writing. Depending on your point of view, Palm Springs may have cast too strong of a spell. "Everyone was so welcoming, that our story got too Pollyanna," Manning explains. "And theater needs drama, so we did an overhaul of the script.*
Which brings us to the story, the foundation of which is "Bring back the Follies."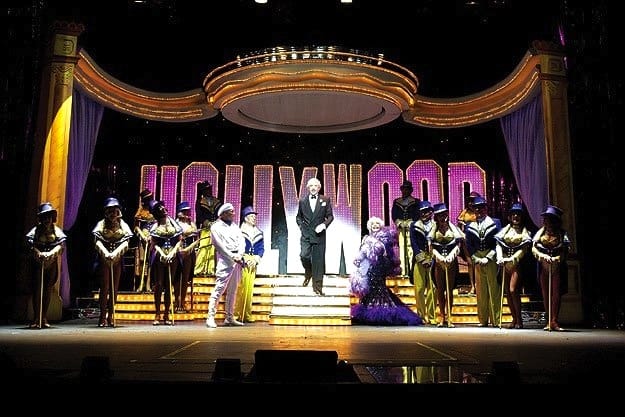 The Fabulous Palm Springs Follies only featured performers 55 and older. It ran from 1990 until 2014, and was the subject of a short documentary titled Still Kicking: The Fabulous Palm Springs Follies that was nominated by the 70th Academy Awards for Best Short Subject Documentary. Not just singing and dancing, it had jugglers, comedy skits, and acts of every ilk.
"These performers came to Palm Springs because Hollywood had determined they'd grown too old and had lost their sparkle," Manning says. It is a sad but true observation. It's the rare Tony Bennett who continues to perform for large audiences.
The script has the feel of a vaudevillian production, matching the production of the shuttered Fabulous Palm Springs Follies. The two main characters are inarguably Berard and Manning. Berard's character is named El (her nickname in real life is Al) and Manning, who is often billed as Just Robbie, named her character JR.
The musical has all of the ingredients to be a real crowd pleaser. The scoring and clever lyrics are supported by a book giving us a love story; a crisis of faith and redemption; and best of all a marvelous moustache-twirling villain with a corrupt sidekick, a ballsy Nurse Ratchet-type who, together, attempt to thwart the ladies' remounting of the Follies, in an effort to keep their noses out of the shady retirement home they operate.
The villains delightfully chew the scenery down to a nub with their clever songs and evil intent, while our cheeky heroines rely on their ingenuity, as well as the friends they've made along their journey to help them save the day. Not to mention the promised "Follies" as their final big number.
As to what theater looks like during the pandemic, Berard recently got in touch with her high school drama teacher, Dan Pessano, and was lamenting the new seating capacity rules of only operating at 50%. Pessano replied, "Alyce, I give you a C+ for that answer. If three people in the audience laugh or cry in the right parts, then you are a success."
"We couldn't have done this in our 20s, 30s, 40s, or even 50's," muses Manning. "Life just gets in the way. But we're in our 60s and it's now or never, because never is just a heartbeat away."
Ultimately the story reminds us to overcome our regrets, embrace what is in front of us, and to always, ALWAYS sparkle.