5th Circus Center Cabaret SF Opens October 11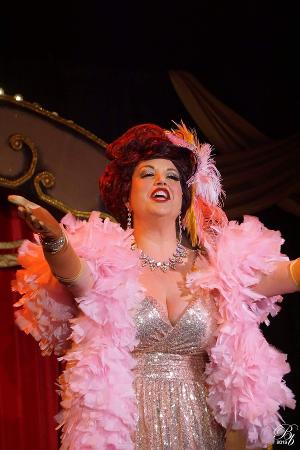 Intimate, elegant, cheeky and mischievous as befits its over 21 audience, Circus Center Cabaret roars back to the stage with the 5th anniversary season of its critically acclaimed distillation of top-drawer circus and variety artists, an atmosphere of delightful indulgence, and live music performed by Cabaret Chanteuse Madame Leanne Borghesi and the Roger Glenn Trio. Under the visionary direction of legendary circus teacher and clown Steve Smith, the Circus Center Cabaret is presented in an intimate venue with a full bar at Circus Center's iconic home near Golden Gate Park (755 Frederick Street). Tickets are $15 for standing room; $45 for main floor seating; $85 for VIP Seating. Tickets may be purchased by phone at (866) 811-4111 or online at www.circuscenter.org/cabaret beginning Saturday, September 1.
"Hyperbole aside, there's nothing quite like it in the Bay Area landscape," says Barry Kendall, Circus Center Executive Director and Executive Producer for the Cabaret, calling the experience "the perfect date night. We have table service and a bar staff who are young, gender-bending, and very sexy. The variety of talent on our stage is enormous - aerialists, acrobats, contortionists, clowns, jugglers, quick change artists, and so much more. We bring in headliner artists from around the world, coming to us straight from
Cirque du Soleil
, Big Apple Circus, Vegas shows, and more - you can't see them anywhere else in San Francisco. And in our cozy, intimate theatre, you're never more than 50 feet from the stars on our stage - sometimes much closer!" In charge and in the center of it all are two of the Bay Area's brightest stars: ringmaster Madame
Leanne Borghesi
and renowned jazz legend Roger Glenn. A vibrant entertainer and vocalist, Borghesi has been dazzling audiences coast to coast for two decades. Her star is on the rise, with her recent debuts at New York's
Carnegie Hall
and Jazz at Lincoln Center. Roger Glenn is a second-generation master multi-instrumentalist and composer, hailed for his contributions to jazz and Latin jazz for five decades. Glenn has worked and recorded with giants in jazz such as
Dizzy Gillespie
,
Rosemary Clooney
,
Steve Miller
,
Taj Mahal
,
Kurt Elling
, and Steely Dan. "Leanne and Roger are icons in their own right, with a wide circle of fans," notes director Smith. "The combination of interactive performance and world-class musicianship is unmatched. Our fifth anniversary season serves up crafty cocktails, cabaret, circus antics, and more than a little irreverence, served shaken, stirred, and on the rocks." "Madame really goes all the way this season and takes all of us along for the ride," Smith summed up. "Fasten your high wire harnesses. It's going to be a fabulously bumpy night. Humor will definitely 'trump' political correctness. As one reviewer said of our Madame, she's got 'the lungs of
Ethel Merman
, the wigs of
Ann Miller
, the feather boas of
Julie Wilson
, the humor of
Sophie Tucker
, and the soul of a RuPaul's Drag Race winner.' " The 5th Anniversary Season of the Circus Center Cabaret continues with: Hack This! (November 22 & 23): Madame Founds a Startup! Or at least she tries to. In Hack This!, Madame Borghesi decides to follow the Silicon Valley model and invent her way to fame and riches. There's a bit of the mad scientist in her (she's got her very own Igor-like assistant), as she comes up with zany ideas, sings and tells stories about inventions past and present, and tries the enterpreneurial approach to life! Galaxies A Go-Go (January 24 & 25): Madame wants to explore deep space! So, she takes a crash course in the history of space travel (aided by a very handsome astronaut) and sends NASA her application, along with a few recommendations: more fashionable space suits, an in-flight culinary upgrade,,zero-gravity sex toys, and more, all chronicled in her new blog,,"KISS MY ASS-TEROID." But will she pass muster at Mission Control? Holier Than Wow (March 13 & 14): In the thick of the March primaries, this show features the return of our popular news segment, WTF News, anchored by an increasingly agitated and outraged Guy Riggs. Madame Borghesi, meanwhile, has decided that her road to celebrity is the path to enlightenment, as she remakes herself into a spiritual guru. Your chakras will tingle as our cabaret artists show you "The Way." Fail to the Chief (April 17 & 18): Madame runs for President! From grassroots to grand plans, Madame has decided that the world needs fixing, and she's just the one to do it. She's started a new political party and issued its manifesto, called 'MOVIN' ON WITH MADAME.' She travels to Capitol Hill, where she is grilled by snarky senators and cranky congressmen until she rises to her heartfelt, passionate "Jimmy Stewart moment."
More Hot Stories For You