Click Here to Visit the College Center

Blogs are the opinions of the authors and do not necessarily reflect the opinions of BroadwayWorld. BroadwayWorld believes in providing a platform for open and constructive conversation.

Student Blog: Summer Stock Central: Step #6 | Nail The Audition
After you've Mastered the Self-Tape, it's time to Nail The Audition with either Self-Submissions or Audition Conferences--you choose!
Hey Summer Stock-ers,
That's *SO* weird to say because I'm already back at school haha. For those of you who are also back on the grind, I hope you had a relaxing and rewarding summer and that this school year brings a plethora of opportunities. For my friends up North still on summer break, ENJOY it!
In this post, we're talking about Step #6| Nail The Audition.
Before continuing, be sure to read Step #5| Master The Self-Tape in this 8 Steps to Booking Work Next Summer series. To find all the steps in one place, Click Here. It'll take you to my profile, which will be the home base for all my articles in the Summer Stock Central series.
So, after you've filmed all your material, it's time for...
STEP #6: Nail The Audition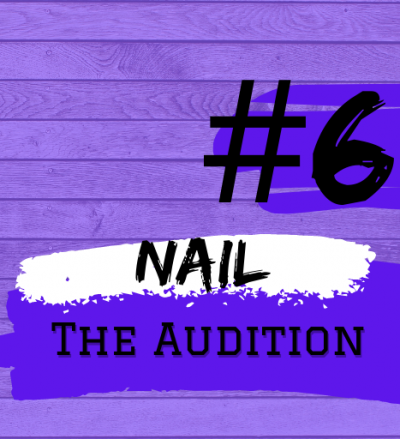 I know all of us take countless classes, read plenty of articles, and listen to endless interviews about what makes a great audition "in the room." So, to not waste your time, I will not be discussing how to audition in-person, but rather the digital Summer Stock audition process.
After you've created all your audition cuts, there are essentially 2 methods of auditioning:
1. Self-Submissions
2. Audition Conferences
---
1. Self-Submissions
A self-submission is where you, the actor, submits directly to the individual Venue you're interested in via email. You attach all the audition materials the Venue is seeking via 1 video link, along with a Headshot and Résumé.
Step 1) Splice and Edit
At this point you should have a lot of freestanding clips of Monologues, Songs and Dances. Pick a Venue to start with first, then double check their audition requirements, find the audition clips you need and splice and edit those materials together into ONE (1) video (unless they tell you otherwise) using iMovie or Premiere Pro. Then...repeat for all your Venues.
Step 2) Upload
After you've created your full audition videos for each Venue, it's time to upload to a video-sharing platform (I use YouTube for everything I do, but Vimeo is also another option people enjoy). Be sure to click "UNLISTED" during the uploading process as to not publish your material to the entire internet, this mode also allows you to provide a shareable link to your audition video. The name is up to you, I like using my first and last name followed by the year and Venue name: Matt Guernier - 2021 XYZ Theatre Submission
Step 3) Craft an Email
After you've uploaded your video, it's time to create an email draft to the Venue you're submitting. I recommend writing draft emails in the "Notes" app for my Apple friends, a Word doc, or even in the email software itself but please, PLEASE do not have the address listed in the "Send To" box. You don't want to be halfway through a sloppy email draft to then have your finger slip, sending your unfinished, typo-prone message to The Muny lol.
In these drafts, be clear and concise and provide an introduction of who you are and what you're submitting for in the season. Follow that with a bulleted or numbered list of what the Venue is receiving from you:
Example:
Attached, please find my:

1. Audition Video: (audition link)

2. Headshot

3. Résumé
Then end the email with a pleasantry or thank them for their consideration, etc. etc.
Step 4) Clean and Check
Now it's time to clean up those sentences and check for any spelling errors. Be sure to also include all the attachments that you said were included (Headshot/Résumé) and insert your custom video link for the Venue you're submitting. Nothing is worse than going back and checking an email after it's already sent and realizing you submitted a video for another Venue's audition requirements.
Step 5) Address and Send
Make sure you send the message to the proper audition email provided by the Venue, create a sensible subject line that preferably includes your name and why you're submitting, and then...hit send!
---
#2) Audition Conferences
For those that are new, Audition Conferences are opportunities where numerous Summer Stock Venues congregate to audition actors for their seasons all at once. When everything was still in person, it was a great way for actors to save time and money by just flying to one or two cities to attend one of these conferences, rather than flying all over the US to audition at each individual Venue. I did partake in a few conferences virtually and, while I really appreciated the opportunity, I tended to have more success with my self-submissions. But here are the big players in the Audition Conference world:
- A1 Conference (All-in-One Conference)
- SETC (South Eastern Theatre Conference)
- NETC (New England Theatre Conference)
- MWTA (MidWestern Theatre Auditions) (no website currently-- run through Webster University)
- UPTAs (Unified Professional Theatre Auditions)
I encourage you to scope out each website and evaluate for yourself whether or not you want to participate and if the Venues that are typically in attendance match the ones already on your personalized List. Lots of these conferences also require some form of payment, so if you don't mind taking a little more time to film and create individual auditions, it might be financially advantageous to self-submit to the majority of your Venues. While each of these individual conferences has their own way of conducting online auditions, I will go through the general process:
*Treat the process as if auditioning for another Venue*
Step 1) Splice and Edit
Curate your audition video with the precise material the conference is seeking. Sometimes these conferences like to include an original Dance combo or other audition requirement, if that is the case, go ahead and film the piece just like you would for any other Venue.
Step 2) Upload
Pay close attention to the video-sharing platform they want you to use, I've seen both Vimeo and YouTube clips requested. Names and Titles should be strictly in accordance with any guidance the conference give you.
Step 3) Send Docs/Materials/Payment
Be sure to be diligent with completing all the forms, sending the proper materials and forwarding any payment that might be necessary for that particular conference. You don't want your material to not be seen because of a clerical error that could've been avoided. When in doubt...just ASK. People want to see you succeed.
Step 4) Prepare for Live Portion
Some Conferences have a Live portion of the audition where you log onto a Zoom and introduce your prerecorded pieces or slate your name. Be sure to take advantage of this opportunity by having a well-lit area and wearing clothes that show you off best.
That's about it for this installment!
Follow along over the next few months as I'll be addressing 1 of the 8 Steps to Booking Work Next Summer in each of my posts. To find all the steps in one place, Click Here. It'll take you to my profile, which will be the home base for all my articles in the Summer Stock Central series.
If you want to geek out about this stuff more or want to talk about your personalized goals and aspirations with regard to your Summer Stock journey and/or career writ large, hmu on IG @mattguernier. Get ready to dive into Step #7| Navigate The Callback on my next post, but until then, stay safe and Happy Summer (for those still on break haha) ! :)