Photos: First Look at Michael Dorn and More in Orlando Shakes' ANTONY & CLEOPATRA
Orlando Shakespeare Theater (Orlando Shakes) in Partnership with UCF features Michael Dorn as Antony in William Shakespeare's Antony and Cleopatra, now playing through April 30.
Check out a first look below!
William Shakespeare's Antony and Cleopatra tells the tragic romance of Marc Antony and Cleopatra. The victors of Rome's civil war have divided the Empire amongst themselves and Marc Antony has traveled to exotic Egypt to rule his corner of the globe. There he encounters Egypt's mysterious monarch, the irresistibly entrancing Cleopatra. Their impassioned affair ultimately pits their two countries against each other and will change the face of the ancient world forever.
Tickets ($25 - $60) for Antony and Cleopatra are available now by calling (407) 447-1700 ext. 1, visiting www.orlandoshakes.org, or in person at the John and Rita Lowndes Shakespeare Center (812 East Rollins Street).
Photo Credit: Tony Firriolo

Michael Dorn
and
Caralyn Kozlowski
Topher Embrey and
Michael Dorn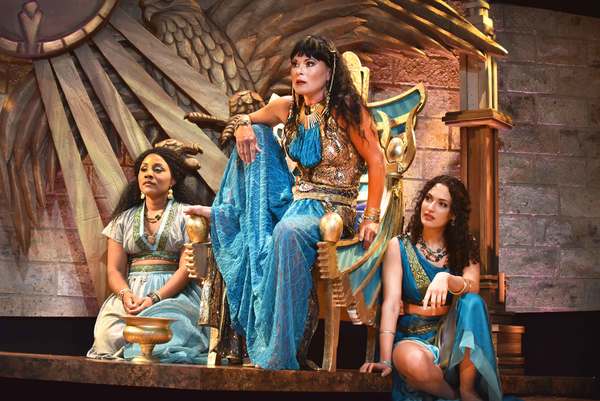 Roberta Emerson,
Caralyn Kozlowski
and Sophia Blum
Topher Embrey and
Caralyn Kozlowski