Review: MISTER AND MISSCAST: A GENDER BENDING MUSICAL THEATRE CABARET is Colorful to the Max
One of my favorite events in the Omaha area is the cabaret series originated by Sarah Gibson and Nik Whitcomb. Since Nik is currently performing at the Guthrie Theatre, Sarah got together with two friends, Mallory Vallier and Ashley Laverty, to create a new one-night cabaret featuring favorite show tunes with a twist...or should I say a 'bend?' MISTER AND MISSCAST: A GENDER BENDING MUSICAL THEATRE CABARET, a clever name for a clever show, featured the genders mixing it up. Men performed songs typically sung by women and vice versa. The result was a colorful concoction that was fresh and fun.
The show was held in an equally colorful 21-and-over Omaha venue, "The Max," which is self-billed as America's best gay nightclub. Blue lighting cast a hue over the packed main floor and balcony. Gibson, Vallier, and Laverty served as charming emcees/comediennes throughout the two-act show.
Songs in the lineup included the silly, such as "Mama Says" sung by the always funny Sarah Gibson. Bob Gilmore cracked up the audience with his get up as well as his rendition of "I Feel Pretty." Mackenzie Dehmer delivered "The Sensitive Song" with strong vocals.
Contrasted with the silly were tear jerkers such as "She Used to Be Mine" from WAITRESS emotionally sung by Steve Krambeck, and "Waving Through a Window" from the amazing DEAR EVAN HANSEN sung by equally amazing Samantha (Quintana) Zarders.
Natalie Hanson's pure vocals in "I Don't Care Much" and David Jesik's silky tenor in HAMILTON's "Burn" added beauty, while David Ebke proved he can sing ballads as effortlessly as he can rock out with Switchfoot's "Only Hope."
And duets! Tim Vallier and David Ebke tickled the audience with "Secondary Characters" from the musical TITLE OF SHOW. Tim Vallier appeared again with James Verderamo in the Siamese twin's theme song from SIDE SHOW, "I Will Never Leave You."
Unique costuming added color... Zhomontee Watson dressed in king's purple robe and crown, sang "You'll Be Back" from HAMILTON. Robby Stone dressed in blouse and blonde wig strutted his stuff in the well-known GREASE hit, "Sandra Dee." Laverty, clothed in a furry dog costume and insisting that she was 'species bending,' delivered a clear voiced version of "I'd Rather Be Sailing" from A NEW BRAIN.
Talented guitarist husbands joined their wives on stage. Beaufield Berry gave us, "I'm Not That Guy" from BLOODY, BLOODY Andrew Jackson accompanied by her husband, Paul Fisher. Mallory Vallier had great fun performing Adam Sandler's hit "Somebody Kill Me" from THE WEDDING SINGER with her husband, Tim. Sara Collins accompanied all others on keyboard.
What is so fun about these cabarets is that they are small, intimate, and filled with people who love musical theatre. Some of Omaha's favorites share their talents. There are lots of laughs and a few tears. There are hugs and handshakes. Mix that up with a cool venue, refreshing drinks, and close friends and I'd call it a good night!
Photo Credit: Robby Stone
Ashley Laverty, Mallory Vallier, Sarah Gibson
Christine Swerczek, proud mother of Analisa Peyton and Sam Swerczek, has been a huge Broadway fan since she first took Analisa to see "Phantom of the Opera" in NYC in 1996.  Her in... (read more about this author)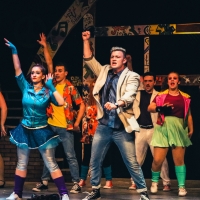 Review: FOOTLOOSE: THE MUSICAL at Bellevue Little Theatre

September 25, 2022

What did our critic think of FOOTLOOSE: THE MUSICAL at Bellevue Little Theatre?
---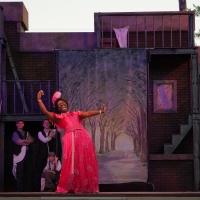 Photos: NEWSIES at Pinewood Performing Arts

July 22, 2022

Stop the presses! This Disney film turned Tony-winning Broadway hit inspires everyone to fight for what's right and seize the day. Newsies is packed with non-stop thrills and a timeless message, perfect for the whole family and every audience. Get a first look at the show!
---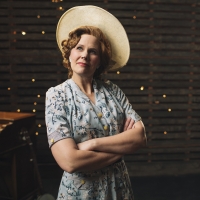 BWW Review: BRIGHT STAR Finally Shines at Omaha Community Playhouse

February 10, 2022

After two long years in the making, BRIGHT STAR has finally come to life at the Omaha Community Playhouse.
---